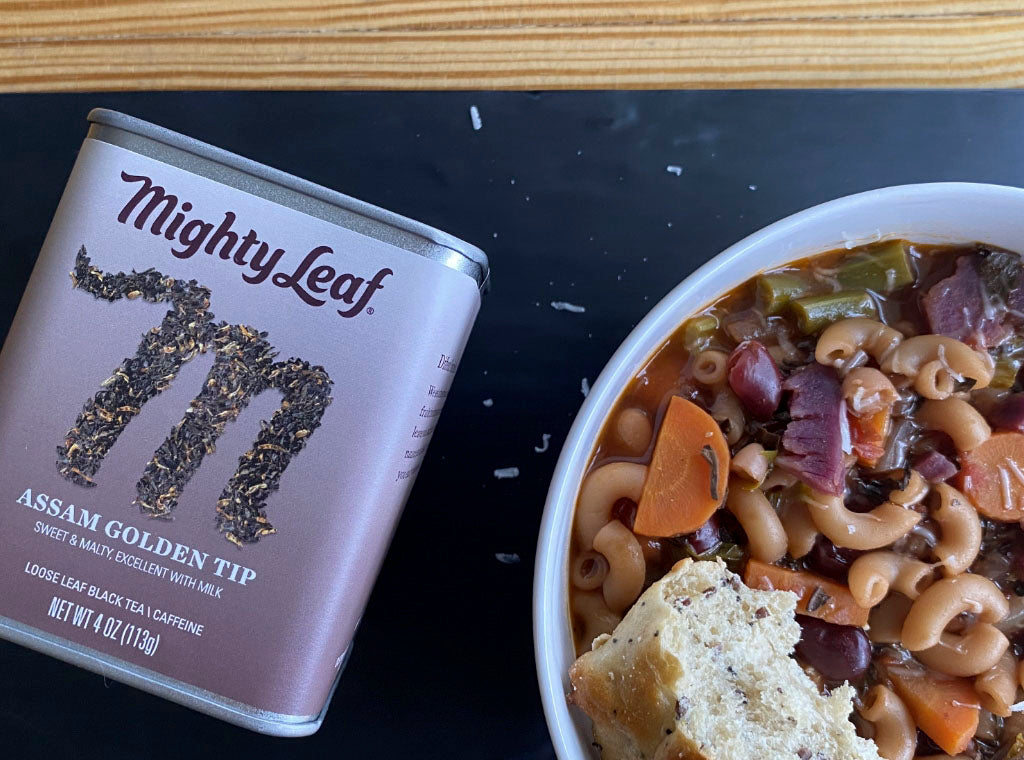 ASSAM GOLDEN TIP MINESTRONE SOUP RECIPE
THE SECRET INGREDIENT: ASSAM GOLDEN TIP
Tea in soup may sound strange at first, but when you think about it, it makes a lot of sense. In addition to the fact that tea leaves are already a friend to hot liquid, the tannins in black tea, like Assam, add a depth and complexity to broth or soup. Mighty Leaf Assam Golden Tip tea's rich, malty, full-bodied character plays particularly well with some of the key components of minestrone soup: the umami of tomato paste, the herbaceous pungency of oregano and parsley, the sweetness of carrots, and the earthiness of beans.
TEA'S SAVORY HISTORY
Thousands of years ago, before tea was infused into the beverage we're all familiar with today, in ancient China tea was ingested for its nutritional and medicinal benefits. The leaves themselves would be added to their meals.

The traditional and now famous yak butter tea of Tibet began as a nutrient rich staple. In the high elevations of the Himalayan Mountains growing their own vegetation for consumption was incredibly limited. Once the tea trade reached them from China they were able to integrate the leaves rich nutrients into their prominently meat and dairy diet.
SOUP SEASON
Just as a hot pot of tea takes the edge off of a cold morning, a bowl of hearty soup is just the thing on a cold winter's evening. Put the two together and steep in the warmth of a flavorful spoonful. 
Assam Golden Tip Minestrone Soup
Ingredients:
2 tablespoons olive oil
2 garlic cloves minced
½ yellow onion chopped
2 tablespoons tomato paste
4 cups vegetable broth
2 cups water
2 ribs celery chopped
2 large carrots peeled & chopped
½ small purple sweet potato chopped
1 cup green beans chopped
1 cup fresh Italian parsley chopped
1 can chopped tomatoes with juice
1 small can Kidney beans drained and rinsed
1 small can Great Northern beans (or other white bean) drained and rinsed
2 tablespoons Assam Golden Tip dried loose leaf tea
1 teaspoon dried oregano
2 Bay leaves
A pinch of red pepper flakes
½ cup small dried pasta (elbows, shells, ex.)
Salt and pepper to taste
Juice from 1 lemon
Parmesan grated on top when served 
DIRECTIONS:
1. Add the olive oil to a large soup pot on medium-high heat, then add the onions and garlic and stir until the onions begin to look translucent around the edges. Add the tomato paste and continue stirring for 1 minute. 
2. Add the vegetable broth and water, and bring to a boil.
3. Add all of the remaining ingredients except for the pasta, lemon, and parmesan and season with salt and pepper.
4. Return to a boil then reduce the temperature to a low simmer.
5. Cook, covered, for 20 minutes, then add the pasta and continue to simmer 15–20 minutes, or until pasta is cooked to your liking.
6. Remove the pot from the heat and stir in the fresh squeezed lemon juice. Season to taste with salt and pepper. 
7. Serve with fresh grated parmesan and your favorite crusty bread.