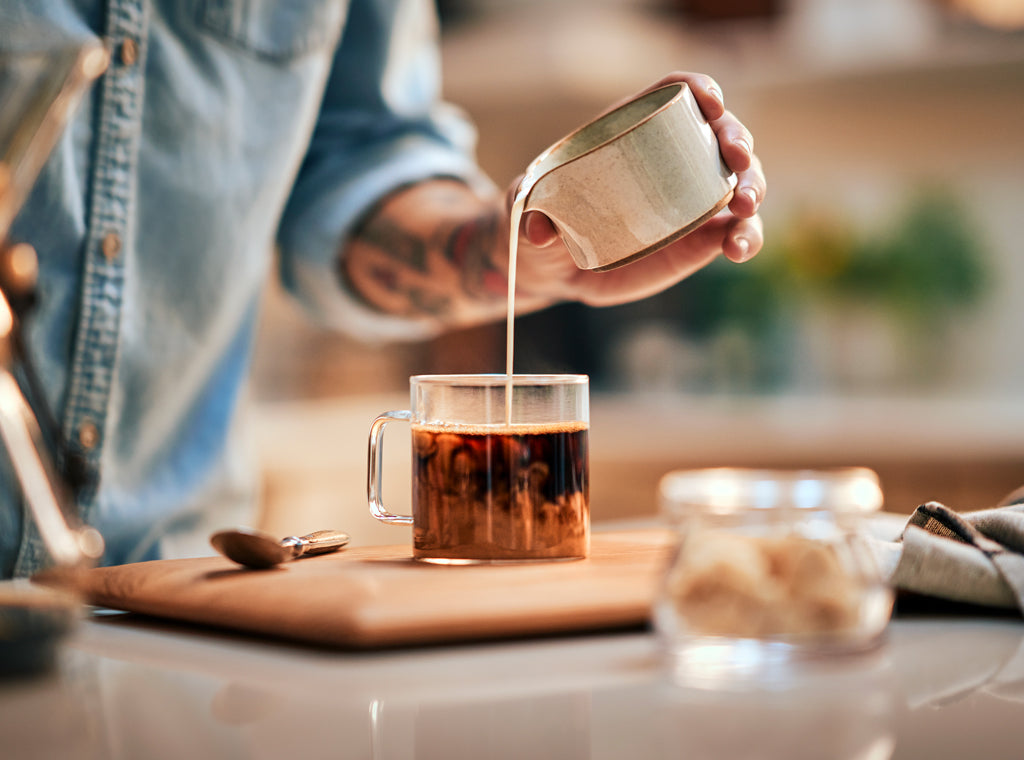 BRINGING OUT THE BEST IN YOUR BREW
Coffee people always are looking to take up their brewing game.
No matter which method you use to brew, these pro tips will help you achieve barista-level cups.
WATER QUALITY & TEMPERATURE
Start with fresh, filtered, cold water and bring to a boil. The best temperature for brewing coffee is between 195°F and 205°F. If you don't have a kettle with a thermometer attached, just wait about 30 seconds after removing your boiling water from the heat source.
MEASURE CAREFULLY
The instructions for brewing amazing coffee are, basically, a recipe. When you pay attention to the proportions of each ingredient, in this case two heaping tablespoons of coffee beans for every six ounces of water, you'll get a great cup.
GRIND JUST BEFORE BREWING
Just like freshly roasted coffee tastes better, freshly ground beans taste better, too. Grinding releases the flavors and aromas from the whole beans, so you can enjoy more of that good stuff.
BREW WHAT YOU PLAN TO DRINK
We know it sounds obvious, but we've all been subjected to coffee that's been sitting around a bit too long. When coffee sits on a burner or is reheated, it will taste scorched and will lose some of its aromatic complexity. 
FRENCH PRESS, ALSO KNOWN AS A PRESS POT
After all these years, French Press continues to be a favorite brewing method because it's such an easy way to make great tasting coffee. You get to control the entire process, including water temp and steep time. And since it directly infuses all the coffee grounds for the entire process, you fully extract all the flavor from the beans.
PRE-HEAT, MEASURE, AND GRIND
Preheat the French Press with hot water and let it sit. Preheating helps the temperature stay more consistent throughout the brewing process. Weigh out 55 grams (5 ½ coffee scoops/11 tablespoons) of freshly roasted coffee beans. Grind coffee to the consistency of coarse sea salt. A consistent grind enables even extraction. Pour the hot water out and add the coffee grounds to the French Press.
BLOOM
Discard hot water and place the French Press on your scale. Add the coffee grounds and then zero out your scale. Pour in just enough water to saturate the grounds—around 110 grams. Give the French Press a quick swirl, and then wait 30 seconds. When hot water meets coffee grounds, CO2 escapes and expands, creating a "bloom." Once the off gassing is complete, the grounds are more receptive to absorbing water, resulting in a better extraction of flavors.
ADD WATER
Resume pouring hot water over the grounds until the scale reaches 880 grams or the water reaches the middle of the metal band, about 1 inch below the rim.
PARTIAL PRESS
Place the plunger on top of grounds, then slowly push it halfway down and pull back up to just below the surface. Plunging halfway keeps the grounds fully saturated, enabling even extraction, and helps prevent a surface crust of dry grounds from forming. Bonus: this makes the final plunge easier. Set a timer for three minutes.
PRESS & SERVE
When your timer goes off, press the plunger and the coffee grounds all the way to the bottom of the carafe. Your perfect press pot is ready to serve.
DRIP
Just about everyone is familiar with automatic and pour over drip brewing methods. Here's how to get even more out of your drip:
AUTOMATIC DRIP
MEASURE & GRIND
How many ounces are you brewing? Measure two tablespoons of coffee for every six ounces water. Grind your beans and put them in the filter.
ADD WATER & BREW
Allow the full cycle to finish to bring out all the complexity of the coffee, that way it's evenly distributed in every cup. We know it's hard to wait, but it's worth it.
POUR OVER
A favorite brewing method by many coffee people, pour overs are a simple way to brew a clean, bright cup. It brings out subtle nuances in coffee, particularly those with bright, sparkling flavors. (We're looking at you, Costa Rica.)
PREPARE YOUR VESSEL & GRIND
Place your paper filter it into the pour over cone so it lies flat, then rinse the filter with hot water. Rinsing the filter helps eliminate any paper flavors and preheating cone and carafe helps keep temperature consistent throughout the brewing process. Grind coffee to the coarseness of sand. Grind size affects drip time and extraction. If your brew is too slow, try a slightly coarser grind. If it drips through too quickly, try a little finer.
BLOOM
Toss the hot water out of the carafe and place the pour over brewer and carafe on your scale. Add ground coffee and then zero out the scale. Pour just enough water, around 50 grams, in a spiral motion to saturate the grounds, then wait 30 seconds.
POUR THE WATER OVER
After your grounds have bloomed, resume pouring water slowly until your scale reaches 400 grams. Pour first in a spiral pattern, and then straight down, keeping your grounds saturated from start to finish.
SWIRL & SERVE
Give the coffee in your carafe a final swirl. Your coffee is now ready for your favorite mug. 
PAPER FILTER VS. GOLD FILTER
Paper filters will get you a clean, streamlined cup of coffee, though some of the grounds' oils (aka good flavors) will get trapped in the paper. With a gold filter, all of the flavors pass through without adding anything. Try brewing both ways to see if you can taste the difference—and to see which one you prefer—now that you know everything you need to know to bring out the best in your brew.