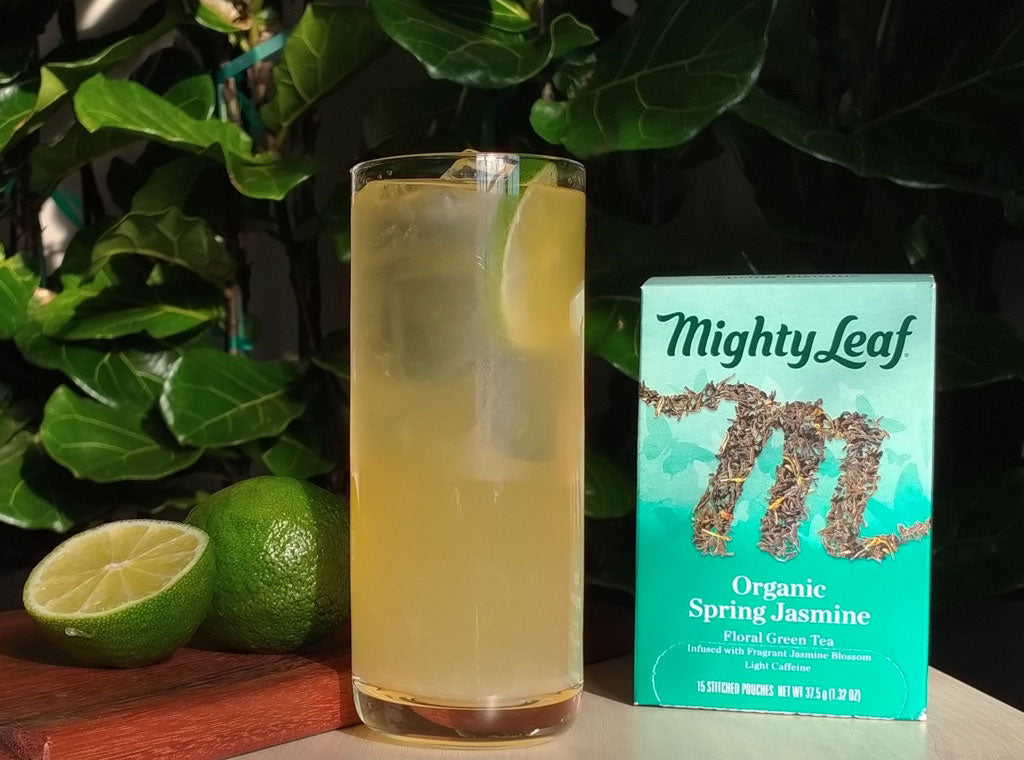 Iced Jasmine Lime Cooler Recipe
Nothing refreshes like a cool, tart beverage. That's because the acidity of those drinks stimulates salivation, soothing the dry mouth that accompanies thirst. Lemonade is a perennial favorite, but limes are our go-to for a thirst-quenching punch of flavor. The floral notes of our Organic Spring Jasmine tea take workaday limeade in a decidedly tropical direction, so kick back and take a tiny vacation in a glass.  
For this recipe, we use freshly made limeade for the brightest flavor, but store-bought will work fine. 
Iced Jasmine Lime Cooler 
Makes enough for 2 coolers
Limeade ingredients:
1 cup plus 2 cups freshly drawn water
1 cup granulated sugar
1 cup lime juice (from 4-6 standard limes)
Cooler ingredients: 
Make the limeade: 
Heat 1 cup water and the sugar in a small saucepan, stirring until the sugar is completely dissolved. Allow to cool completely.

 

Add in the lime juice and stir to combine.

 

Add the remaining water, starting with 1 cup, until it reaches the level of tartness you like. Remember, you can always add more water later, but you can't take it away.

 

Store limeade in a sealed container in the refrigerator for up to 3 weeks. This recipe makes up to a quart of limeade.

 
Make the cooler:
Bring the water to a full boil, remove from heat, and let stand for a minute.

 

Add the Organic Spring Jasmine tea pouch and steep for 4 min. Remove the pouch, squeezing to extract all liquid.
Allow infusion to cool completely.

 

Add the limeade and stir to combine.

 

Add ice to 2 tumblers. Pour the cooler into the glasses, and garnish with lime wheel. Serve immediately.