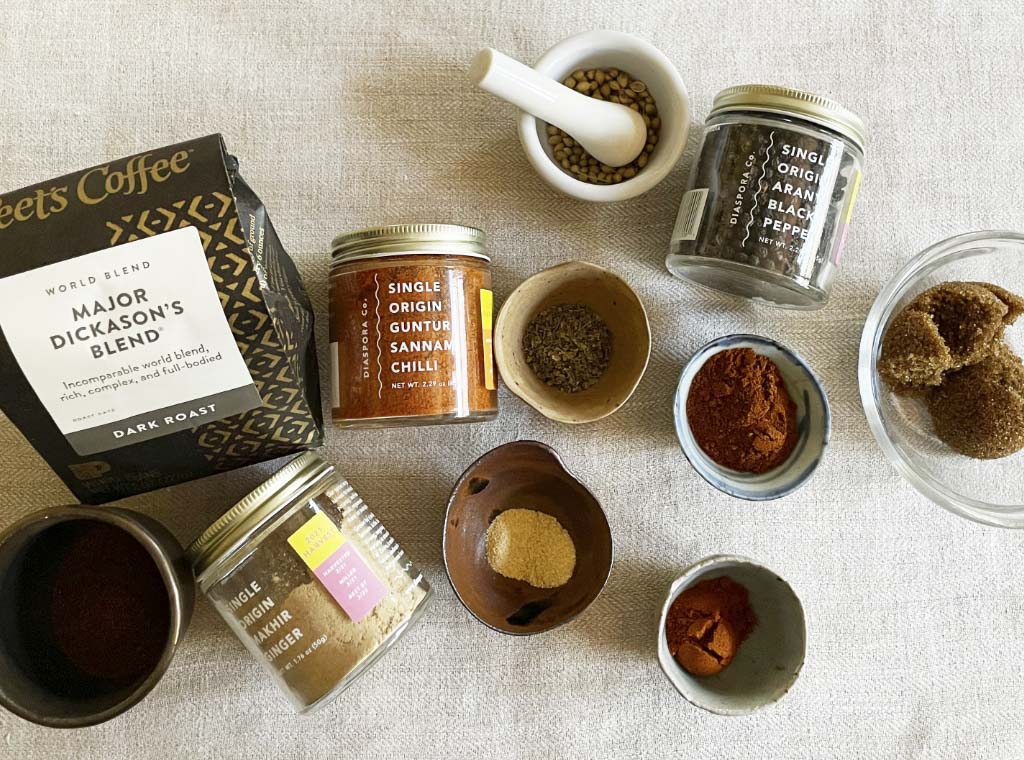 MAJOR COFFEE RUB RECIPE
THIS COFFEE RUB HAS MAJOR FLAVOR
Naturally, we're obsessed with coffee here at Peet's, and we're always looking for more ways to ingest the good stuff. The natural tannins in coffee make it a perfect complement in cooking, especially when it comes to adding flavor to—and pulling flavor out of—meat. Not only that, but the earthy, deep, smoky flavor of Major Dickason's Blend coffee perfectly enhances the exact flavor you're looking for when you throw a steak onto the grill. We rubbed this Major Coffee Rub into a NY Strip and are excited to experiment all summer long (looking at you, spareribs and tempeh kebabs).
Our Major Coffee Rub recipe has a lot of flavor—and a lot of ingredients—but is endlessly flexible. Don't have smoked paprika? Double up on regular paprika. Swap chipotle powder for ancho chile powder. Toss in a pinch of oregano or dried mustard. Think of this as a base recipe and play with whatever spices you have on hand.
At Peet's, we believe in sourcing our coffee responsibly (we're 100% Responsibly Sourced per Enveritas standards) and honoring our partners at origin is part of our ethos. This recipe features a number of spices from our friends at Diaspora Co, our neighbors here in California's Bay Area, who are equally passionate about sustainable agriculture with a focus on equity in the spice trade. Using fresh spices always enhances flavor (just like using freshly roasted coffee does), so if you're needing to refresh your spice cabinet, give them a try.
MAJOR COFFEE RUB RECIPE
Note: all herbs and spices listed are in dried form
INGREDIENTS
1 teaspoon Diaspora Co. Aranya Black Pepper
1 teaspoon whole coriander
3 tablespoons Peet's Major Dickason's Blend® coffee, ground extra fine for espresso
2 tablespoons brown sugar
1 tablespoon + 2 teaspoons ancho chile powder
2 teaspoons paprika
1 teaspoon smoked paprika
1 teaspoon marjoram
¾ teaspoon Diaspora Co. Makhir Ginger
¼ - to - ½ teaspoon Diaspora Co. Gunter Sannam Chilli (or more, if you like more heat)
¼ teaspoon garlic powder
¼ teaspoon onion powder
1 ¼ teaspoon Kosher salt
DIRECTIONS
In a spice grinder, combine black pepper and coriander and blitz until well ground. Transfer to a medium bowl.
To the medium bowl, add the rest of the ingredients and mix very well.
Transfer to an airtight container.
Best if used within a month…if you don't eat it up first.