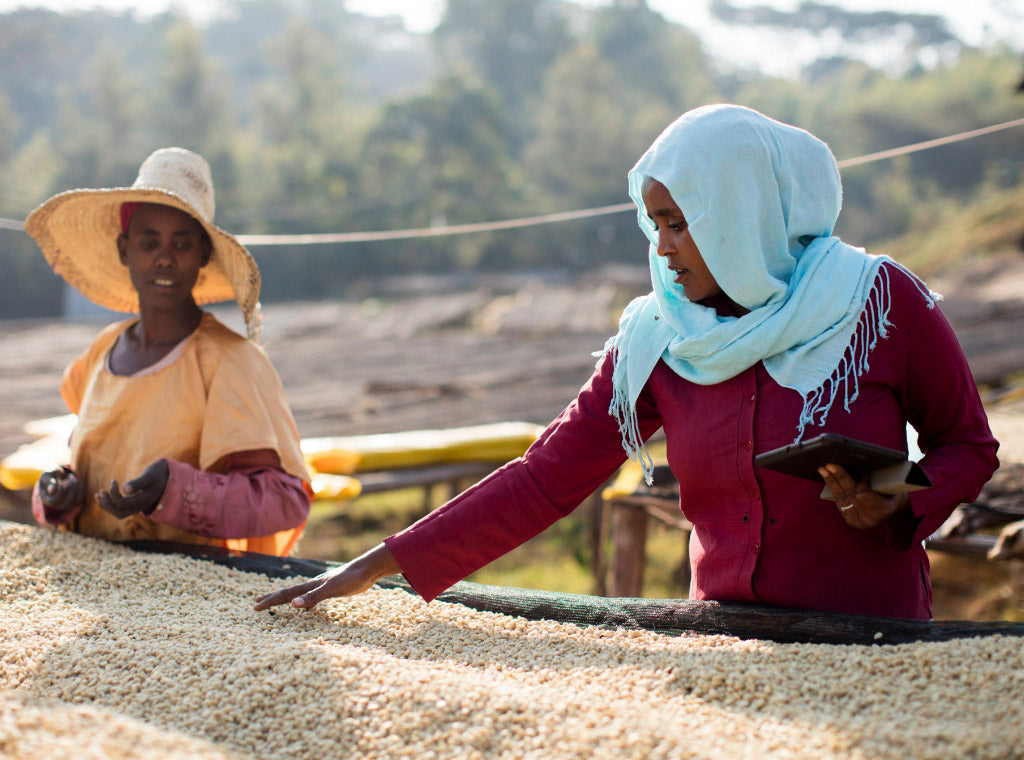 Partner Spotlight: TechnoServe
RAISING COFFEE FARMER INCOMES & QUALITY OF LIFE
The coffee you buy can impact the welfare of the people and planet. At Peet's, this reality is embedded in our commitment to offering customers coffee that is 100% Responsibly Sourced per Enveritas standards and drives us to make a positive impact in the communities where our coffees are grown. To bring this commitment to life, we work with partners like the non-profit TechnoServe. With TechnoServe, we are able to offer coffee growers the best quality and productivity solutions. Ultimately, improvements related to coffee quality and productivity can help drive increases in coffee income for farmers, which translates into meaningful changes in quality of life.
THE CHALLENGE & OPPORTUNITY
There is growing demand for specialty coffee, and smallholder coffee farmers can leverage this opportunity to improve their financial position by increasing the quality of their coffee and their crop yields. Higher-quality coffee can fetch price premiums, and more coffee to sell ultimately means more income. With more income, smallholder farmers are better positioned to invest in their families, homes, farms, and communities.
However, for a variety of reasons, many smallholder farmers lack the skills and experience needed to access this opportunity. This is where we can offer critical support: by helping farmers overcome these barriers and move from producing average-quality coffee to producing high-quality coffee, and more of it.
TRAINING TO SEIZE THE OPPORTUNITY
Through TechnoServe, we offer training to smallholder farmers focused on three topics that support farmers in realizing their potential and leveraging the opportunity presented by the coffee market's dynamics:
AGRONOMY & QUALITY
Using agricultural and processing best-practices, farmers can produce more coffee at a higher-quality, entering stable sourcing relationships and earning better prices.
BUSINESS SKILLS
To lead viable, profitable enterprises, farmers need to operate like small businesses. Training in record keeping and basic accounting helps farmers establish a critical foundation for success.
SUSTAINABILITY
Environmental and social best practices are integrated into all trainings, and we partner with farmers to address specific improvement opportunities identified through our Coffee Verification Program. 


PROJECT PROFILE: ETHIOPIA
Peet's has partnered with TechnoServe for over 20 years to offer training and other support to smallholder farmers in many of the world's high-quality coffee-growing zones, including in Western Ethiopia as explained in this video.
ABOUT OUR PARTNERSHIP
Our partnership with TechnoServe traces its beginning to 2000, when Jerry Baldwin, our former owner, joined the TechnoServe board of directors. Our work began to resemble its current form in 2008, when we participated in TechnoServe's East Africa Coffee Initiative, which sought to increase the incomes of East African coffee farmers through agronomy training and coffee quality improvements.
Our involvement in the Coffee Initiative was to evaluate the coffee quality of participating farmers and provide feedback to TechnoServe so it could calibrate its work with the farmers. Through our evaluations, we saw the farmers' coffee quality improve over time, and eventually that coffee met Peet's stringent quality standards.
We are proud to continue carrying on this 20+ year partnership with TechnoServe in offering training to smallholder coffee farmers around the globe.