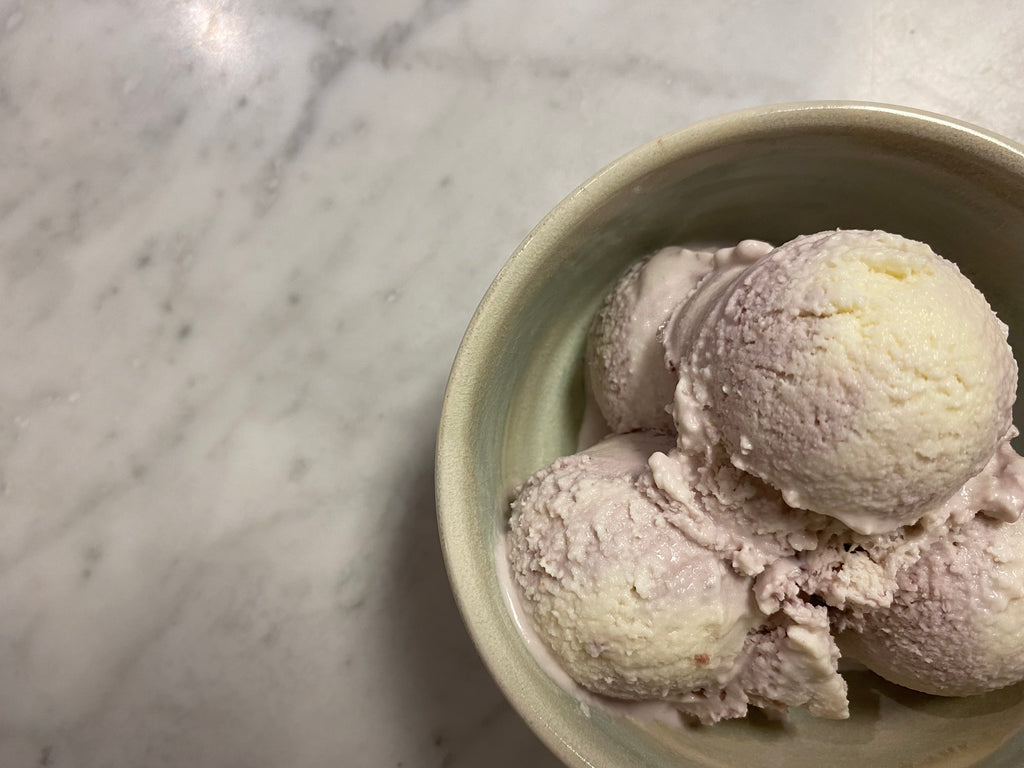 WILD BERRY HIBISCUS & ROSEMARY ICE CREAM SWIRL RECIPE
Inspired by the pairing of tart Wild Berry Hibiscus tea and the herbaceous notes of rosemary, Mighty Leaf Tea Specialist Anni Pattee developed a recipe that swirls these two complementary flavors into a bold and beautiful ice cream. 
When tea is used to infuse flavor into an ice cream base, it lends its color. In this case, the Wild Berry Hibiscus tea tints the cream base a beautiful light purple-ish mauve. Likewise, the volatile oils of the rosemary lend the subtlest hue of yellow-ish green. Rather than blend these complementary flavors into one ice cream, Anni opted to set these hues side by side in a swirl.
Wild Berry Hibiscus & Rosemary Ice Cream Swirl
Ingredients
8 ounces freshly drawn water
2 tablespoons Wild Berry Hibiscus Loose Leaf Tea (or two pouches)
2 tablespoons dried rosemary
32 ounces heavy cream
24 ounces sweetened condensed milk
Directions
Bring the 8 ounces of water to a boil. Place the Wild Berry Hibiscus loose tea leaves (or pouches) in a heat-resistant container. Place the Rosemary in a separate heat-resistant container. Pour 4 ounces of the boiled water into each container to cover. Let steep at least 10 minutes. Strain separately; set aside and allow to cool completely.
In a blender, mix half of the heavy cream and half of the sweetened condensed milk along with the Wild Berry Hibiscus concentrate. Blend on high until it reaches the consistency of melted ice cream. Be careful not to over-blend as the acid from the hibiscus may cause the cream to split.
Repeat with the Rosemary concentrate. Pour them into a large glass baking tray and stir slightly with the end of a wooden spoon to create a swirled effect with the two flavors. Do not over mix.
Cover with cellophane and place in the freezer. Allow at least an hour to set. Scoop, being sure to capture the swirl, and enjoy.