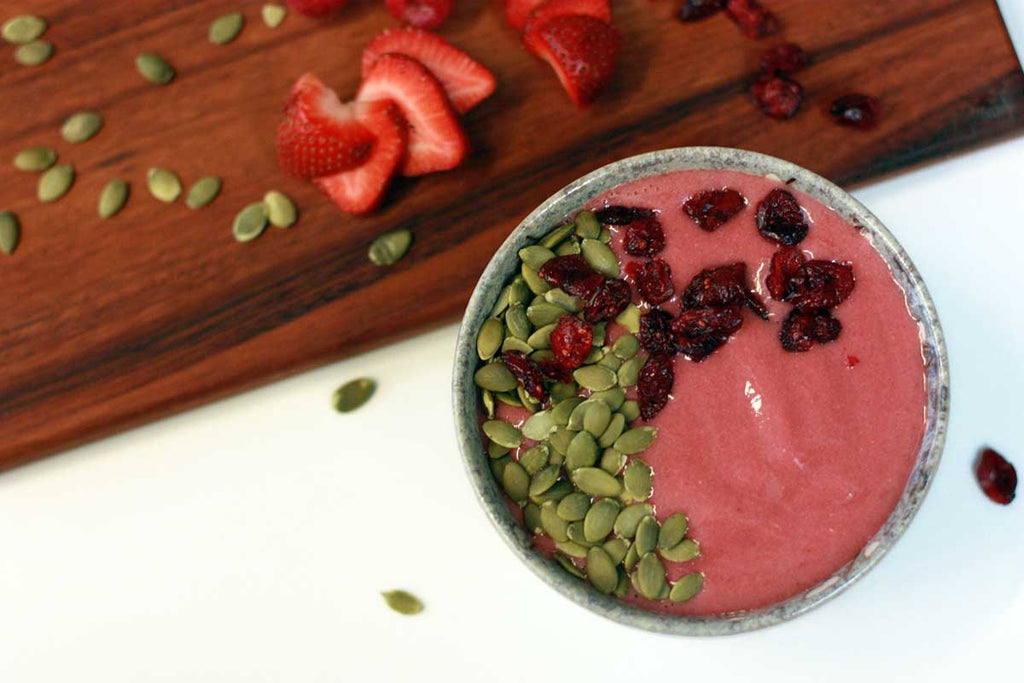 Wild Berry Hibiscus Smoothie Bowl Recipe
Smoothie bowls are a great way to hyper-charge your day, delivering a powerful punch of nutrient-dense fruits and veggies. We wish all things this healthy felt so decadent. Our
Wild Berry Hibiscus tea
lends intriguing floral and fruity notes that keep you coming back for spoonful after spoonful.
Ingredients:
1 tea pouch
Wild Berry Hibiscus
1 cup freshly drawn water, brought to a boil
1 tablespoon honey
½ banana, cut & frozen
¼ cup raspberries, frozen
¼ cup strawberries, halved & frozen
¼ cup pineapple, cut & frozen
¼ cup cauliflower, chopped & frozen
¼ jalapeño pepper (optional)
Toppings:
Dried cranberries
Pumpkin seeds (shelled)
Make it:
Steep the Wild Berry Hibiscus tea in the water for 10 minutes.  Remove the tea pouch, giving it a squeeze to extract all liquid. Add the honey, and stir until dissolved. Cool in the refrigerator 10 minutes. 
Combine the sweetened Wild Berry Hibiscus tea with the other ingredients in a blender and process on high until smooth. Pour into a bowl, add the toppings, and enjoy.