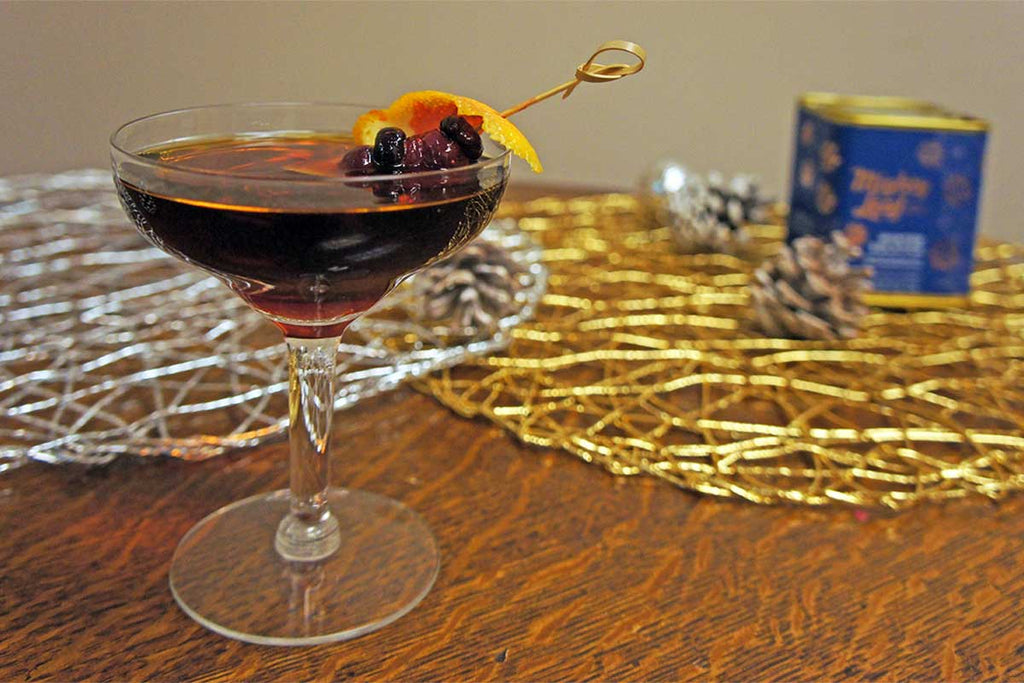 A TEA COCKTAIL FOR THE HOLIDAYS
Gin is traditionally distilled with a variety of herbs and spices, giving it its unique flavor profile. In that spirit, we thought gin would take beautifully to the robust and warming elements of Winter Solstice tea. Tea is, after all, tea-infused water, so why not infuse gin? We then took this infused gin to make the perfect seasonal tea cocktail, a martini — or should we say, a mar-tea-ni.
Winter Solstice Gin Mar-tea-ni Cocktail Recipe
Winter Solstice-Infused Gin
Ingredients
1 tea pouch (or 1 heaping teaspoon, loose) Winter Solstice tea
1 cup gin
Directions
Infuse tea in 1 cup (8 oz) of your favorite gin for 3 hours at room temperature. Remove the tea pouch (or strain the tea), and store the tea-infused gin in a clean, clearly labeled mason jar.
Candied Cranberries
Ingredients
1 cup fresh cranberries
½ cup sugar
Juice from a medium orange
Directions
Heat cranberries in a small saucepan with ½ cup sugar and juice from 1 medium sized orange. Bring just to a simmer and shut off the heat. Pour into a mason jar and allow to cool before storing in the refrigerator. Keeps up to 1 week.
Making the Cocktail
Ingredients
10 ml dry vermouth
50 ml Winter Solstice-infused gin
Ice
Citrus peel
Candied cranberries
Directions
Rinse a chilled martini glass with the dry vermouth. Add the infused gin to a shaker with ice, stir to chill, and then strain into the martini glass. Top with a garnish of citrus peel and candied cranberries. Enjoy responsibly.