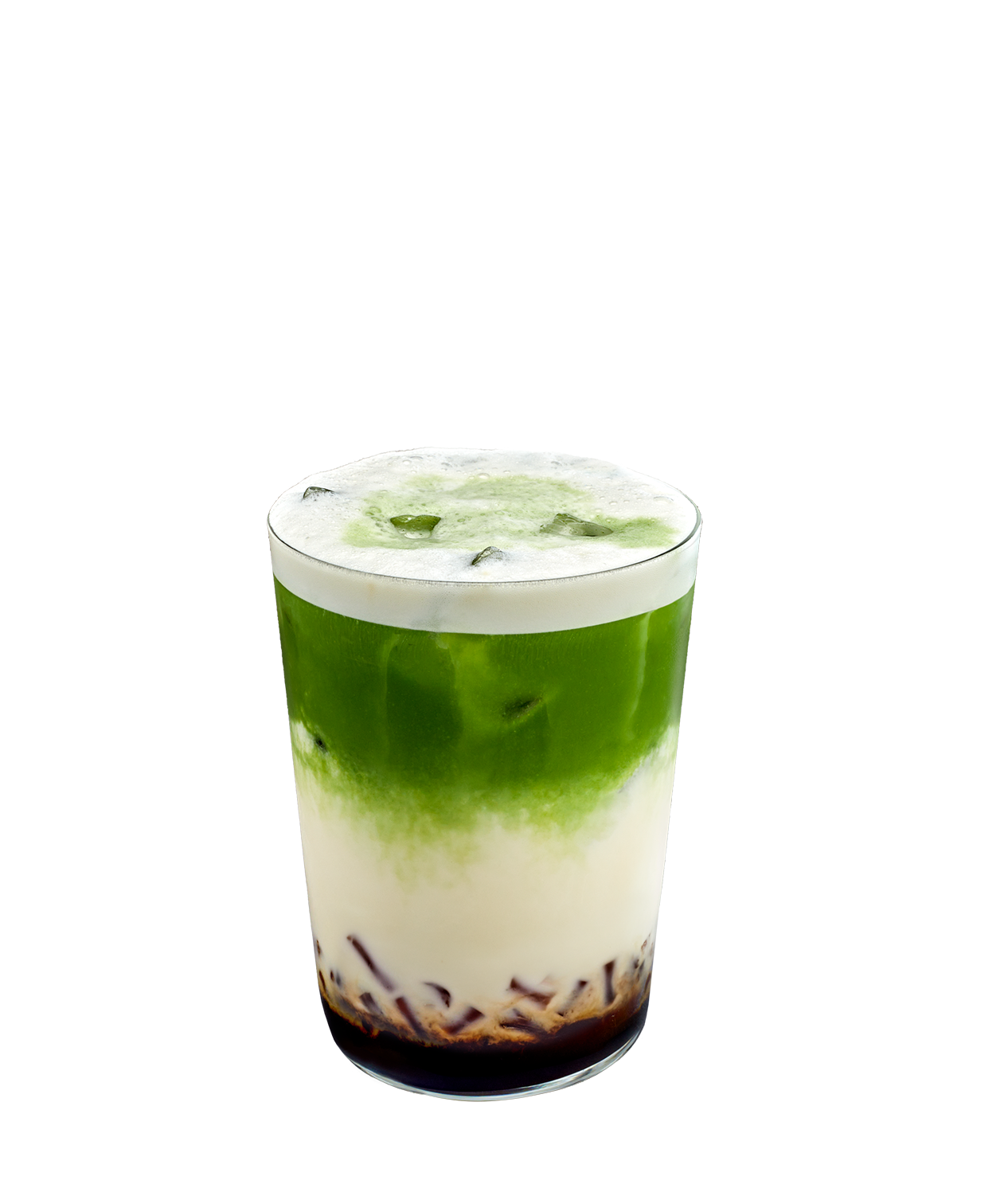 Iced Brown Sugar Matcha Oat Latte with Jelly
Our Organic Ceremonial Matcha Green Tea is prized for its distinctive flavor and creamy texture. Here, it's layered over our Brown Sugar syrup and luscious oat milk, all over ice. Our playful new plant-based Brown Sugar Jelly have a light flavor that complements any of our iced coffees or teas. Crafted for customization, their bouncy texture can be added to any of our iced beverages for a bit of fun in every sip.
Order Now
Expertly crafted and made to order.
IT STARTS WITH THE BEST
We make everything with freshness and flavor in mind. Only high-quality ingredients are worthy of our handcrafted offerings, from our baked goods to our on-the-go snacks and our signature beverages.
Our Commitment to Craft
Alt-milk options available

Sugar-free sauces
& syrups upon request

Housemade whipped cream
and chocolate

Milk from cows not
treated with rBST
Nutrition Details
200
Calories
5
Grams of Protein
Nutritional values are for a small size drink.
Sugars (g)

38

Protein (g)

5

Sodium (mg)

80

Total Fat (g)

2.5

Trans Fat (g)

0

Calories (kcal)

200

Cholesterol (mg)

10

Carbohydrates (g)

41

Dietary Fiber (g)

1

Saturated Fat (g)

1.5

Calories From Fat (kcal)

20
Sugars (g)

38

Protein (g)

5

Sodium (mg)

80

Total Fat (g)

4.5

Trans Fat (g)

0

Calories (kcal)

220

Cholesterol (mg)

20

Carbohydrates (g)

41

Dietary Fiber (g)

1

Saturated Fat (g)

2.5

Calories From Fat (kcal)

40
Sugars (g)

39

Protein (g)

5

Sodium (mg)

85

Total Fat (g)

0

Trans Fat (g)

0

Calories (kcal)

180

Cholesterol (mg)

0

Carbohydrates (g)

41

Dietary Fiber (g)

1

Saturated Fat (g)

0

Calories From Fat (kcal)

5
Sugars (g)

36

Protein (g)

3

Sodium (mg)

140

Total Fat (g)

2

Trans Fat (g)

0

Calories (kcal)

180

Cholesterol (mg)

0

Carbohydrates (g)

39

Dietary Fiber (g)

1

Saturated Fat (g)

0

Calories From Fat (kcal)

15
Sugars (g)

37

Protein (g)

1

Sodium (mg)

95

Total Fat (g)

2

Trans Fat (g)

0

Calories (kcal)

170

Cholesterol (mg)

0

Carbohydrates (g)

40

Dietary Fiber (g)

1

Saturated Fat (g)

0

Calories From Fat (kcal)

20
Sugars (g)

34

Protein (g)

2

Sodium (mg)

95

Total Fat (g)

4

Trans Fat (g)

0

Calories (kcal)

230

Cholesterol (mg)

0

Carbohydrates (g)

46

Dietary Fiber (g)

1

Saturated Fat (g)

0.5

Calories From Fat (kcal)

40
Sugars (g)

46

Protein (g)

7

Sodium (mg)

115

Total Fat (g)

3.5

Trans Fat (g)

0

Calories (kcal)

260

Cholesterol (mg)

15

Carbohydrates (g)

50

Dietary Fiber (g)

1

Saturated Fat (g)

2

Calories From Fat (kcal)

35
Sugars (g)

47

Protein (g)

7

Sodium (mg)

115

Total Fat (g)

7

Trans Fat (g)

0

Calories (kcal)

280

Cholesterol (mg)

25

Carbohydrates (g)

50

Dietary Fiber (g)

1

Saturated Fat (g)

4

Calories From Fat (kcal)

60
Sugars (g)

47

Protein (g)

7

Sodium (mg)

115

Total Fat (g)

0.5

Trans Fat (g)

0

Calories (kcal)

230

Cholesterol (mg)

5

Carbohydrates (g)

50

Dietary Fiber (g)

1

Saturated Fat (g)

0

Calories From Fat (kcal)

5
Sugars (g)

43

Protein (g)

4

Sodium (mg)

200

Total Fat (g)

3

Trans Fat (g)

0

Calories (kcal)

230

Cholesterol (mg)

0

Carbohydrates (g)

47

Dietary Fiber (g)

2

Saturated Fat (g)

0

Calories From Fat (kcal)

25
Sugars (g)

44

Protein (g)

2

Sodium (mg)

130

Total Fat (g)

3

Trans Fat (g)

0

Calories (kcal)

220

Cholesterol (mg)

0

Carbohydrates (g)

48

Dietary Fiber (g)

1

Saturated Fat (g)

0

Calories From Fat (kcal)

25
Sugars (g)

40

Protein (g)

4

Sodium (mg)

135

Total Fat (g)

6

Trans Fat (g)

0

Calories (kcal)

300

Cholesterol (mg)

0

Carbohydrates (g)

58

Dietary Fiber (g)

2

Saturated Fat (g)

1

Calories From Fat (kcal)

60
Sugars (g)

55

Protein (g)

10

Sodium (mg)

150

Total Fat (g)

5

Trans Fat (g)

0

Calories (kcal)

310

Cholesterol (mg)

20

Carbohydrates (g)

59

Dietary Fiber (g)

1

Saturated Fat (g)

3

Calories From Fat (kcal)

45
Sugars (g)

56

Protein (g)

9

Sodium (mg)

140

Total Fat (g)

9

Trans Fat (g)

0

Calories (kcal)

350

Cholesterol (mg)

35

Carbohydrates (g)

59

Dietary Fiber (g)

1

Saturated Fat (g)

5

Calories From Fat (kcal)

80
Sugars (g)

56

Protein (g)

10

Sodium (mg)

150

Total Fat (g)

1

Trans Fat (g)

0

Calories (kcal)

280

Cholesterol (mg)

5

Carbohydrates (g)

59

Dietary Fiber (g)

1

Saturated Fat (g)

0

Calories From Fat (kcal)

5
Sugars (g)

50

Protein (g)

6

Sodium (mg)

260

Total Fat (g)

4

Trans Fat (g)

0

Calories (kcal)

270

Cholesterol (mg)

0

Carbohydrates (g)

55

Dietary Fiber (g)

2

Saturated Fat (g)

0

Calories From Fat (kcal)

35
Sugars (g)

52

Protein (g)

2

Sodium (mg)

170

Total Fat (g)

4

Trans Fat (g)

0

Calories (kcal)

260

Cholesterol (mg)

0

Carbohydrates (g)

56

Dietary Fiber (g)

1

Saturated Fat (g)

0

Calories From Fat (kcal)

35
Sugars (g)

47

Protein (g)

6

Sodium (mg)

170

Total Fat (g)

8

Trans Fat (g)

0

Calories (kcal)

380

Cholesterol (mg)

0

Carbohydrates (g)

72

Dietary Fiber (g)

2

Saturated Fat (g)

1

Calories From Fat (kcal)

80