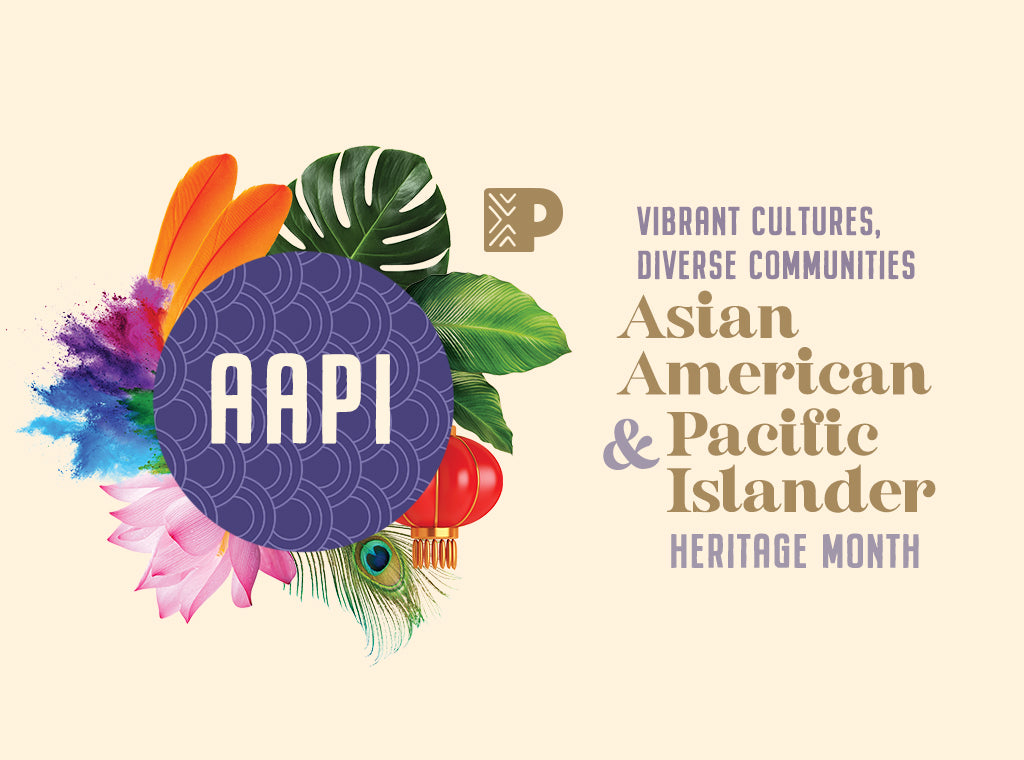 AAPI HERITAGE MONTH AT PEET'S
VIBRANT CULTURES, DIVERSE COMMUNITIES
This month, Peet's honors and celebrates the diversity of our Asian American and Pacific Islander Peetniks. AAPI communities consist of approximately 50 ethnic groups speaking over 100 languages, with connections to Chinese, Indian, Japanese, Filipino, Vietnamese, Korean, Hawaiian, and other Asian and Pacific Islander ancestries. We talked to Peet's CPG Finance Manager Vivian Robinson about her story as it connects with AAPI culture and her experience.
Tell us about how you identify with AAPI.
I grew up in a very conservative Taiwanese household—I was born in the United States, and both of my parents are Taiwanese, so learning traditions of my heritage was a big part of my childhood and shaped who I am. It's also why I wanted to participate in Peet's AAPI month, and I'm having a lot of fun doing it. The events we are hosting bring back a lot of childhood memories and remind me how much growth there has been here in the Bay Area alone in terms of representation and exposure to Asia. When I was growing up, I primarily experienced my heritage and culture at my home or when I traveled to Taiwan. Now, it's so nice to see my culture where I live and in neighboring towns rather than having to drive far distances to eat at restaurants or get access to things that I identified with as a child.
Could you share with us a cultural touchpoint, or memory of connection (or disconnection)?
So, in Taiwanese culture, we have lots of unique foods. My mother, for example, loves what we call "stinky tofu," but it's not something that you can commonly get here. But on the other hand, acupuncture was something that we had to seek out, and now it's become widely embraced in the United States and elsewhere, not just within Asian culture. Perhaps one day, stinky tofu will make its way over here. In the meantime, I satisfy my cravings at an island style sweets-and-eats in my town called Guava Island Eats that showcases the owners' combined heritage and upbringing in the Philippines, Guatemala, and Hawaii. It features flavors like guava, ube, passion fruit, and other tropical flavors. Another business that opened nearby is Uji Time, and they specialize in soft serve taiyaki, which is a traditional Japanese dessert in the shape of a fish that is usually filled with azuki (red bean paste). You can add delicious soft cream flavors like matcha, tofu, and my favorite: black sesame. I used to have to drive to San Francisco or Oakland to find things like that, and now I can walk downtown or drive 10 minutes to get these yummy desserts.
Vivian's favorite - black sesame taiyaki from Uji Time
So often when we talk about culture, we hear food stories. I love that you brought in acupuncture. There are so many elements from AAPI cultures that have surfaced here in the States, and it's important to remember where they come from.
That really resounds with me. As I was thinking about this topic, I thought about other aspects in my life that have become prevalent since my childhood. My family practices Buddhism, but I always kept that part of my life quiet for fear of being teased. When I moved to Berkeley for school, I encountered different forms of Buddhism, and it was amazing to see how many different people embraced Buddhism, meditation, and other forms of Eastern medicine outside of acupuncture. Moving from the south bay to Berkeley, I felt a reconnection—and here in the states, rather than flying three miles overseas. It brought up feelings of familiarity, comfort, acceptance, recognition, and the sense of belonging. 
What else comes to the surface about cultural inspirations or differentiators from your heritage that you would like to share?
When I think about inspirations from my culture, it always goes back to my parents and how I was raised. The principles that my parents instilled in me have guided me and shaped who I am. They've always, always, always pushed my brother and me to work hard and never think we deserved anything, to never think we're good enough. But they also stressed the importance of being above average. Don't be more than that, but don't be less than that. There's a big difference in the philosophies preached here in America, where you're encouraged to be different and get noticed. You should strive to be number one. Whereas my parents told me, don't try to be the best, just be above average, be consistent, and blend in. Don't bring attention to yourself, don't be in the bottom half, and don't cause any problems.
Baby Vivian - photo courtesy of Vivian Robinson
Here's another thing that has inspired me, but in a different way. My mother's a stay-at-home mom. She's incredibly smart. She graduated from Berkeley in a master's program, but because of tradition, she never joined the workforce. And a similar situation, on my dad's side of the family... I'm trying to be careful how I put this... but a female's role was not as important as a male's role in a family or in a heterosexual marriage or partnership. And I've used that as an inspiration to break from my family's tradition. There was a pivotal point in my life where I didn't want to be that stereotype anymore. I feel like, for Asians—and Asian women in particular—there is a stereotype that a lot of us don't want to be associated with: the submissive and dependent Asian girl. It's helped that Hollywood no longer portrays that stereotype as much. But seeing and experiencing my parents' family structures, seeing how my mother and other Asian women have held their positions in life changed my perspective. It's especially inspiring to see Rosy as our CFO. She is confirmation that the decision I made for my life is moving in the right direction. Growing up, I thought my future was decided: marry a Taiwanese man, have kids, be a mother. My growth has been in diverging from that expectation and seeing how far I can forge my own path. It's been great to see somebody like Rosy in her role. She is such a strong leader and mentor for our finance and accounting functions.
It's interesting to think about the ways that cultural heritage can conflict with being female. Generational steps happen, whether it be gender or cultural. I can imagine for your mom, getting a master's might have been a generational step simply in getting that education. And now you're taking that to another level by applying your education in a different way.
When I think of the progressions that the generations have made, I think of my parents, who took the most challenging step when they moved from Taiwan to the United States. It was a huge accomplishment for both. And then on top of that, my mother earned a master's degree, and my father got a PhD. And while I'm not making that huge trek across the world to another destination, I like the idea that I'm continuing that progression, and hopefully the future generations can do the same in their own way, whatever that looks like.
How is Peet's working to support and lift up AAPI heritage month? Could you tell us a little bit about your role in Peet's AAPI group?
I joined the AAPI committee late, but it's been very welcoming. Everyone has great ideas, and we're hosting a lot of fun events. There was a potluck last week, and people brought dishes from different cultures. Someone also came up with the idea of having an AAPI Heritage Month playlist on Pandora. It includes artists from all over the world, some who have made it here in the United States, but also artists who are very well-known abroad. Because I'm more familiar with artists in certain countries, and not familiar with artists from other countries—there's 50+ countries that are considered part of AAPI— the playlist has been a great introduction to new artists for me. And I'm so excited to see the influence that AAPI has on coffee and tea with the tastings that are planned this month. There's also a panel discussion and roasting plant/distribution center luncheon…a lot is happening! This is my first time being a part of the AAPI committee, and it's already a lot of exposure and connection with people—learning and seeing what other ideas are emerging every week. Yeah, really great energy.
We're so excited about everything that's happening here at Peet's in May for AAPI Heritage Month. Thank you for sharing your story with us.
It feels like it's meant to be. The timing could not be better as the company has transitioned to a hybrid model this month. Whether employees choose to participate physically or virtually, the feedback so far has been positive. I am so grateful to Peet's for honoring AAPI Heritage Month. And thank you for letting me share my experience!