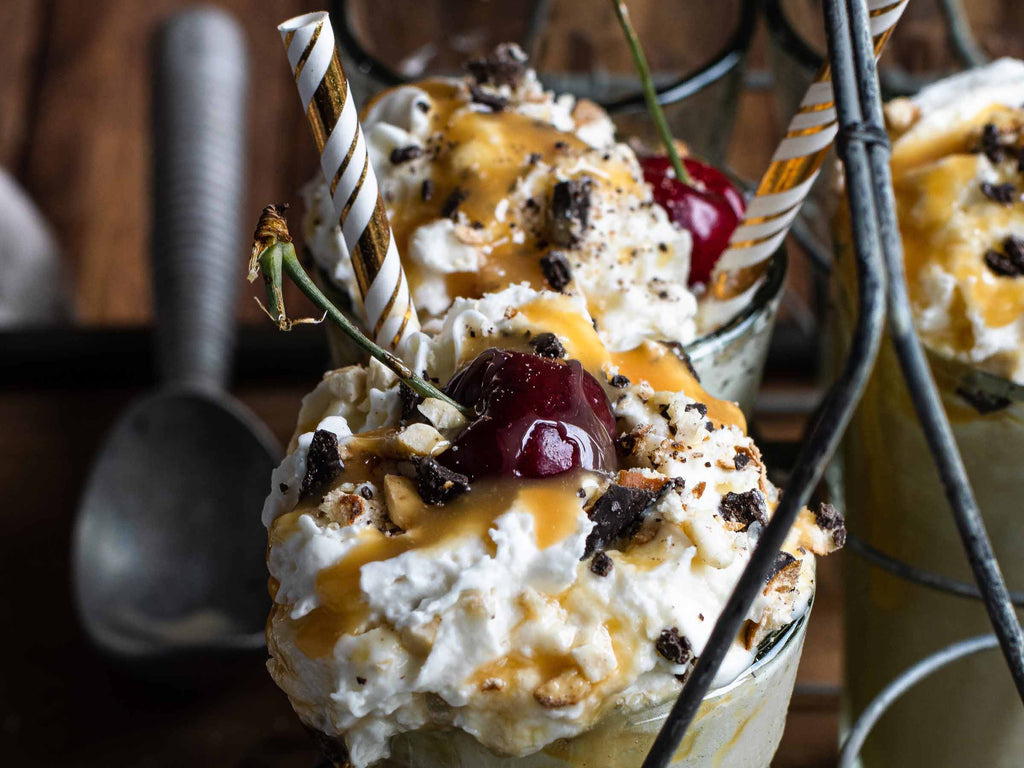 CARAMEL BRULEE COFFEE MILKSHAKE RECIPE
TAKE YOUR COFFEE MILKSHAKE TO THE NEXT LEVEL
Sweet and lush, with notes of burnt sugar and rich, buttery caramel, our decadent new Caramel Brûlée Flavored K-Cup® Pod brews a deeply flavorful cup which screams to be paired with ice cream. We used vanilla cashew milk ice cream for this coffee-and-flavor-forward milkshake—its nutty taste perfectly enhances the deep caramel-y nature of the coffee's flavor.
VEGAN-IZE YOUR MILKSHAKE 
This Caramel Brûlée coffee milkshake is so easy to make vegan, since it already starts with vanilla cashew milk ice cream. Be sure to check the labels on your sauces and toppings and you're ready to go with your vegan coffee milkshake.
DOUBLE DOWN ON DECADENCE 
Since brewing our new Peet's Flavored K-Cup® Pods is so easy (push button: done), you'll love how simple it is to whip up a sweet treat any day of the week. This recipe makes two milkshakes but can effortlessly be doubled for more flavorful coffee milkshake fans.
CARAMEL BRÛLÉE COFFEE MILKSHAKE RECIPE
Makes 2 milkshakes
INGREDIENTS
Milkshake:
1 pint vanilla cashew milk ice cream
6 oz. Peet's Caramel Brûlée Flavored K-Cup® brewed coffee (chilled in the refrigerator 1–2 hrs)
Toppings:
Caramel sauce*
Whipped cream*
Small handful crushed cashews
Crushed chocolate covered pretzels*
Cherries
Chocolate sauce (optional)
DIRECTIONS
In a blender, blitz the ice cream and brewed coffee until smooth. Pour into a chilled glass. Top with whipped cream.  Drizzle caramel sauce (and/or chocolate sauce) over milkshake and sprinkle on the pretzels and cashews. Top with a cherry and serve immediately.
*To make this recipe fully vegan, be sure to use vegan caramel & chocolate sauces, vegan whipped cream, and vegan chocolate covered pretzels.
[📸  Donna Castellano – @spoonfulofplants]