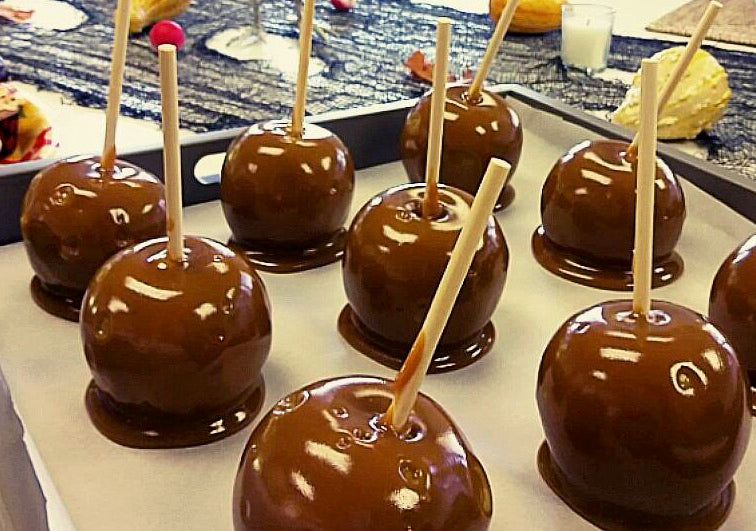 Chai Caramel Apples Recipe
Cinnamon, ginger, cardamom, and cloves. The aromatic spices of Mighty Leaf Masala Chai lend themselves beautifully to the sweetness of fall apples, therefore we infused them into caramel in this recipe for Chai Caramel Apples. This fun and delicious project is a great way to spend time with the kids, or anyone who loves a juicy sweet-on-a-stick.
MASALA CHAI CARAMEL APPLES RECIPE
INGREDIENTS
4 teaspoons Masala Chai loose leaf tea -or- 4 Masala Chai tea pouches
1 cup water
16 smallish Granny Smith apples
16 wooden sticks
1 cup butter
2 cups packed light brown sugar
1 cup light corn syrup
14 oz (one can) sweetened condensed milk
Optional (see note, below): chopped nuts, sea salt, melted chocolate
DIRECTIONS
1. Start by preparing the Masala Chai concentrate. In a small saucepan, bring the water to a boil, then reduce to low heat, add the Masala Chai, and cover. Allow to simmer 15 minutes. Remove from heat and continue infusing while you prep the apples.
2. Place apples in a large heatproof bowl and pour over with just-boiled water. Drain immediately and dry with paper towels to remove any dirt and wax.
3. Insert a wooden stick into the bottom of each apple. Set aside on cookie sheets lined with wax paper at least 1 inch apart.
4. Strain the Masala Chai concentrate into a large pot. Combine with butter, brown sugar, corn syrup, and sweetened condensed milk over medium-low heat, stirring occasionally to prevent burning.
5. Cook approximately 30 minutes, until the sauce firms up when dropped into cold water.
6. Working quickly, dip each apple in the caramel sauce up to the stick. Return them, apple side down, to the wax paper lined cookie sheets.
Note: you can also dip the caramel apples in the chopped nuts, sprinkle with sea salt, or drizzle with melted chocolate.