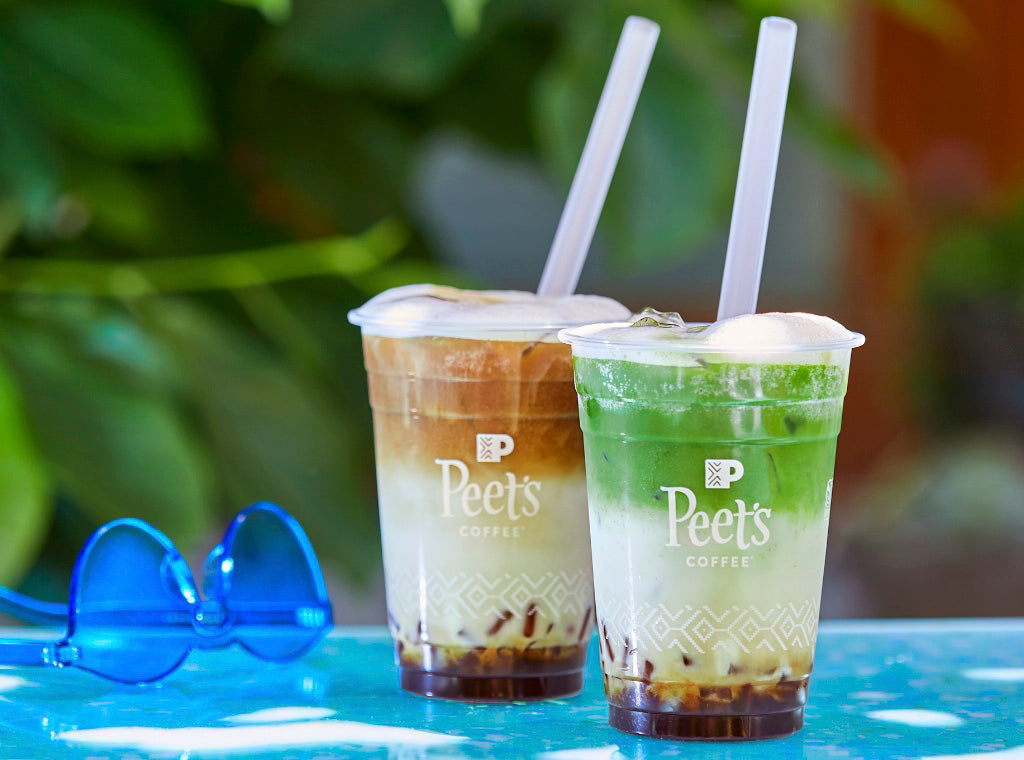 CHOOSE YOUR OWN ADVENTURE—WITH BROWN SUGAR JELLY
THE BOBA-INSPIRED BACKSTORY
Peet's has always been inspired by the delicious flavors and experiences of beverages here and around the world. As a regular boba tea drinker since middle school, Joanne Yang, Peet's R&D Sensory Manager, usually chose boba for her mid-afternoon study break drink when she was growing up in Taiwan. But when she craved it as a morning treat, she knew she had to wait at least until noon, when stores had made enough tapioca pearls to serve these sweet beverages. "I sometimes want one at 10 o'clock in the morning. I mean, that's about the time we can have some treats, right? But if I wanted some boba or jelly, I'd have to wait." lamented Joanne. With this in mind, after several years in the making, Brown Sugar Jelly has bounced its way into Peet's menu of cold drinks. Patrick Main, Peet's Senior R&D Manager for Beverages, emphasizes that this is the first time Peet's has added something textural—like Jelly—to the menu. "We wanted the Jelly to be something that's boba-inspired, but unique and distinct," said Patrick. "We wanted something that's its own thing, one that honors its Taiwanese Bubble Tea inspiration while pairing with Peet's strength: really great coffee." You might say that the R&D team's motto is: you shouldn't have to wait until noon to go on a Jelly run. With Brown Sugar Jelly, you can have your morning Peet's Cold Brew and your Jelly, too. 
WHY BROWN SUGAR JELLY, ANYWAYS?
To create the perfect sipping experience, the Peet's R&D team knew that they needed to identify just the right flavor to amplify just the right texture. Patrick explained that "embracing agar jelly was a pretty critical step in this process. Jelly add-ins are not unknown in the boba world. That's one of the options you can have at a traditional boba shop. We wanted to incorporate that familiar flavor and texture, but naturally the Jelly had to complement Peet's Cold Brew." The mild taste of brown sugar also proved to be extremely versatile because there aren't that many flavors that can pair with everything from citrus and yuzu and green tea, all the way to oat milk and cold brew. "I always call these 'Choose Your Own Adventure' drinks," said Patrick, "because the person drinking it can choose how they experience it."
WHAT MAKES PEET'S DIFFERENT FROM A BOBA SHOP?
Innovation and customization are at the heart of boba culture and one of the reasons boba shops are so popular as to be becoming practically mainstream. So why would you go to Peet's for a Jelly drink when you could go to a boba shop? Because when you want a full boba experience with multiple flavors and combinations, then a boba shop is your go-to. But you wouldn't go there if you were looking for the Peet's quality coffee experience, right? So, in that same vein, the Peet's R & D team knows that sometimes you want really good cold brew AND you want a little texture, too. We love living in a world that embraces both, knowing there's room for inspiration and sharing between cultures and lifestyles. And plenty of hours in the day to enjoy it all.