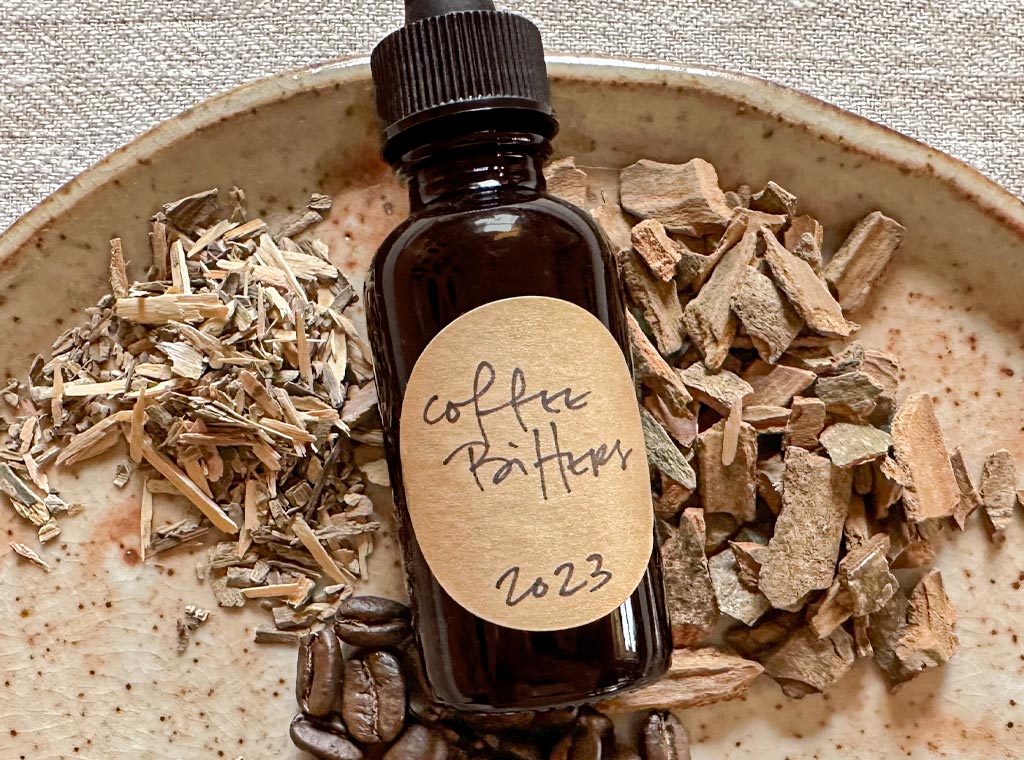 COFFEE BITTERS RECIPE
COFFEE BITTERS: A COCKTAIL'S BEST FRIEND
A good cocktail can be made truly great with a drop or two of bitters. While Angostura Bitters are the most commonly known, many bartenders and home-mixologists play with ingredients to expand their bar cart, adding nuance and depth to their cocktails by way of specific flavors. Making your own coffee bitters is a perfect way to celebrate National Cocktail Day.
A DASH OF DEPTH
Coffee bitters add a depth to a classic Manhattan or Amaretto Sour, or double down on your Espresso Martini by adding a few dashes. Or if you've got low-ABV friends, add a dash or two to Club Soda or ginger ale for an elevated easy sipper. We love the way that the chocolatey notes of our Arabian Mocha Java play with the cacao nibs in this recipe, brightened by orange peel and rounded out with the bite and spice of black peppercorns and cinnamon chips. Once you've got the technique down, play around with the coffee bean profile and aromatics. The combinations are endless, as long as you make sure to add a good bittering agent to the mix, like cinchona bark or gentian root.
A GIFT WORTH THE TIME
A bottle of this Arabian Mocha Java Coffee Bitters makes an exceptional gift to the cocktail lover in your life. But be sure to plan ahead—this recipe takes time to infuse in order to extract all the ingredients' flavors and then to mellow and meld. 
HOW TO MAKE YOUR OWN COFFEE BITTERS
INGREDIENTS
½ cup Peet's Arabian Mocha Java coffee beans
¼ teaspoon black peppercorns
1 teaspoon cacao nibs
½ teaspoon dried orange peel
¾ teaspoon cinnamon chips
½ teaspoon cinchona bark
2 cups Wild Turkey 101 bourbon
1½ tablespoons blackstrap molasses
DIRECTIONS
With a mortar and pestle, pound the coffee beans until they are roughly cracked (approximately to the size of steel cut oats) and place in a quart sized mason jar.
Repeat the process with the black peppercorns.
Add the cacao nibs, orange peel, cinnamon chips, and cinchona bark to the mason jar and stir to combine.
To the dry ingredients in the mason jar, add the bourbon. Swirl to combine and seal tightly with a lid.
Place the mason jar in a dark spot and swirl gently every 1–2 days for three weeks.
After three weeks, strain the solids by pouring through a cheesecloth or muslin-lined sieve. Squeeze to get all the goodness out of the solids. Replace the lid and return to dark spot to rest.
Add the solids to a medium saucepan and cover with about one cup of filtered water. Bring to a boil, then reduce to low and simmer, covered, for 10 minutes. Let cool, then add this water-solids solution to a separate mason jar. Cover with a tight-fitting lid and set aside in a dark spot for a week, swirling daily.
Strain the solids from the water solution using the same cheesecloth/strainer method. Squeeze, then compost the solids.
Add the water solution to the jar containing the bourbon along with the molasses. Swirl to combine, seal tightly, then return to the dark spot to rest for another week.
Decant into (preferably amber) dropper bottles and get ready to have some incredible cocktails or bitters & soda.
Coffee bitters are best if used within one year but will last indefinitely.