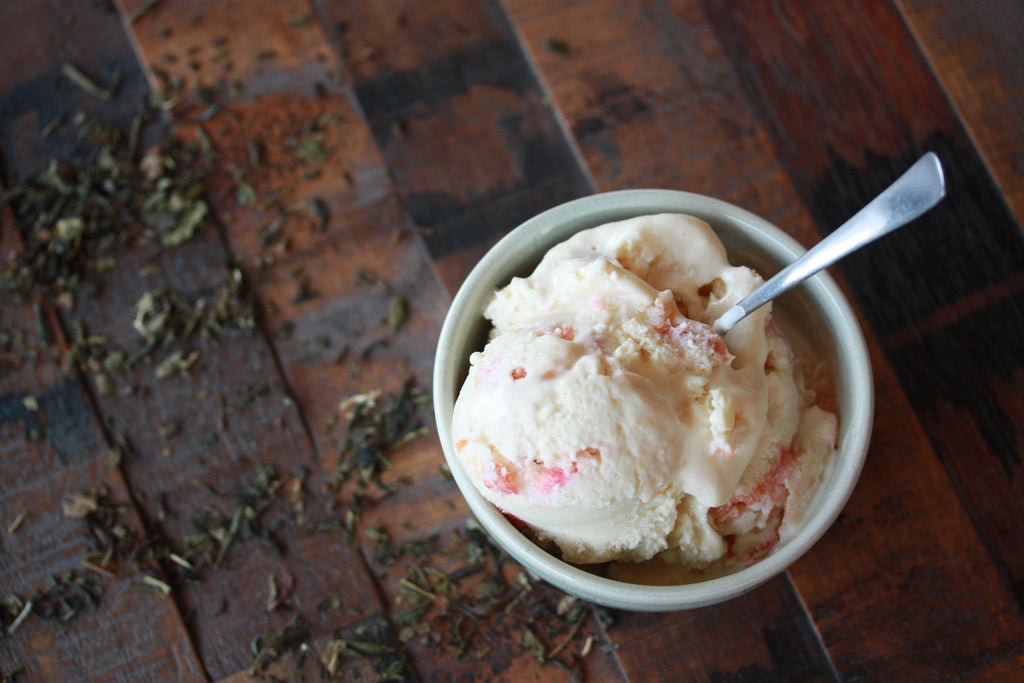 EASY WHITE ORCHARD ICE CREAM RECIPE
ORCHARD FRUIT SCREAM TO BE IN ICE CREAM
Summer demands simplicity. The warm sun lingers for hour upon hour, inspiring little more than languid lolling on hammocks. Luckily, that same sun brings an abundance of produce ripened to perfection, such as juicy peaches and perfumed cantaloupes. Bursting with flavor, summer fruit is a natural and simple complement to hot-weather refreshments, from iced tea to ice cream.
THE DELICACY OF WHITE TEA
White tea, too, is as uncomplicated as it gets. Unlike green tea, which is roasted, and black tea, which is oxidized, white tea is made from hand-plucked tea buds, the youngest leaves not yet unfurled, which are simply set out to dry. It produces a sweet, floral, and fruity cup of unparalleled elegance.
MELON & STONE FRUIT FLAVORS PERMEATE WHITE ORCHARD
Mighty Leaf White Orchard Tea is a thoughtful blend of both green and white teas. The vegetal and nutty notes of the green tea provide a satisfying depth and balance to the honeyed, herbaceous character of the white tea. We accentuate the naturally present aromas of melon and stone fruits for a blend that's reminiscent of farm-fresh fruit harvested still warm from the sun. It's delectable as a hot brew and exceptional as an iced tea, with the sweet and fruity notes rising to the top.
BETTER THAN PEACHES 'N CREAM
Of course, what goes better with peaches than cream? Infusing White Orchard tea into the cream base makes for a decadent yet fresh-flavored ice cream that will make even on the hottest summer days positively chill.
EASY WHITE ORCHARD ICE CREAM RECIPE
Ingredients
1/2 cup water
3 Mighty Leaf White Orchard Tea pouches
2 ripe peaches, chopped
16 oz. heavy whipping cream*
14 oz. sweetened condensed milk
1 tsp vanilla extract
Directions
Bring the water to a boil. Remove from the heat, add the tea pouches, and steep for 10 minutes. Remove the tea pouches, squeezing to extract all the liquid. Chill in the refrigerator.
In a small saucepan, heat the chopped peaches over medium-low heat until soft. Remove from the heat, smash the peaches, and chill.
Whip the heavy cream until it thickens to the consistency of melted ice cream. Add the sweetened condensed milk, vanilla extract, and chilled tea. Mix until combined.
Pour the mixture into a freezer-safe container, swirling the peaches throughout. Cover and freeze until solid, 4-6 hours. Remove from the freezer a few minutes before serving to soften slightly.
 * For a dairy-free version, use heavy coconut cream and sweetened condensed coconut milk.