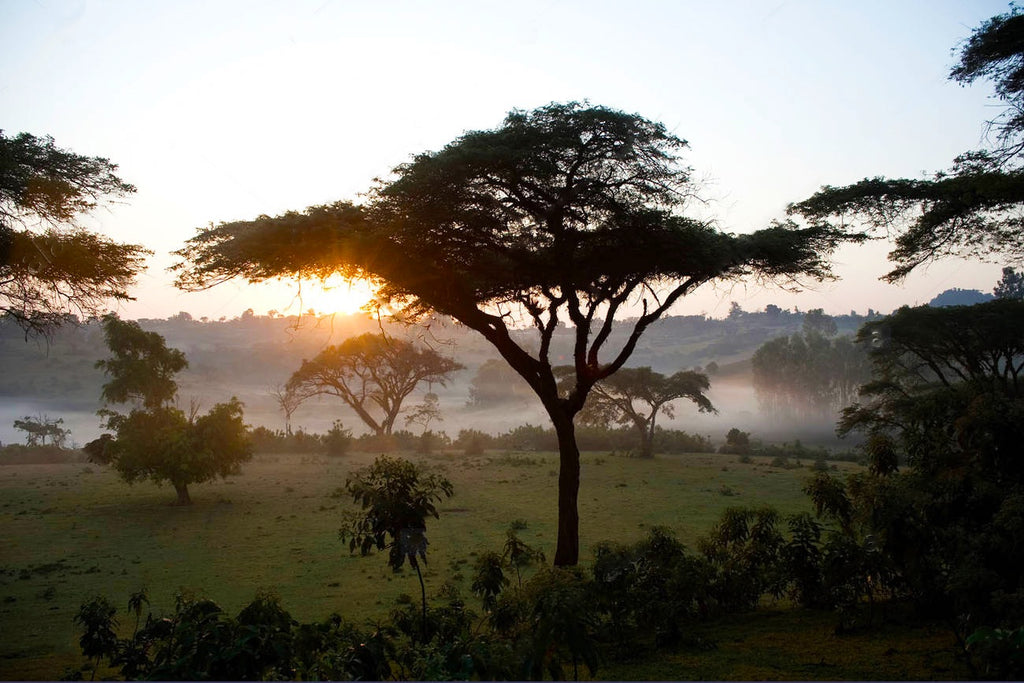 September Spotlight: Ethiopia Biftu Gudina
The Jewel in the Crown
Roasting in September: Ethiopia Biftu Gudina. A limited edition release and part of the Peet's Small Batch Subscription series.
The Jimma zone, in the west of Ethiopia, is at or near the birthplace of coffee. Yet this origin point of Arabica, the species, was lying fallow in the economic sense. Some of the most beautiful coffees coming out of the ground were going into commercial stock lots because they weren't being carefully separated and produced. What was happening to this coffee was a travesty.
But in the past decade the coffee farmers have been pulling themselves up by their bootstraps, working the land, putting training into practice, helping each other out, forming cooperatives, and it's inspiring to see it. With 100 members at its outset, Biftu Gudina has swelled to a collective of over 300—and over thirty percent are women. They're in growth mode, and having watched them persevere and succeed, we've formed a bit of a soft spot. We're cheering for them.
So, like every year when we get our samples, we pick the very best cup. And the coffees we get from the Jimma co-ops are truly an embarrassment of riches because they're all great across the board. And, like every year, there's one that has a little something extra—aromatic dimension and acidity and sweetness. This year it's Ethiopia Biftu Gudina. And it's exciting.
A Testament to the Power of Perseverance
This is not a new story, but it is a favorite story here at Peet's, the work that's been done in coffee regions around the world for the last two decades, primarily by our partner TechnoServe. Put simply: teaching co-ops how to produce extraordinary coffees that elevate the farmers' standard of living. There's something heartwarming about Ehtiopia's Biftu Gudina co-op. We've seen the transformation from a decent coffee to a truly extraordinary coffee. The farmers added care in processing to their crops and now they're getting premium prices for it, as they should for the way that it tastes and for what it is. This quality deserves it and these people deserve it. And the people who get to enjoy it should be proud. You're not only drinking a great coffee, you're helping these farmers grow exceptional coffee while growing their quality of life.
Gorgeous and uniquely vibrant, Ethiopia Biftu Gudina is redolent with heady aromatics of bergamot blossom. Bracing citrus zest meets powerful sweetness in the cup.
NOTES FROM THE PEET'S ROASTERY
"A dimensional aromatic—the whole fruit in a single bean."
Ethiopia, and the Jimma region in particular, is likely the original source of all coffee. So when we roast beans from this area, we approach them with a sense of reverence. We want to respect the coffee, and all that it has given us.
The Arabica beans of this region are curiously small, so a lighter hand is needed in the roast, else you scorch them. It's important to coax out the unique aromatics of a washed Ethiopia, which develop at each stage of the roast. Early on, Ethiopia Biftu Gudina exhibited gorgeous sweet floral notes, reminiscent of jasmine and citrus blossom. After first crack, those citrus notes evolve into zest, bright and fruity.
We had to keep our ears peeled for the first crack. It was subtle, hushed. Only once the beans reached consensus did it sound like a large number of them crackling gently together, like tiny popcorn. As we pushed on to second crack, that signature citrus zest aroma bloomed, specifically the bright, almost camphorous aroma of bergamot.
In the cup, that bergamot note makes this a truly elegant and sophisticated brew, like a happy marriage of Earl Grey tea and a rich dark roast. Pour over or drip works best to highlight the floral aromatics, but a French press will also give you a lovely cup with a little more weight. It's great straight up, but a cloud of milk might accentuate that tea-like experience. -John Nicolini and Michael Madden, Roasters