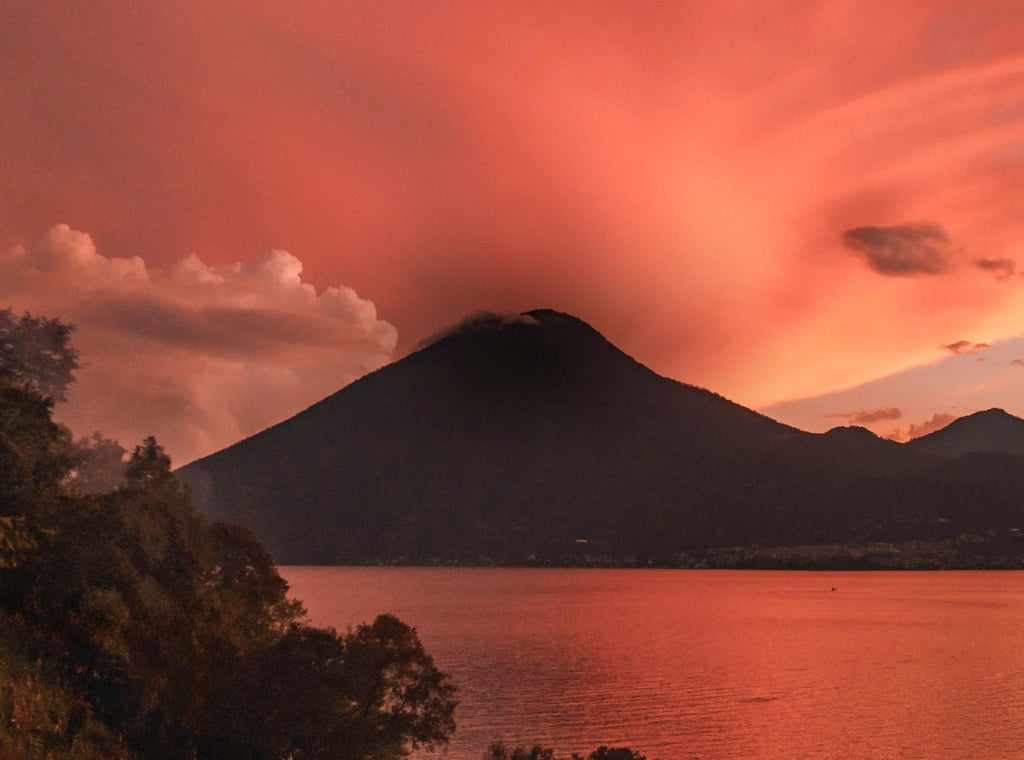 GUATEMALA XOCOMIL SOLOLA - SEPTEMBER SPOTLIGHT
TREAT YOURSELF
For people who love the chocolate notes of a Guatemala, the addition of mouthwatering cherry and the port wine finish of September's limited release Guatemala Xocomil Solola will really dial up the wow factor. This limited release is the monthly featured coffee for our Small Batch coffee subscription series and, for this special roast, we're opening up access to everyone. It's that special.
GIVE THIS COFFEE A GOLD STATUETTE
This coffee really brings the drama. When a perfect Guatemalan microclimate combines with rich, volcanic soil the result is a truly unique coffee. In Sololá, warm winds from the Pacific swirl across Lake Atitlan, hitting the cold air of northern volcanic mountains to create an ideal microclimate for growing coffee. The locals refer to this wild weather phenomenon as Xocomil.
A TRUE GUATEMALAN FLAVOR POWERHOUSE
Sololá loosely translates to "wind carries away" in the Mayan language and our coffee tasters was certainly carried away by this microlot. Incredibly chocolatey and fruity, our Cupping Room raved that this microlot tastes like a cherry cordial truffle or a port dessert wine with refined acidity that lights up your mouth. For a silky smooth and satisfying cup that checks all the boxes, we recommend brewing in a Chemex. But if you prefer to keep the oils and sediment in your cup, it's also outstanding in a Press Pot.
NOTES FROM THE PEET'S ROASTERY
" A washed coffee from the Atitlan region in Guatemala, the beans were a mix of sizes but smallish in general. The color was a medium-light olive green, with a few pale green and yellowish, some with a copper-colored skin. The smell was fresh and grassy.
The roasts went a little fast, but that was because it was a little hard to manage the heat in the 12kg machine due to the weather. It's small things like a hot and humid day that can make a big difference in a test roast, and it really make us grateful for the hours and hours of practice we've had learning how to bring out the best from a batch of beans. This coffee did respond well once a range of burner settings was established, and even still, it was a touch difficult to finish. We had to take the test roast further past the previous mark than anticipated to achieve the desired color. And we said to ourselves, "this is why we test roast, and test again. And again. It matters."
While roasting, first crack was loud and high pitched. The popping started earlier if we applied more heat, but every batch reached consensus at the same bean temperature, so we knew we were on the right track. The popping was loud after the batch was discharged into the cooler—definitely a talkative batch! The aroma close to the end of the roast was super sweet. We imagine that roasting cocoa beans might have a similar aroma—rich and chocolatey, those classic Guatemala trademarks.
We cupped through with 8 tasters, blind. Overall, this was a tough call but ultimately the preferred profile was AG 38-39. This particular roast level really highlighted the lovely flavor profiles we've been seeing out of Atitlan this season. Sweet melon aroma, good acidity, juicy, and full. We had notes of red apple, candied orange peel, cherry cordial, with a silky milk chocolate finish. We particularly enjoyed how this coffee cooled, it's very complex and opened up quite a bit with some heat off of it.
-John Nicolini and Michael Madden, Roasters
LIMITED RELEASE PEET'S COFFEES
You might think that a monthly coffee subscription sounds amazing in and of itself, but Peet's Small Batch coffee-of-the-month takes it a step further. These are microlot coffees, which is why you can only find them at peets.com and you can usually only access them if you have a subscription. They're special—their rarity means they can sell out—fast. Subscribing ensures you get to taste each one of these remarkable lots.