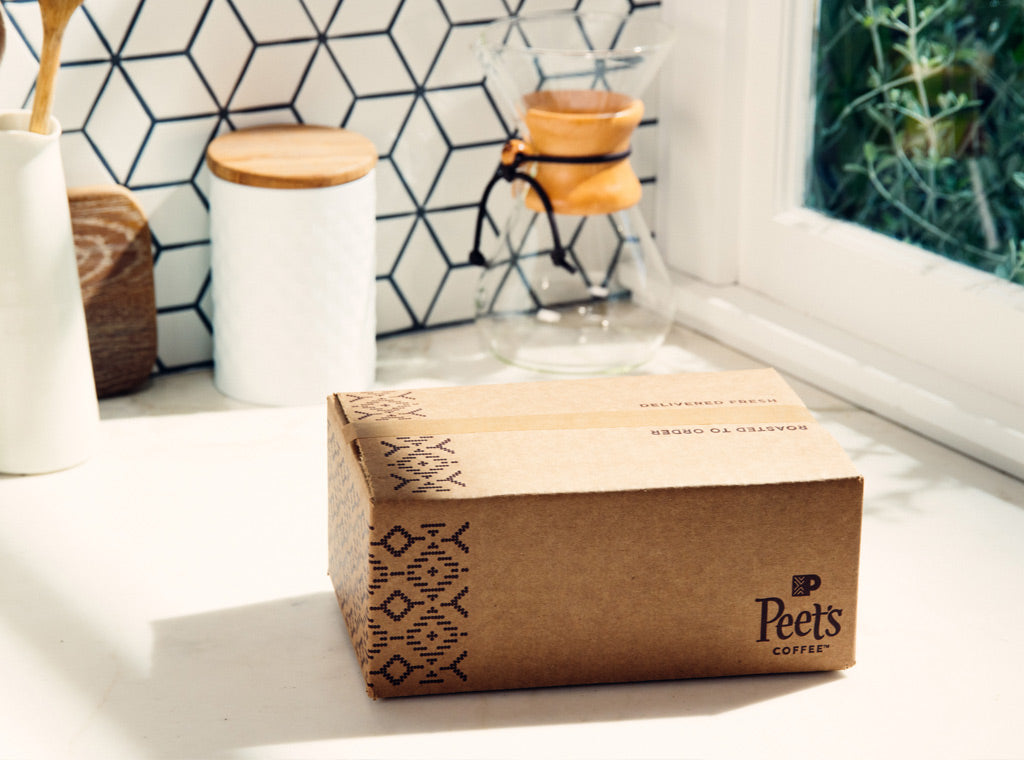 HOW DO COFFEE SUBSCRIPTIONS WORK?
WHAT IS A COFFEE SUBSCRIPTION?
What does every coffee lover want? More freshly roasted coffee delivered to their doorstep on the regular. At Peet's, we pride ourselves on sourcing the finest coffees from around the world, expertly roasting the beans at our Roastery in Alameda, California, and gracing your doorstep with coffee fresh from the Roastery via our subscription boxes. Many coffee subscription businesses aren't actually coffee roasters, they're middlemen, receiving bags of roasted coffee beans in their warehouses and dispatching them to their final location. We maintain Alfred Peet's standard of freshness and take pride in sourcing green coffee beans from our farming partners, roasting the coffee beans by hand, and sending the freshest coffee possible directly to you. If you love drinking Peet's coffee at home, the next step is choosing a Peet's coffee subscription that's right for you.
HOW DOES A COFFEE SUBSCRIPTION WORK?
You know you love drinking freshly roasted coffee at home, but you're probably wondering—how exactly do Peet's coffee subscriptions work? Signing up for our coffee subscription services means that you can select whole bean or drip grind size, and choose the duration of the subscription. We'll take care of the rest—it's that easy. Plus, any active Peet's subscriber can order limited release coffees—a great subscriber perk.
DO COFFEE SUBSCRIPTIONS SAVE MONEY?
What is a coffee subscription service worth? You're not just getting convenience and curation—you're also getting a deal on enjoying high-quality coffee. New coffee subscribers will be happy to learn they'll get 30% off their first subscription program order with code NEWSUB30, and they'll always receive free shipping on their subscription orders. We cover the shipping cost on every coffee subscription order so you can enjoy every cup. Other perks of signing up for the subscription model include saving more when you spend more, so orders of $30 receive 5% off and orders of $50 receive $10 off.
CAN YOU CHANGE YOUR COFFEE SUBSCRIPTION?
We believe there's no such thing as too much coffee, but then again, roasting coffee locally is kind of our thing. We know you'll love your Peet's coffee subscription, but we can still be friends if it just doesn't work out. There's no risk and no commitment to our subscription services. Once you sign up to receive a subscription box, you can stop your coffee subscription plan at any time. Or update your settings to suit your preferences for the upcoming month. No worries if you're having guests—adding to your shipment is as easy as 1, 2, 3. Ultimately, you're in control of how much coffee you want to receive. And the best part about Peet's coffee subscription service is that you can easily change specifications, like coffee grind size or frequency, directly in your account.
CHOOSING THE BEST COFFEE SUBSCRIPTION
Have a tried-and-true favorite that you want to receive in a subscription box? If you're already envisioning a certain Peet's coffee or Mighty Leaf Tea delivered to your doorstep, a standard Frequent Brewer Subscription is the way to go. When you browse Coffee, Mighty Leaf Tea, K-Cup® Pods, or Espresso Capsule products, this subscription model allows you to select your preferred grind size (for coffee), quantity, preferred frequency. Starting this subscription service is really just that simple.

Love drinking high-quality coffee and ready to go on a monthly adventure? If that's the case, let's match you with an exciting new brew. If you're looking to discover the quintessential expression of a coffee's terroir, then you'll want to choose a Single Origin Subscription and enjoy the elemental flavors and aromatics that define a coffee region. Or for a rare treat that features extraordinary coffees set aside by our coffee team, sign up for the Small Batch Series. Prepare to be wowed by limited release, microlot coffees from smallholder farms in the world's best coffee-growing regions. If you can't get in enough of impeccably curated high-quality coffee, this is the coffee subscription for you.
Now let's raise our cups in honor of the Signature Blend Subscription. To celebrate Alfred Peet's legacy each month, each coffee subscription box features one of Peet's greatest hits. Every coffee shipment uniquely demonstrates Mr. Peet's extraordinary ability to deliver complexity and nuance in every cup. And if you want to receive Peet's most anticipated, limited releases each season, that means you're looking for the Seasonal Essentials Subscription. All of these coffees get more than just reviews—they get fan letters—including seasonal crowd pleasers like our Holiday Blend, Anniversary Blend, and Ethiopian Super Natural.
Learn why thousands of people are loving their coffee subscription plans. Hint: perks, perks, and more perks. With a subscription service, you're gaining exclusive access to Peet's seasonal favorites and small batch coffees. No matter which subscription plan you choose, you'll see (and taste) the difference that freshly roasted coffee makes. We ship from our Roastery after it's roasted by hand, with the roast date printed right on the bag, so you KNOW it's fresh. The only downside of being a coffee fanatic is potentially running out, but you'll NEVER do that once you sign up for a Peet's coffee subscription.
SIGN UP FOR PEET'S COFFEE SUBSCRIPTIONS
Signing up for a coffee subscription means having incredibly fresh coffee delivered exactly where you want it, when you want it. Once you select how much subscription coffee is right for you, that means high-quality coffee will always be on your doorstep when you need it. You won't have to lift a finger until it's time to brew the perfect cup—right in your own kitchen. Get started with our coffee subscription services today.