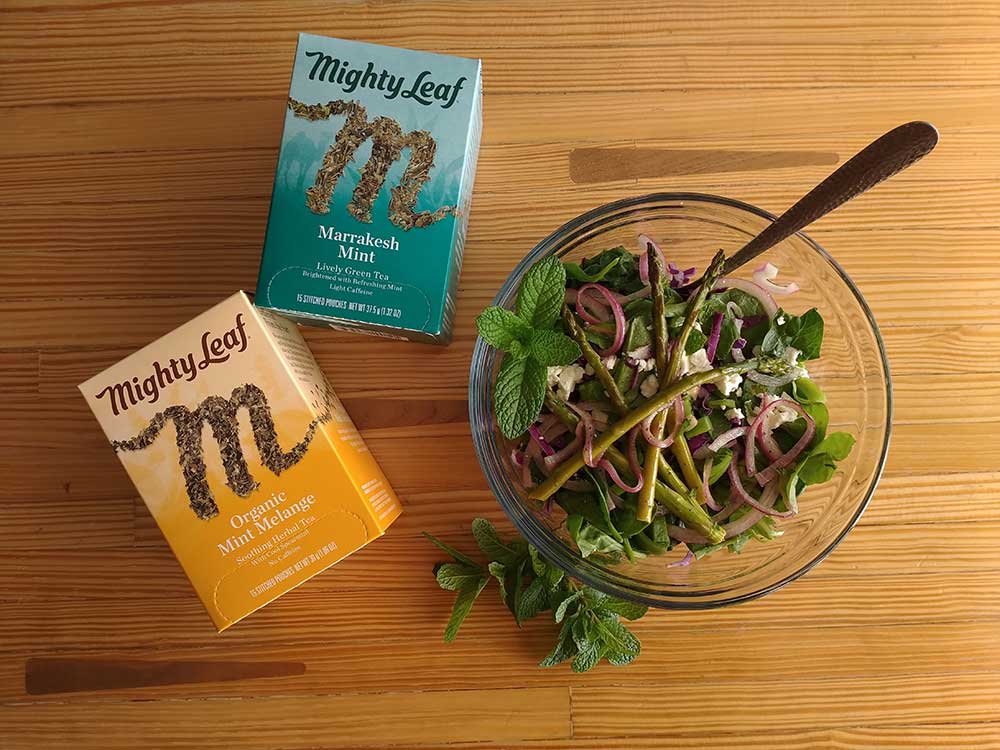 SPRING SALAD WITH MOROCCAN MINT DRESSING RECIPE
Moroccan Sun in a Cup ... or a Bowl
Whether we're drinking a brisk black, a grassy green, or a soothing herbal, we're always mindful that all tea comes from the earth. Drinking a cup of tea is literally grounding. That's why so many of our Mighty Leaf teas and herbal tisanes are sourced from certified organic farms. It's important to us to be good stewards of the land that provides for our teas. 
Case in point is Mighty Leaf Organic Mint Mélange. These spearmint leaves are grown in the town of Loudaya in sun-splashed Morocco. The farm's organic farming methods, while simple in the sense that they add less to the soil, are paradoxically more complex, requiring specialized weeding, pest management, handling, testing, and certification. Watered by pure streams from the high Atlas Mountains nearby, these teas have a clean and bright character with low bitterness.
Mint tea is core to Moroccan culture. It's consumed multiple times a day, for any occasion: taken with a meal, offered to guests as a gesture of hospitality, or just enjoyed as a refreshing pick-me-up. It can be brewed on its own or combined with Chinese green tea or other herbs, as in our brisk Marrakesh Mint. In Morocco the tea is typically sweetened—often assertively so—and sugar does have a way of distilling and elevating spearmint's almost camphorous notes, so they sing above the earthy base, filling the mouth with a cooling sensation. 
Organic Mint Mélange and Marrakesh Mint teas are as delicious in the cup as they are on the plate or in a bowl. Inspired by their mint flavor, we love either of them in this dressing for a salad of fresh produce—either tea can be used in this versatile recipe. 
SPRING SALAD WITH MOROCCAN MINT DRESSING
INGREDIENTS
FOR THE MINTY SALAD DRESSING:
8 oz water, freshly drawn
3 tea pouches Organic Mint Mélange or Marrakesh Mint
1/4 cup rice vinegar
Juice of 1 lemon
2 garlic cloves, chopped
Salt & pepper, freshly ground
1/4 cup olive oil
1/2 small red onion, julienned 
FOR THE SALAD:
12-16 spears asparagus
16 oz. salad mix, washed
½ red cabbage, chopped
6 oz. feta, crumbled
6 oz. sugar snap seas, chopped
Chopped fresh mint, for garnish
DIRECTIONS
Bring the water to a boil. Pour over the tea pouches and steep 6 minutes.  Remove pouches, making sure to squeeze out all the liquid, and set aside to cool.
Combine the cooled tea, rice vinegar, lemon juice, garlic, salt, and pepper in a blender.  Blend on medium speed 1 minute.  Then turn the blender to low and slowly drizzle in the olive oil to emulsify. Transfer to a jar and add the red onion.
Preheat the oven to 400°F.  Place the asparagus in a glass baking dish and drizzle with some of the dressing.  Just enough to coat the asparagus. Salt and pepper to taste. Roast uncovered 10-15 minutes or until tender.
While the asparagus cooks, mix the greens, cabbage, feta, and sugar snap peas together in a large salad bowl. 
Dress the salad and top with the roasted asparagus. 
Sprinkle the chopped mint over and serve.