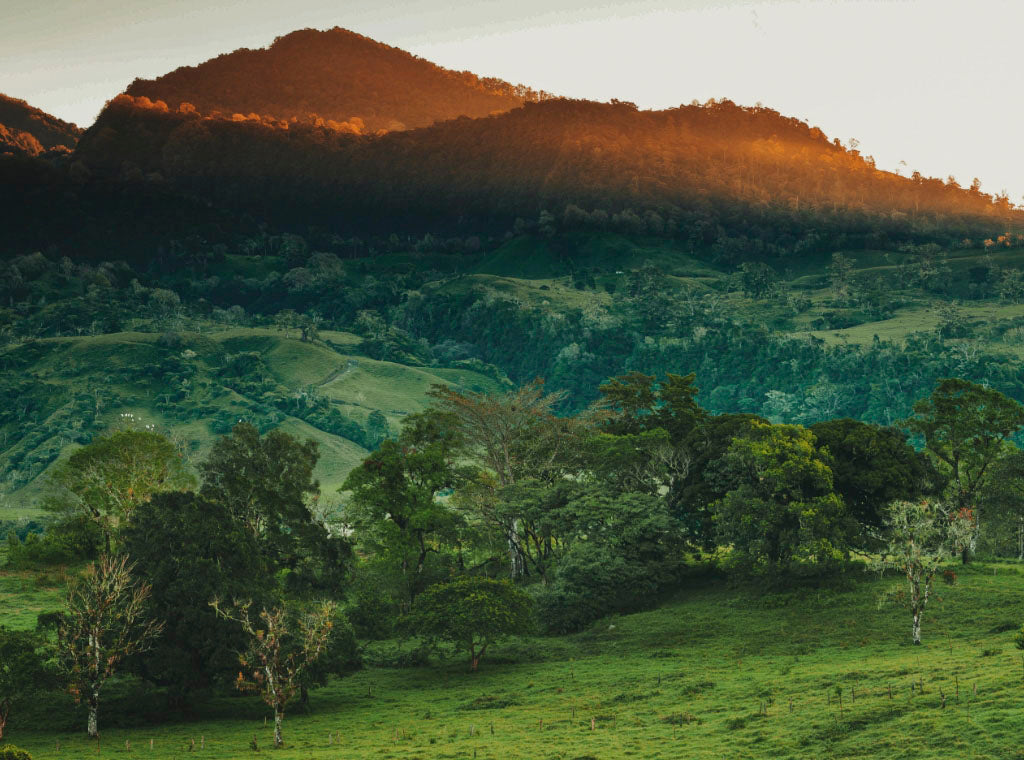 Small Batch Spotlight: Panama Don Bosco
A JEWEL OF A CUP FROM PANAMA
Roasting in July: Panama Don Bosco. This limited release is the monthly featured coffee for our Small Batch coffee subscription series.
AS PRISTINE AS THE VIRGIN RAINFOREST THAT SURROUNDS THE FARM
The magic of Panama Don Bosco begins where it's grown. Finca Don Bosco is a farm reimagined as paradise. Two-thirds of the land is untouched rain and cloud forest, sprawling into La Amistad Biosphere Reserve, a unique "Friendship" park shared by Panama and Costa Rica. Within this sustainable system, Finca Don Bosco is able to produce gem-like coffees without harming the forest or selling parcels of land to development. 
A SINGLE ORIGIN WITH DEEP ROOTS
Much as the Biosphere Reserve is made possible through the friendship between Panama and Costa Rica, this coffee is made possible by our relationship with the Moreno family. Forged over many years working together, we've made the commitment to purchase their entire coffee production at a profit to the farm. As manager Marcos Moreno commits to preserve his grandfather's vision: producing pristine Panama coffee while preserving World Heritage cloud forest. 
THE EPITOME OF EXCLUSIVITY
We buy all of the farm's production, so you won't find this coffee anywhere else—period. This amazing coffee has been a team player in our blends, and we love it when we're able to give it a spotlight suited to its MVP status.
FINE, ELEGANT, AND CLEAN
Taste this jewel of a cup with impactful notes of Meyer lemon, juicy strawberry, and a rock candy sweetness, its mid-palate depth of flavor is so concentrated, you feel like you could bite into it. It's the best expression of a very high grown Central American coffee, and as pristine as the virgin rainforest that surrounds the farm. Puro café. 
A single farm, the finest in Panama.
A single family, preserving rainforest heritage.
A single source: Peet's 
NOTES FROM THE PEET'S ROASTERY
This washed coffee from the Piedra de Candela region in Panama arrived to the Roastery encased in fruity aroma: hints of zest with a deep layer of sweet, dried fruit underneath. There was nary a defect in the lot of small, round, olive green beans. 
The roast went fast at first, but visibly slowed as we approached first crack without any adjustment, and it continued to move slowly towards the finish. During the final roast we kept a high burner setting until well into first crack—and the roast rate picked up nicely compared to the previous roast. These test roasts are critical in bringing out the best of each coffee. Even single origin coffees from estates we've worked with for decades can vary year to year, keeping us engaged and in for a treat.
First crack started with one or two loud pops and then built up to a peak quickly. Both 1st and 2nd crack were clearly audible outside of the roaster. Moving fast in the roaster at first but slowing down on its own tells us a lot about this coffee, particularly that making a pre-emptive reduction in heat may cause the roast rate to slow too much. The first one or two sharp cracks towards the end were a good cue to take the batch out and finish in the 37 Agtron range.
The fruit that was present when we first opened the bag was still there during the roast, but brighter and more citrusy, less like dried fruit. That Meyer lemon sweetness from Panama Don Bosco is something that rarely changes too much. Each year's lot will have different nuance—this year is extra juicy red summer fruit—but a high, clean, and clear sweetness always comes through. Panama Don Bosco could make you into a pour over convert. And definitely taste before adding sugar. This coffee's inherent sweetness is plenty.
-John Nicolini and Michael Madden, Roasters
LIMITED RELEASE PEET'S COFFEES
You might think that a monthly coffee subscription sounds amazing in and of itself, but Peet's Small Batch coffee-of-the-month takes it a step further. These are microlot coffees, which is why you can only find them at peets.com and you can only access them if you have a subscription. They're special—their rarity means they can sell out—fast. Subscribing ensures you get to taste each one of these remarkable lots. And if you're a tried-and-true fan and subscribe to of one of our other coffees or subscription series, not to worry: you can do an add-on of this limited release to your next shipment. At least, while it lasts.