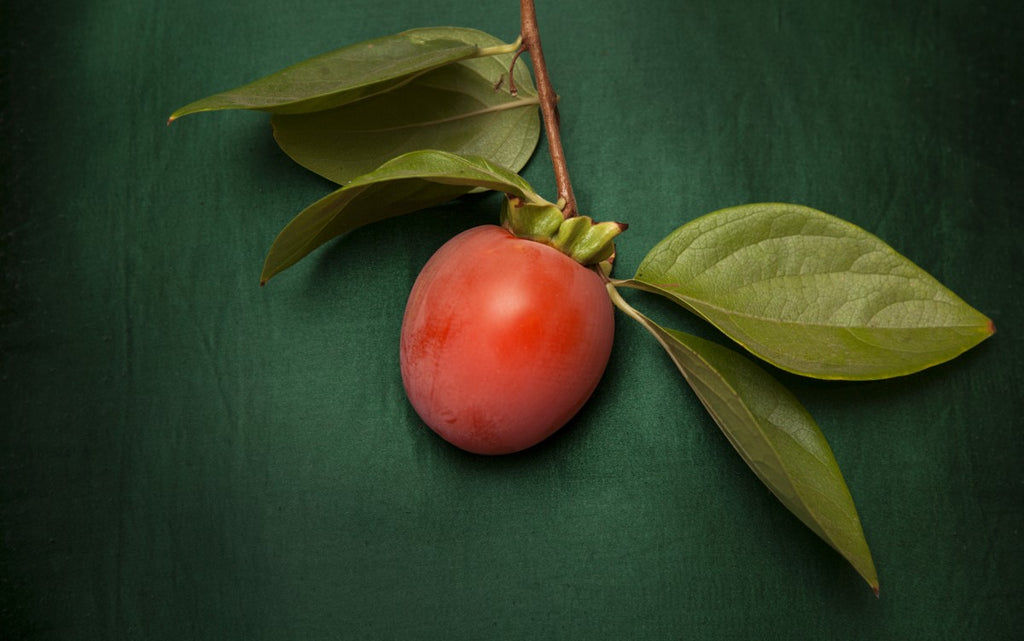 Persimmon Bread with Organic African Nectar Icing Recipe
Persimmons have natural notes of honey, cinnamon, and clove that work beautifully in baked goods, like this comforting bread topped with an icing infused with our Mighty Leaf Organic African Nectar tea. For this recipe, you must use soft, ripe Hachiya persimmons, the ones that are elongated and acorn shaped, unlike the squat, flat-bottomed Fuyu persimmons. Leave the persimmons to ripen fully, resting on their shoulders, until they are completely soft and squishy like a water balloon, otherwise their tannins will cause the persimmon bread to be bitter.
Persimmon Bread with Organic African Nectar Icing
Ingredients
Bread
1 cup persimmon pulp, scooped from ripe Hachiya persimmons (compost the skins)
2 teaspoons baking soda
3 cups white sugar
1 cup melted butter
4 large eggs
2 teaspoons ground cinnamon
1 teaspoon ground nutmeg
1 teaspoons salt
3 cups all-purpose flour, plus extra
½ cup water
1 cup chopped walnuts
1 cup golden raisins
Icing
2 Mighty Leaf Organic African Nectar tea pouches
¼ cup boiled water
2 cups confectioners sugar, sifted
1 tablespoon heavy cream
Directions
Preheat the oven to 350°F. Grease two 8 ½" x 4 ½" bread pans.
In a measuring cup, mix the persimmon pulp and baking soda until thickened.
In a large bowl, combine sugar, melted butter, eggs, cinnamon, nutmeg, and salt. Mix until smooth. Stir in persimmon pulp and water and add the flour a bit at a time.
Dust the nuts and raisins with flour to keep them from sinking to the bottom of the persimmon bread. Fold them into the batter. 
Divide the batter into the prepared pans, filling each pan 2/3 full.
Bake for 1 hour or until a toothpick inserted comes out clean. Cool for 10 minutes before removing from the pan. Transfer to a wire rack to cool completely.
Meanwhile, allow the Organic African Nectar tea pouches to steep in the boiled water for 10 minutes. Remove the bags and chill the concentrate in the freezer for 10 minutes.
Measure 2 tablespoons of the concentrate into a small bowl and add the confectioners' sugar and heavy cream, stirring until smooth. If you want a thicker icing, add more sugar; to make it thinner add more Organic African Nectar concentrate and/or heavy cream.
Drizzle the icing over the top of the persimmon bread once it's cooled.
Slice and enjoy with a freshly brewed cup of Organic African Nectar.
Tips:
The infused icing may be done with any tea or herbal blend. Pour it on cookies, scones, cinnamon buns, and more.
These can be made into muffins by pouring the batter to fill muffin pans 2/3 full and baking for 30 minutes, or until a toothpick comes out clean. Makes two muffin tins, or 24 muffins.