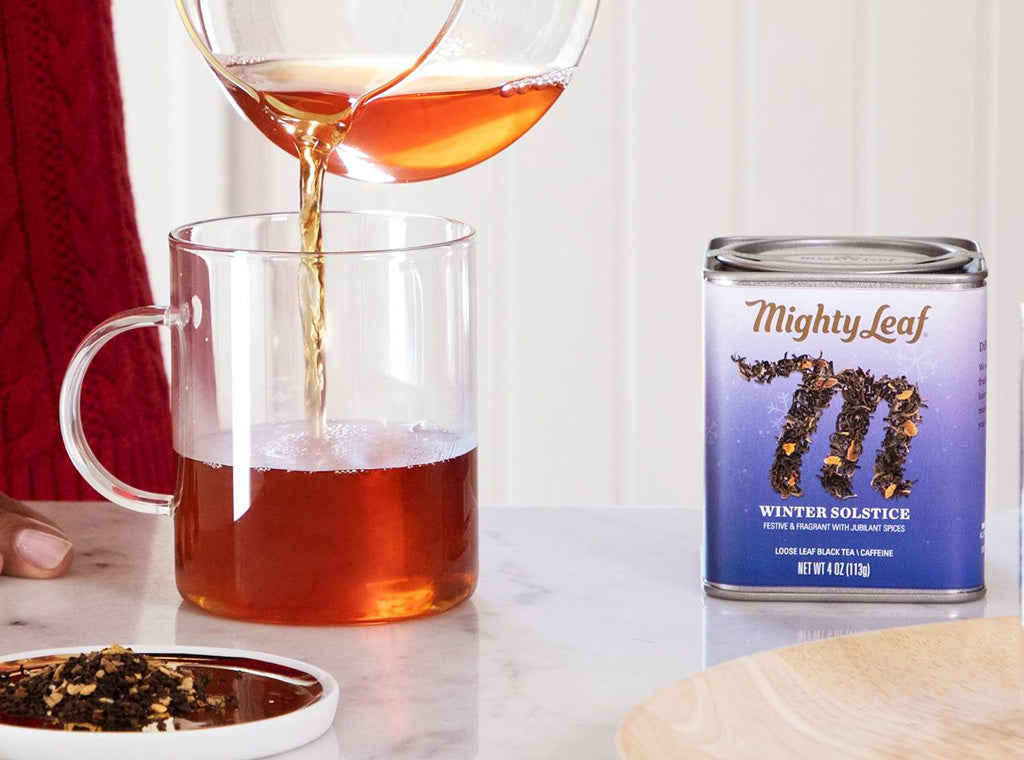 Winter Solstice au Lait Recipe
SEASON'S STEEPINGS
This time of year is more than just a season; it's a whole vibe. Twinkling lights fill the evening streets. Chill breezes prickle your cheeks. And everywhere you go, the air seems to be perfumed with a heady mix of citrus and spice as we head into the holidays.
Like capturing a genie in a bottle, we distill all that magic into a cup for our Winter Solstice, a customer favorite for 14 years. To a backbone of brisk black tea we add a classic trio of aromatic spices: warming cinnamon, peppery allspice, and tongue-tingling whole cloves. For natural sweetness we add bits of real vanilla beans, plus bergamot and dried orange peel for a citric high note.
Individually assertive, together these ingredients fall into perfect harmony, as mellifluous as a midnight choir. Simply brew up a batch, take a deep whiff, and let the spirit of the season overtake you.
WINTER SOLSTICE AU LAIT
Rich foamed milk turns Mighty Leaf Winter Solstice into a deeply comforting drink that's perfect for cozying up by the fireplace on a chilly day. Any kind of milk you like will work just fine.

Ingredients:
Freshly drawn water
1 tea pouch (or 1 teaspoon loose leaf) Winter Solstice
4 ounces milk or alt-milk
Sugar or other sweetener (optional)

Directions:
Bring the water to a full roiling boil. Pour 6 ounces water over the tea and steep for 5 minutes.
In a microwave or small saucepan, heat milk until just lightly steaming; do not boil. Give a vigorous whisk to froth, or use a frother if you have one.
Pour the heated milk over the tea, and sweeten to taste. Serve hot.