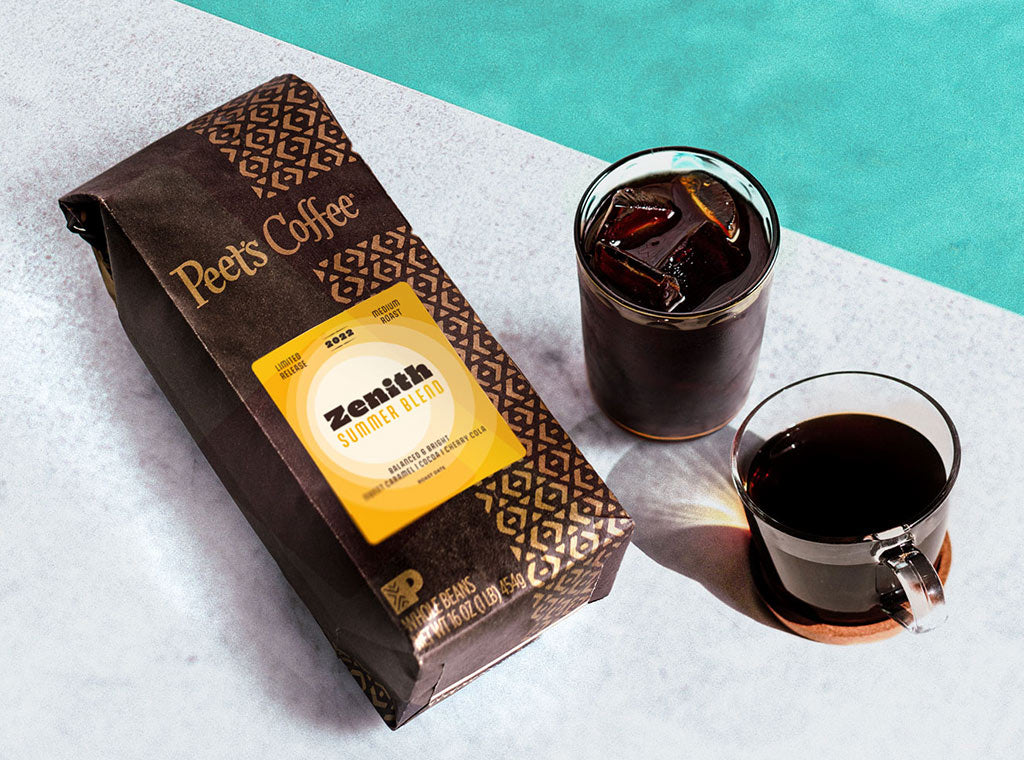 A NEW MEDIUM ROAST FOR AN OVER-THE-TOP SUMMER
Ring the bells, Peet's has a hot new limited release coffee this season. It's fire, which is a good thing, since Zenith Summer Blend makes such a killer cold brew.
SO HOT IT'S COOL
When the summer is at its hottest—and the sun is at its zenith (see what we did there?)—nothing quenches thirst like a cold brew. Aromatic, sweet caramel notes, bright and refreshing, with just the right acidity to make your mouth water—and with enough flavor that ice won't weaken it. Zenith Summer Blend is smooth, juicy and balanced, a medium roast crafted to be amazing hot or cold brewed. Or brewed hot then poured over ice. Flex.
SUMMER VIBES, ANY WAY YOU BREW IT
As Bay Area natives—and coffee blending experts—Peet's gets that a summer blend needs to be as relaxed and flexible as the season. We know how to layer for cool mornings, blazing middays, and foggy evenings, and we know how to blend a coffee that's perfect for any weather summer might throw at us, and for any brew style. Guatemala's sweet chocolate-caramel notes are at the forefront when Zenith Summer Blend is cold brewed, and at the finish when brewed hot or served on ice. New Guinea gives the blend some heft whichever way you brew it, balancing out the juicy cherry cola flavor of a washed Rwanda, for a cup (or glass!) that's complex, but not complicated.
It's summertime…and the sipping is easy.
NOTES FROM THE PEET'S ROASTERY
This was our first time roasting this brand new, limited release coffee. Before roasting, the green coffee's fragrance was fruity, fresh, and grassy, with a little spice in the background. The production roasts were swimming in sweet, vanilla-like fragrance with a halo of fruit laced through.
It takes a while for our 12kg test roaster to get into the swing of things after its routine tune-up. As these were true test roasts, we really leveraged our experience to achieve the perfect level of medium for the trio that make up Zenith Summer Blend. The roast moved rapidly to first crack but slowed down nicely after reducing heat. Second crack was audible outside of the roaster, and the first one or two pops was a good cue to let the batch out into the cooler. When multiple test roasts on our 12kg mirrored production batches on our R1000, we knew we had it dialed in.
We love the challenge that roasting a new blend presents. It takes all of our senses to develop the perfect roast level and bring out the best of each component for a harmonious cup. Brewed hot for sensory testing, the cups reminded us of a Caramello bar, perfect for the foggy mornings here in the Bay this past week. But the fruit-and-vanilla aromatics are so compelling that we took some home because we absolutely cannot wait to try this as cold brew.
— John Nicolini and Michael Madden, Roasters