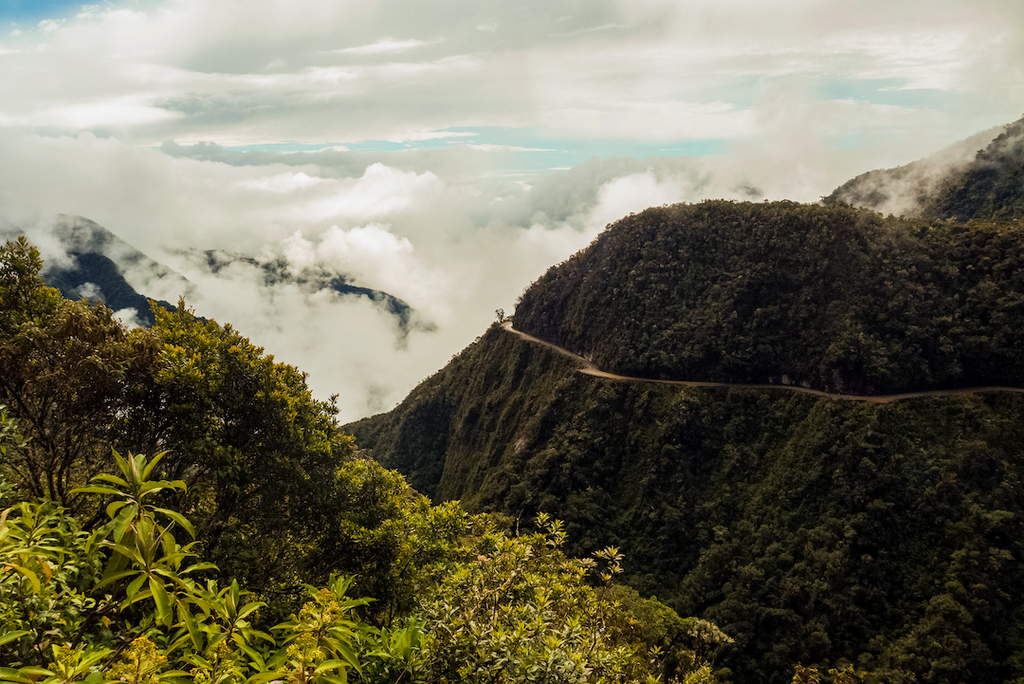 February Spotlight: Bolivia Yungas Valley
The Yungas Valley Grows Stunning Coffee
The conditions are ideal: high altitude, superb terroir, and cloud cover that mitigates the intensity of the sun. And the coffee bean itself, because it's grown so high, is dense and fabulous to roast. Yet coffee farming in Bolivia is relatively new. 60 years ago, it wasn't a coffee culture at all, it was a coca culture. So efforts were made to elevate the appeal of coffee farming in Bolivia's Yungas Valley as an alternative to coca; coffee grown at a premium quality that would receive a higher price in the market, becoming a viable economic alternative for the communities at origin. The Sol de Mañana farmer training program has turned around the Bolivian coffee industry with better agronomy practices from the nursery to planting, pest management, pruning, mulching. The results are encouraging: premium quality coffee productivity is up 200%, for a crop that earns its keep and can justify its economic roots.
The Road of Death
The next obstacle is the Road of Death, the only passage between the lush catch basin that is the Yungas Valley and La Paz, where the coffee must go to finish processing and travel to our cups. One and a half lanes carved out of a jungle on a cliff where some of the drops are a thousand feet down. Where sometimes, as you journey, the road just seems to disappear. It's a harrowing three hour drive on this, the most treacherous of thoroughfares, with a truckload of coffee waiting to be milled.
Worthy of the Journey
This amount of effort is why you might not be familiar with coffee from The Yungas. But we invite you to get to know Bolivian coffee and how good it can be. The trip it takes to get to us makes it a little bit of a miracle. It's why it feels so special, along with its notes of dark chocolate and orange peel and its very sweet, lingering finish. It's exemplifies a characteristic we like to call "pretty," not too fruity or overly heady, but instead one with universal appeal driven by its dense body, friendly aromatics, and a particularly fine texture. It's a premium quality you can taste in the cup—one that makes this small batch offering equally amenable to guests or as a gift. A special coffee that's worth the journey it takes to get to us.
NOTES FROM THE PEET'S ROASTERY
"Approaching Bolivia Yungas Valley, we suspected it might behave a bit like some of its neighboring South American counterparts, Brazil in particular. The beans had a similar appearance in size and color, ranging from chartreuse to a bright yellow, with a fresh, grassy aroma like a freshly tilled field.

First crack was rapid and high-pitched once consensus was reached, with an occasional exceptionally loud pop. The amount of heat applied at the beginning of the roast—and how fast it turned around—had a noticeable effect on the timing of consensus. When we did a faster turnaround and got a late crack, we needed to take the coffee to a higher finishing temperature regardless of color, even charging with burners off to keep time and temp consistent.

Late in the roast we got notes of fresh walnuts, bright and nutty, reminding us of the aromas present when roasting Colombian coffees—another South American neighbor. In the end, like meeting a new friend, it was fun getting to know this unfamiliar bean's personality. We enjoyed it brewed in a press pot, catching whiffs of orange peel in the aroma. But its dark chocolate notes lend themselves well to those who take a splash of milk or cream in their cup, and it's perfectly suited for a Valentine's Day breakfast in bed."
-John Nicolini and Michael Madden, Roasters