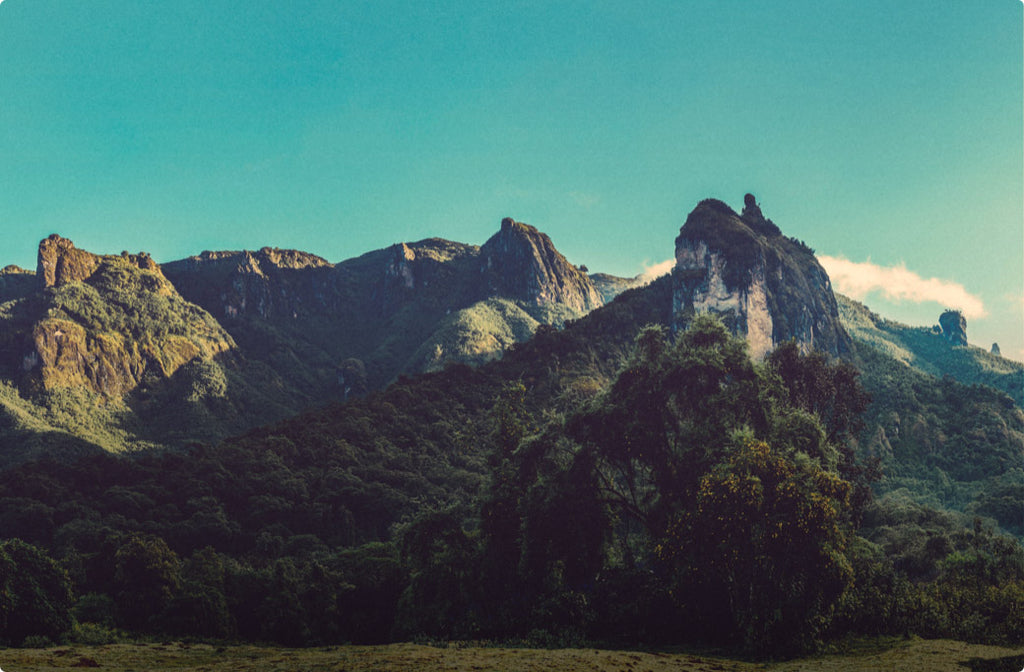 April Spotlight: Ethiopia Hambela Farm Organic
ORGANIC LIKE YOU'VE NEVER TASTED IT
Ethiopia is more than the birthplace of coffee; producers there have been farming organically since before organic certification was conceived. You could say they were doing organic before it was cool, and Ethiopia Hambela Farm Organic is a pristine example of impeccably produced Ethiopian organic coffee.
A COFFEE WITH ROOTS IN THE SKY
Hambela Farm sits in the heart of some of Ethiopia's best coffee country. Today it's run by three brothers, but it's their grandmother, Muluemebet Emiru, for whom truly only the sky was the limit. In 1934, she became Africa's first female pilot, but her career aspirations were cut short due to the Italian occupation in 1936. After Ethiopia was liberated, the emperor awarded Emiru lush farmlands full of wild coffee trees. With the help of her husband, she transformed them into a private coffee estate, which the family maintains to this day.
THE TASTE OF TERROIR
This organic coffee is a testament to the family's deep connection to the land. True to its East African terroir, the Hambela Farm cup teems with floral and citric notes, like a glass of lavender lemonade, with subtle spice thrumming beneath.
NOTES FROM THE PEET'S ROASTERY
Ethiopian coffees are notoriously finicky. Unlike other, more forgiving beans, if you don't hit them with just the right amount of heat, the roast can catch you off guard and skew too light or too dark—but usually too dark. The Hambela Farm coffee is no different.
Typical of Ethiopia beans, these were very small, matte olive-green in color, and clean with no visible defects. As we poured them from the bag, we were hit with the essence of summer grass.

Even knowing Ethiopian beans' peccadilloes, the roast was predictably unpredictable. We had to do five roasts just to get a couple of consistent curves. Once we found the right combination of heat and burner cuts, the beans started to cooperate.
Ethiopian coffees both washed and natural tend to be quiet in the roast; this was the first place Hambela Farm surprised us. First crack was surprisingly loud and built to consensus rapidly. The beans started popping maybe three to four degrees earlier than most other coffees. This was an indication that we might need to pull back on the heat lest we overdevelop the beans and obscure their delicate flavors.
Our first two roasts were fast, at 11:50 minutes. We wanted a longer roast time with this coffee to really develop and build on the complexity of its flavor, so we cut back the burners when the pop was starting to build, even though for any other bean it would have been too soon. Ultimately, we settled into a 13:15 minute roast with a long finish. This was the right balance to bring the beans to a fully developed roast while not destroying its delicately bright, citrusy overtone.
Throttling the heat early to extend the development time paid off. We got a lot of sweet, bright berry towards the finish. The fruit really jumped out when we ground the samples, smelling amazingly good. While Hambela Farm kept us on our toes, the end result was worth the effort, and we rewarded ourselves with a pour over that really brought out that bright fruit essence.
-John Nicolini and Michael Madden, Roasters