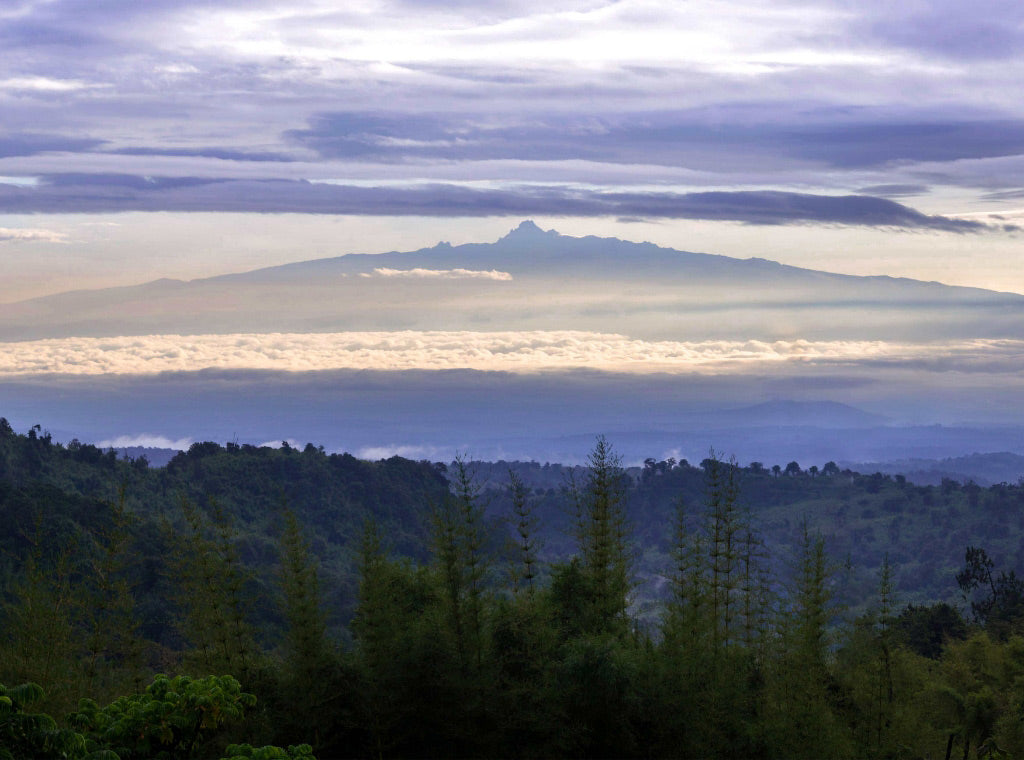 Kenya Kilele: An Elegant, Uplifting Cup
Roasting in August: Kenya Kilele. This limited release is the monthly featured coffee for our Small Batch coffee subscription series.

The Geography of a Stellar Coffee
Kenyan coffee is one of the most sought-after coffees in the world, and this extraordinary batch is no exception. A long time in the making (over three million years, in fact) the stage for incredible coffee growing conditions was set when the Great Valley Rift formed in central Kenya. Rising out of this geological turbulence near the equator, Mount Kenya and the Aberdares mountain range possess abundant sunlight, two annual rainy seasons, and slopes with acidic clay soil. It's the ideal condition for bright, full-bodied coffees with signature notes of juicy dark berries.
But How Does It Taste?
This month's single origin is an exemplary Kenya that sings with notes of brambleberry fruit, malty black tea, and finishes with a sweetness that's more tenor than treble. Grown in smallholder co-ops around central Kenya, only the ripest cherries were picked and milled in Ruiru, located outside of Nairobi. Our Cupping Room was so impressed by this full cup with its bright, balanced acidity that they elevated this microlot to subscriber access. 
NOTES FROM THE PEET'S ROASTERY
"Forest green with some beans a shade lighter, and some a shade darker, the aroma when we opened the bag of raw beans on arrival was cool and green. Unlike a broad Kenya AA, these beans were very small and slim.
The roast went fast but was easy to manage with heat adjustment, slowing down nicely after reducing heat at first crack. The popping at first crack continued to build up for a minute after cutting back on heat. It sounded strong for such a little bean. Second crack got a lot louder depending on how far I took the roast. You could almost finish on auditory cues alone: 'Sounds like Agtron 36.0, take it out!' Ultimately, the test roast was fast but responsive, hitting the desired roast level consistently and relatively easily.
Once out of the roaster, those green leaf aromatics turned to bark, and some pleasant cereal and grain smells rose to the surface. There was some sweetness that wasn't present in the green beans, with cherry-like fruit notes.
We recommend brewing it two ways to see which method you prefer: one batch in a Press Pot to preserve the East African oils, and another batch in a Chemex to experience a cleaner cup."

-John Nicolini and Michael Madden, Roasters
LIMITED RELEASE PEET'S COFFEES
You might think that a monthly coffee subscription sounds amazing in and of itself, but Peet's Small Batch coffee-of-the-month takes it a step further. These are microlot coffees, which is why you can only find them at peets.com and you can only access them if you have a subscription. They're special—their rarity means they can sell out—fast. Subscribing ensures you get to taste each one of these remarkable lots. And if you're a tried-and-true fan and subscribe to of one of our other coffees or subscription series, not to worry: you can add this limited release to your next shipment. (At least, while it lasts.)