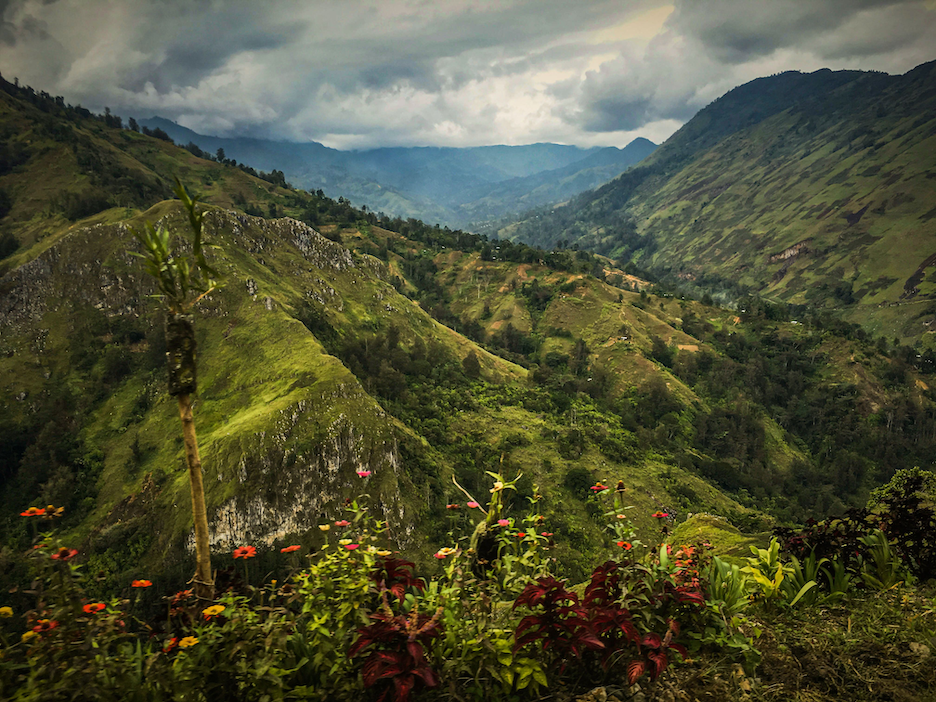 January Spotlight: Papua New Guinea Bunum-Wo
GIVING BACK AT ORIGIN
Peet's has been working with the Bunum-Wo coffee estate in Papua New Guinea for more than 40 years. For over 10 of those years, Peet's has sponsored the Bunum-Wo Butterfly School, located on the farm itself, with 85 students enrolled daily. The Butterfly School provides education and health services to young children and the entire community on the estate. The name harkens to the Bunum-Wo insignia, a blue butterfly that graces their coffee sacks. Every sip we take of this Papua New Guinea coffee is made all the more sweet, knowing that it supports the livelihoods, health, and education of those who farm it on the Bunum-Wo estate, as well as their families.
The Bunum-Wo estate and a little history of coffee in Papua New Guinea
Over 800 languages are spoken on the island of Papua New Guinea, and the coffee grown there mainly stems from many smallholder farms. In the high plains desert of the Western Highlands of Mount Hagen, you'll find larger coffee estates. Of the three owned and operated by the Carpenter family, the most famous estate is Sigri; its adjacent sister farm, Bunum-Wo, is likewise one of the largest and most established estates in the region, producing exceptional beans.
The Taste of Bunum-Wo
This is one of the finest examples of New Guinea coffee from the ground up. Big, plump AA grade beans are left to fully ripen before they are harvested. Then they undergo a triple soaking process, imparting a rich, savory jackfruit flavor which nicely anchors the pristine citric brightness and fresh pine aromatics of these high-elevation beans.
NOTES FROM THE PEET'S ROASTERY
"Sometimes beans challenge us, alternately sensitive or stubborn, requiring that we think on our feet while roasting. And then there are the beans that just stick to the script. Papua New Guinea Bunum-Wo is one of those coffees that seems just happy to be along for the ride.
Out of the bag, the medium sized, olive green beans smelled fresh and sweetly vegetal, like the essence of spring peas. The roast went remarkably well—easy to read and reach our desired sweet spot of color. While not exceptionally loud, first crack built to an obvious consensus, at which point we cut the heat and the roast progressed steadily with no surprises. The finished aroma is mildly sweet and herbaceous, with those signature jackfruit notes.
Bunum-Wo felt like it was willing to work with us: not too fast, not too slow, easy to roast and finish consistently. Rarely have we been able to get in step with a coffee so readily. And it matches that attitude in the cup—approachable and ready to take what you give it, whether that be a splash of cream or nothing at all."
-John Nicolini and Michael Madden, Roasters