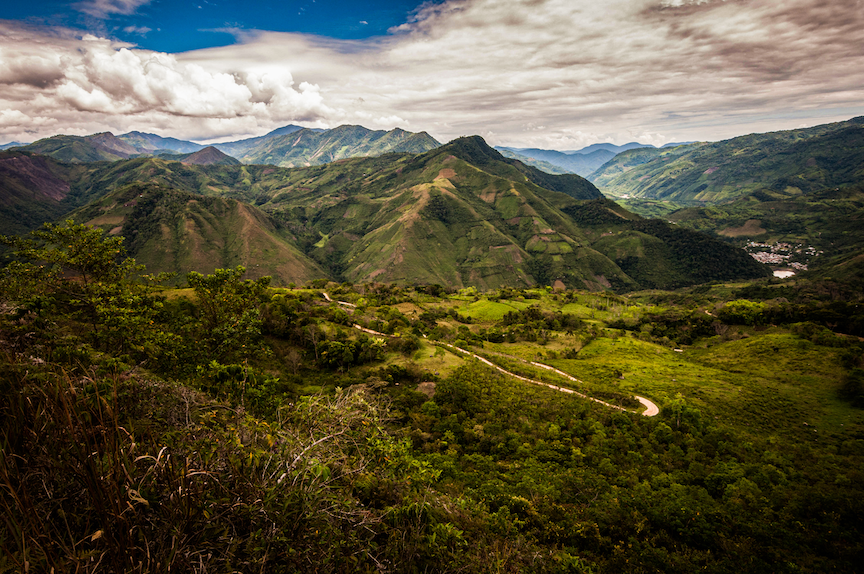 Peru Cajamarca Organic
A clean, organic cup
Roasting in November: Peru Cajamarca Organic. This limited edition release is the monthly featured roast of our Small Batch coffee subscription series.
Perfectly in season and perfect right now
We've taken arrival of this rarified aromatic coffee from the northernmost region of Peru, which—despite its altitudes and abundance of 20,000-foot peaks—produces a bright and elegant cup: lively and juicy with a clean finish.
From a region dedicated to sustainable production
Peru is a specialist in organics. Known for the best is the northern region of Cajamarca. Its reputation for quality stems from years of farming dedicated to sustainable production. Composting coffee cherry pulp to produce organic fertilizer, selectively pruning rather than stumping, eschewing herbicides for hand-removal of weeds, and mulching for elevated soil management means that farmers are substituting synthetic inputs with the sweat of their hard work. It's what must be done to survive as organic coffee farmers.
Elegant, refined, and refreshing
And the payoff is sweet, in the form of one the finest Peru coffees you'll have tasted. It's a perfect palate cleanser for those who subscribe to our Small Batch subscription series. Bright and savory, full and clean, its mild acidity is balanced by soft sweetness. Juicy malic notes open into a depth of flavor that leaves you reaching for just one more cup.
Sourcing with impact in Peru
This year, we've partnered with TechnoServe in Peru by supporting their initiative, the Coffee Alliance for Excellence (CAFÉ). The program helps coffee farming families, some in former coca-growing regions, develop more sustainable livelihoods by improving productivity and quality through agronomy training and education, as well as connections to premium coffee markets.
Central to the program is the instruction of coffee farmers by the Coffee Farm College (CFC). Guided by regional experts—and by the results of farmer needs assessments—CFC provides training in Good Agronomic Practice, Climate Smart Agriculture, and gender equity, as well as other life skills such as financial literacy and sustainable land use.
NOTES FROM THE PEET'S ROASTERY
"Quick from crack to finish, producing a bright, fruity cup. A pioneer in organics, Peru produces some interesting coffees. With this batch from the northern highlands of Cajamarca, we anticipated it would behave much like other high-grown coffees from the Americas: quick to roast, with bright acidity, floral notes, and fruity on the palate. And we were mostly right, though of course every coffee expresses its own particular nuances.
Straight out of the bag, the beans were very pale green, giving off a fresh, grassy aroma, like bales of hay drying in the sun. Once in the roaster, things started moving fast. First crack started with one or two loud pops. From there it took less than 30 seconds for it to build to consensus, with pops clearly audible outside of the roaster. This moved faster than expected, but that rapidity allowed us an earlier burn cut, so as to retain the more delicate notes of the beans. We've seen similar behavior with Guatemalan coffee, as well.
We were struck by how sweet the coffee smelled when we went to take our first color reading (Agtron 39#). In the end, Peru Cajamarca lived up to its expectations; unlike Guatemala's passion fruit and honeysuckle, or Panama's bright lemon pop, this one delivers a mouthful of luscious papaya and an elegant floral overtone. It's like the first ray of sunshine to burst through on a cloudy day, and it makes one fantastic cold brew."
-John Nicolini and Michael Madden, Roasters
LIMITED RELEASE PEET'S COFFEES
You might think that a monthly coffee subscription sounds amazing in and of itself, but Peet's Small Batch coffee-of-the-month takes it a step further. These are microlot coffees, which is why you can only find them at peets.com and you can only access them if you have a subscription. They're special—their rarity means they can sell out—fast. Subscribing ensures you get to taste each one of these remarkable lots. And if you're a tried-and-true fan and subscribe to of one of our other coffees or subscription series, not to worry: you can do an add-on of this limited release to your next shipment. At least, while it lasts.