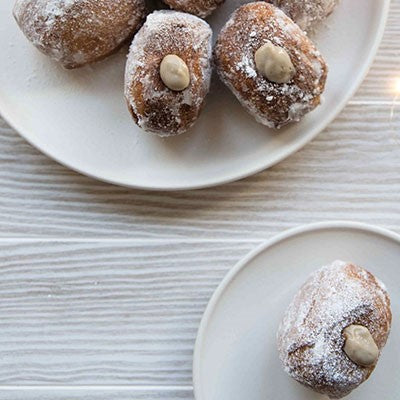 Vanilla Bean Tea Pastry Cream Donuts Recipe
This Vanilla Bean Tea pastry cream is wickedly good (and would be fabulous piped into profiteroles, eclairs, or even in a twist on Boston Cream Pie). We love the hack of using quick-and-easy tinned biscuit dough to make donuts.  Along with a cup of your favorite Peet's, Vanilla Bean Tea Pastry Cream Donuts make a perfect Valentine's Day breakfast.
VANILLA BEAN TEA PASTRY CREAM DONUTS
Makes 8 donuts
Vanilla Bean Tea Pastry Cream ingredients: 
1 1/2 cups whole milk 
1/2 cup granulated sugar 
4 Mighty Leaf Tea Vanilla Bean tea pouches 
2 tablespoons cornstarch 
1 tablespoon all-purpose flour 
1 tablespoon water 
4 large egg yolks 
Donut ingredients: 
1 tin of biscuit dough 
Vegetable oil 
Powdered sugar 
Make the Vanilla Bean Tea pastry cream: 
Pour the milk into a heavy-bottomed saucepan. Sprinkle the sugar on top. Heat over medium heat until it's almost boiling. Turn off the heat and stir the milk.  
Plunge the tea pouches into the hot milk and steep for 10 minutes. Remove the tea pouches, pressing them against the side of the saucepan to extract any trapped liquid. 
In a medium bowl, whisk the yolks, water, flour, and cornstarch. Pour ¼ cup of the hot milk into the yolks to temper, whisking to combine. Whisking continuously, pour in the remaining milk, about 1/4 cup at a time.  
Pour the liquid back into the saucepan and set over medium heat. Whisk continuously until the liquid thickens. Once it takes on a pudding-like consistency, remove from heat. 
Pour the Vanilla Bean Tea pastry cream through a strainer and into a bowl. Press plastic wrap on the surface and chill until cold.   
Make the donuts:
In a medium, heavy-bottomed pot, heat 1 inch of oil until it reaches 350℉.
Separate the biscuits and lay flat on a cutting board or baking sheet.
Without overcrowding, cook the donuts in batches in the hot oil for 1–2 minutes or until golden, then flip and cook until both sides are golden. Drain on a wire rack and let cool.
Fill the donuts: 
Fit a pastry bag with a 1/4-inch round tip and fill the bag with Vanilla Bean Tea pastry cream. 
Poke the tip of the pastry bag into the top of the doughnut. Fill each doughnut until the pastry cream mounds over the hole. 
Dust the donuts with powdered sugar and enjoy! 
If you don't have a pastry bag, use a resealable plastic bag, snipping 1/4-inch tip from one of the corners. Use a toothpick to poke a hole into the donuts and fill as described.