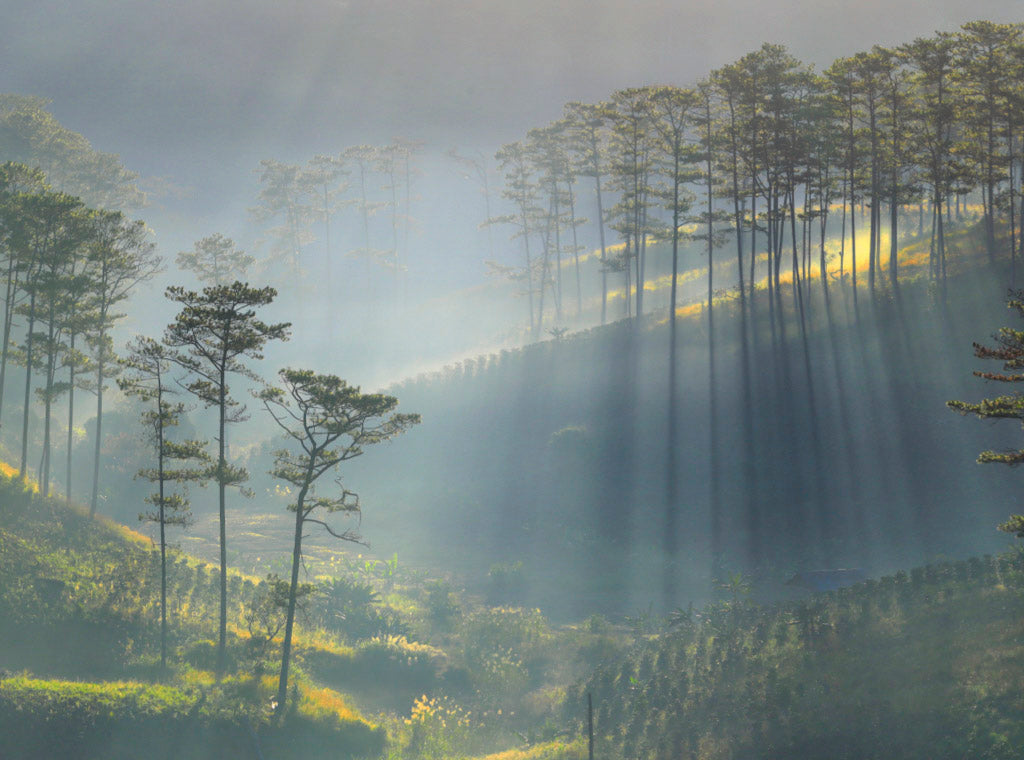 Vietnam Lotus Bold - Subscriber Exclusive
ROASTING IN AUGUST: VIETNAM LOTUS BOLD
When our Coffee Team encounters extraordinary coffees, they set aside just enough to share with those who relish rare and exquisite cups. Each month, our Small Batch Series subscribers receive a different limited release, rare microlot from smallholder farms in the world's best coffee-growing regions, like this month's Vietnam Lotus Bold. And anyone who has a Peet's subscription can get access to these coffees—just add to your next shipment.
An Arabica from … Vietnam?
The small-hold farmers of Vietnam are known the world over for their dedication and yield, growing coffee at volumes second only to Brazil. Yet we've found ourselves captured by this microlot of Arabica. Grown in the southern central highlands of Da Lat, where the sweltry air cools near the coast of the South China Sea, this crop is a stunning departure from the region's more common Robusta. To taste the spicy redolence of this lush tropic in such a carefully tended premium arabica coffee is a unique opportunity.
Achieving Peet's Seal of Approval
Only perfect scarlet coffee cherries were selected for this small batch. Wet-hulled and dried on raised beds in greenhouses, they've been turned by hand for twenty days, twice the typical time and labor. The controlled conditions and added attention tightly attune color, flavor, and aromatics, while allowing the beans to absorb wild yeasts afloat in the damp air as they refine and darken. The impeccable result drinks like a clean Sumatra, weighty in the cup with herbaceous malt that smells of sweet tobacco and tastes complex and earthy.
How this Arabica from Vietnam Tastes
Surpassingly fragrant and lavish with caramel but light on Sumatra earthiness, this coffee would be exceptional coming from anywhere. We're especially pleased to find the essence of this abundant origin in an unusually fine coffee, thanks to the bold intent and focused effort that created this limited harvest.


NOTES FROM THE PEET'S ROASTERY
A little extra attention was required to roast this impeccable microlot Arabica to perfection. Like Indonesian coffees, Vietnam Lotus Bold is wet-hulled, so we gave it a similar treatment and chose to roast these light olive-green beans over a higher heat. The roast wasn't hard to control overall, but each batch had its own idea of exactly what time and temperature it needed.

The first warm up batch had almost no audible first or second crack, it went slower and finished lighter than the rest of the test batches. All the following batches had a lively sounding first and second crack, and obvious surface oil at the finish. By pulling back on the heat gently, we allowed the coffee's characteristics to come into their own, resulting in a uniquely complex roast. As each batch came out of the roaster, the herby-mulchy aromas really stood out.
Whether you brew Vietnam Lotus Bold in a press pot or as a pour over, this is an ideal coffee to enjoy anytime—first thing in the morning, or as an afternoon pick-me-up. Simply pour into your mug and enjoy, this brew needs nothing more.
— John Nicolini and Michael Madden, Roasters