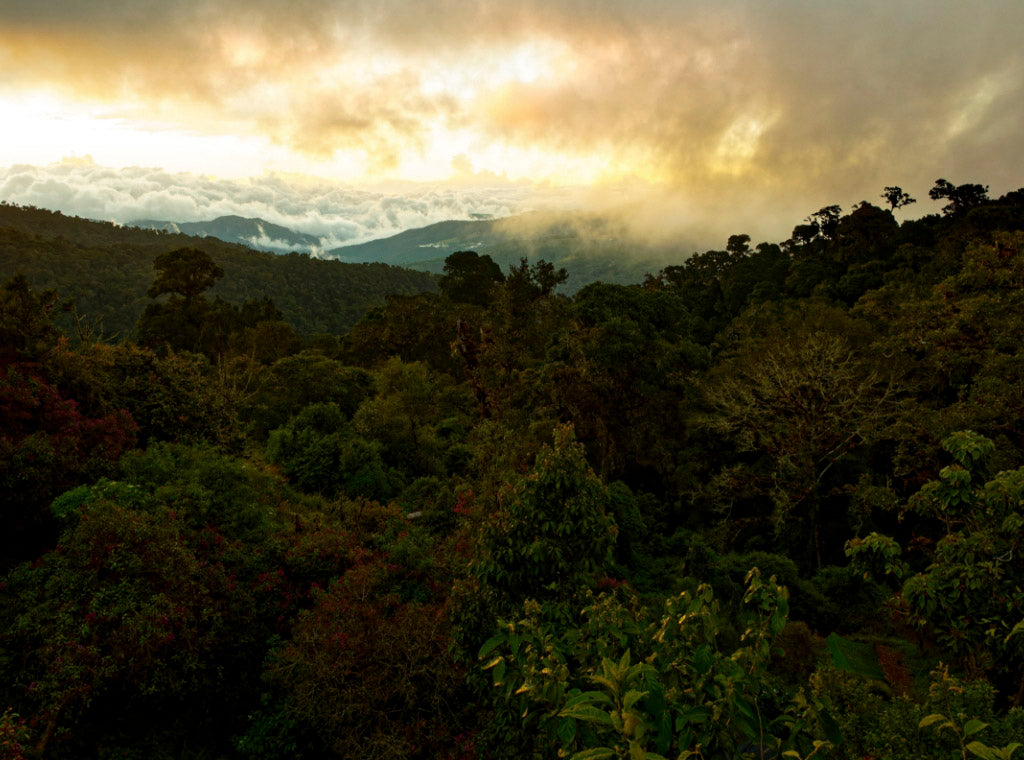 ROASTING IN NOVEMBER: COSTA RICA LOS SANTOS HONEY PROCESS MICROLOT
It's exciting to offer a Small Batch coffee with a less common processing style, particularly this exceptional batch from a co-op in Costa Rica who we've known for decades. We think every coffee fanatic deserves to experience a honey processed coffee. Anyone with a Peet's subscription can access November's unique offering. Not a member? Each month, our Small Batch Series subscribers experience incredible cups like these from all around the world, and you can, too (and the ship for free).
FRIENDSHIP BENEFITS
Relationships in the coffee world are important, and they're a two-way street. Peet's has been working with CoopeDota, a carbon-neutral cooperative in Costa Rica's Santa Maria de Dota region, for over 30 years, so we've gotten to know each other well. There's trust there, and this microlot of honey processed coffee is a great example of how deep relationships provide opportunity. 
A RISK WORTH TAKING
CoopeDota is a large pool of small farmers, around 1,000. The co-op carved out a microlot program from some of these producers. The last time we tasted microlots from this pool, we had a marathon cupping of around 35 microlots before we narrowed it down and picked one (it was a fully washed coffee). So, this time around, we worked it a little bit different. We asked them to send us their selection. They know our taste, and we know that their operations are exquisite (in addition to being carbon neutral, they have their own greenhouses, they do patio and solar drying, and have an organic garden), so we were confident that we'd receive something outstanding. And we were right. They delivered this exceptional honey processed batch, and we're delighted. 
HOW IT TASTES
Costa Rica Los Santos is in the Santa Maria de Dota region. That is the belly of the beast of Costa Rica right there, a premier growing region, so right off the bat you know it's gonna be great. Long time Costa Rica fans will be familiar with the flavor notes of a typical lot from the region: bright acidity, Meyer lemon, and cocoa. But those 'typical' flavors are for fully washed coffees. Using the honey process changes the tasting notes, and that process must be done meticulously to result in a coffee that tastes great. CoopeDota producers are exacting, and this microlot is, in a word, delicious. But if you're looking for lemon bar, you won't find it here. Instead, you'll find a super sweet, immensely drinkable Costa Rica. We dubbed it a 'gateway' cup for those who aren't big on acidity or haven't embraced lemon in their coffee because they're looking for milk chocolate. Los Santos is so sweet from that honey process, and the touch of fermentation gives it a lovely fruitiness. In the Cupping Room were comments like 'fruit cordial,' 'golden raisin,' 'nougat,' and 'cooked fruit, like apricot jam.' And it was this last note that struck a chord, because the texture of this coffee is satiny soft, as well. You'll still find the brightness of a Costa Rica, but it's a bit more subtle. If you're someone who likes a chocolate-y coffee, try this black before adding milk or cream. It's less of a challenge and more of an opportunity, fitting for this microlot.
NOTES FROM THE ROASTERY
Upon arrival at The Roastery, the medium-light olive-green beans were small and evenly graded with just a few odd sized ones and a bit of copper and silverish skin still present on the surface—like a natural process coffee might have. The smell was notably sweet and heady with hints of tropical fruit like mango or papaya, which wasn't a surprise considering this lot from Costa Rica is a honey process.
A straightforward roast, this Costa Rica looked like a natural process but roasted like a washed (again, no shock there, thanks to the process). First crack started early with one or two loud snaps and then built to a solid consensus. Both first and second crack were sharp and could easily be heard outside of the machine. While it was easy to manage, the roast tended to move slower after first crack than expected; coffees that roast this way are preferable to ones that move fast through the development phase. This slow movement gives us space to try a couple of roasts with an extended wet time of at least 3 minutes. The fruity smell of the green beans stayed during the roast but changed a little to a bitter (not in a bad way!) zest-like aroma (yep, it's from Costa Rica!).
We were able to cup the test roasts with 6 tasters—blind and randomized—and it was a very interesting cupping. We want to make sure to highlight the honey processing, and we most certainly achieved it in a number of these test roasts. Then comes the hard part: narrowing it down.
We found that all the profiles changed drastically throughout cooling, and we ended up cupping longer than usual. Unanimously we started off with two preferred favorites, but then changed gears post cooling. The overall liking skewed towards test batch #8, as tasters found it to be a nice balance of roast and sweetness, shining a light on the sweet, floral notes that are suggestive of honey processing. We found all test batches to have a clean & silky texture, lingering finish, with notes of citrus, dried fruit, honeysuckle, plum wine, with a warming malty finish.
We recommend brewing this as a pour over or Chemex and at least trying a few sips black if you're a cream-taker. It's so silky and sweet, we think it's a perfect 'gateway coffee' for enthusiasts looking to expand their palate in an incredibly drinkable way.
-John Nicolini and Michael Madden, Roasters