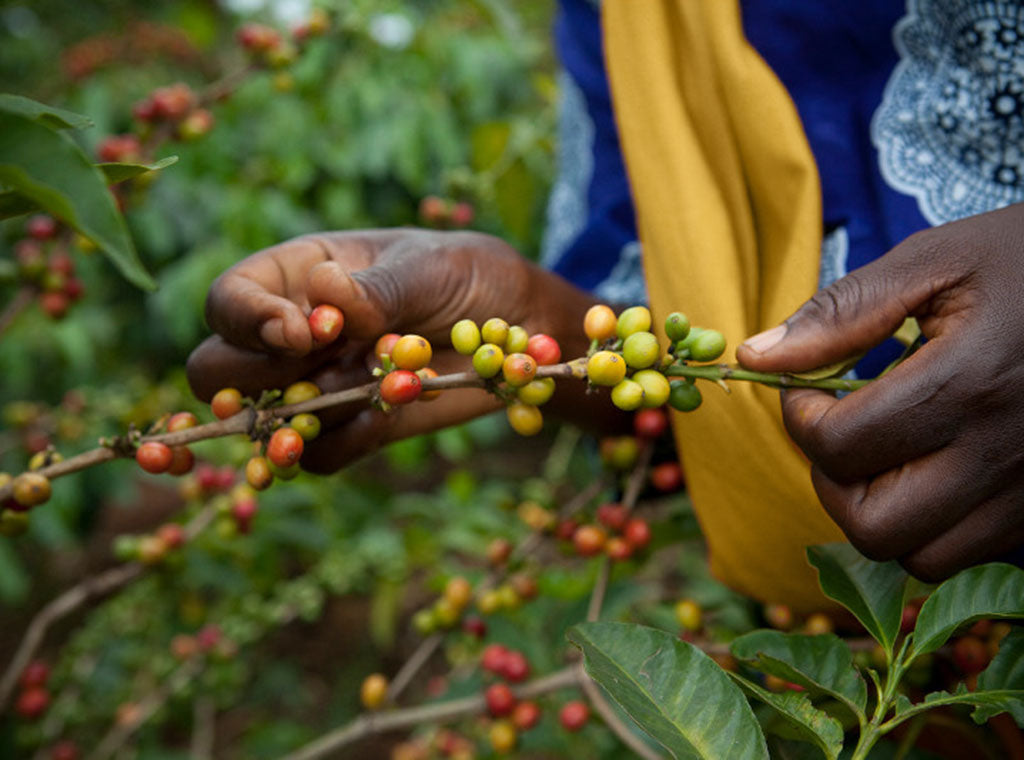 WHAT IS HONEY PROCESSED COFFEE?
WHAT IS HONEY PROCESS WHEN IT COMES TO COFFEE?
Honey processing is somewhere between washed and natural processes. The coffee bean (seed) does not stay in the cherry like with natural processing, but it also doesn't have its mucilage completely removed as with washed coffees. In honey processing, the coffee cherries are pulped and then the seeds are dried and fermented in their sticky mucilage. 


WHY IS IT CALLED HONEY PROCESS? DO THEY USE ACTUAL HONEY?
It is this glistening, sticky appearance of the pulped seeds that gives the processing method its name, appearing as if they've been coated in honey. Depending on how much of the mucilage is removed, honey processed coffee is categorized as either yellow, red, or black. "Yellow honey" has the least mucilage and is closest to washed, while "black honey" has the most and is closer to natural. So, no. No actual honey is used in honey processed coffee. 


WHERE DID HONEY PROCESS COFFEE ORIGINATE?
Sometimes challenges present us with opportunities to create something better than before. When water shortages caused by an earthquake prevented Costa Rican coffee farmers from utilizing the washed method for coffee processing, they were forced to pivot. Drawing on the natural processing done in more arid coffee producing countries like Yemen and East Africa, coffee farmers in Costa Rica began using the honey process to conserve water.
 
WHAT DOES HONEY PROCESS COFFEE TASTE LIKE?
Changing the chemical composition of the fermentation process also changes the resulting flavor profile. Honey processed coffees have sweeter profiles and bigger bodies. And although honey processed coffees are now found in many origins, Costa Rica put this method on the map, has since perfected it, and is now world famous for their stunning offerings.


WHAT ARE THE BENEFITS OF HONEY PROCESSED COFFEE?
When done well, honey process coffee is the best of both worlds—a perfect equilibrium of the juicy fruit of a natural coffee and the clean, balanced acidity of a washed coffee. Additionally, the reduced use of water in process lends an environmental bonus, as washed coffee uses quite a bit of water, and the resulting wastewater must be reprocessed and diverted rather than re-enter the fresh water supply.


WHY DON'T WE SEE HONEY PROCESSED COFFEE MORE OFTEN?
One of the reasons we don't see honey process coffees very often is that if the process isn't meticulous, you can really mess up the final product. If you're going to do it, you must know exactly what you're doing; you must be very precise in the amount of mucilage you leave on, vigilant in the turning of the wet parchment so that it's not all dry on one side. A lot of times when less meticulous producers set out to using honey process the result is like dampening sunshine: if you don't do it right it can be heartbreaking, which is one of the reasons you don't see honey process coffees often here at Peet's…but when you do, their quality and taste is impeccable.