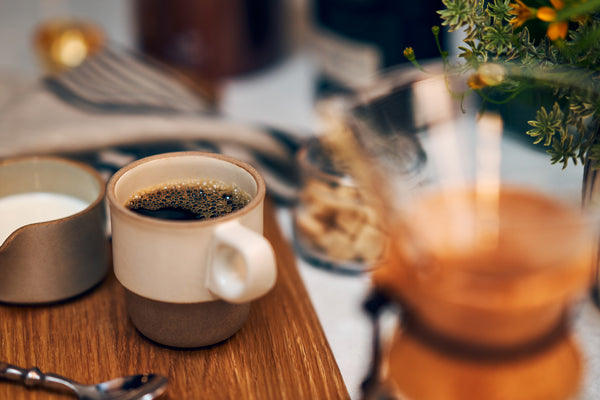 Chocolate, but make it coffee (or tea)!
CHOCOLATE LOVES COFFEE
And vice versa. The associations between the two go back, way back, as far as the 16th century, when the Yemeni Port of Mokha, also known as al-Makha, on the Red Sea was the exclusive coffee export point for the world, current origin for our Reserve Red Mocha Haraaz. Once Javanese coffee made is debut on the scene, "mocha java" was the world's first coffee blend, and the associations between its chocolatey character and the rich flavors of coffee was linked, and remains so to this day.
While we may associate 'mocha' with adding chocolate to espresso and steamed milk (our Espresso Forte's chocolate truffle notes make it perfect for this), many origins and blends have noticeable chocolatey overtones.
ORGANICALLY CHOCOLATE
Coffees from South America are known for their deep, chocolatey flavor, and we're here for it. Each origin's terroir imparts different nuances into their coffee cherries. Apricot. Toasted Almond. Milk Chocolate. Sounds like dessert, right? And if those flavor cues are right up your alley, we think Yosemite Dos Sierras Organic will give you heart eyes. Its notes of stone fruit pair beautifully with pies and tarts. 
THE CHOCOLATIEST
For those whose mantra is "I'll take a slice of chocolate torte with a side of chocolate. Maybe a touch of whipped cream, but I'd finish that off with a truffle." Guatemala San Sebastián is our chocolatey-est of chocolatey coffees. Does that explain why it's not only a fan fave, but longtime favorite of our Roasters? (Probably.) We totally have your back if you're looking to to triple down on the dark stuff. Use it in these chewy cookies and be the happiest on earth.
THE SPICE OF LIFE
Or perhaps you're a 'the only thing better than chocolate is chocolate and caramel' person. We've been playing with the caramel in our Masala Chai Caramel Apples recipe and pairing it with a bit of cocoa, espresso, and steamed milk for a decadent, spiced latte. It's a perfect accompaniment for that tarte tatin you've been planning for your holiday at home, because the spices in our Masala Chai really sing alongside both fruit and chocolate.
THE CREAMIEST
There's no creamier cup than a Matcha latte. Scratch that. A matcha latte with chocolate! Just add chocolate sauce to your Matcha Latte using our app, or try our handy dandy at-home matcha latte mix and stir in a spoonful of dark, rich cocoa powder. That checks all the boxes.