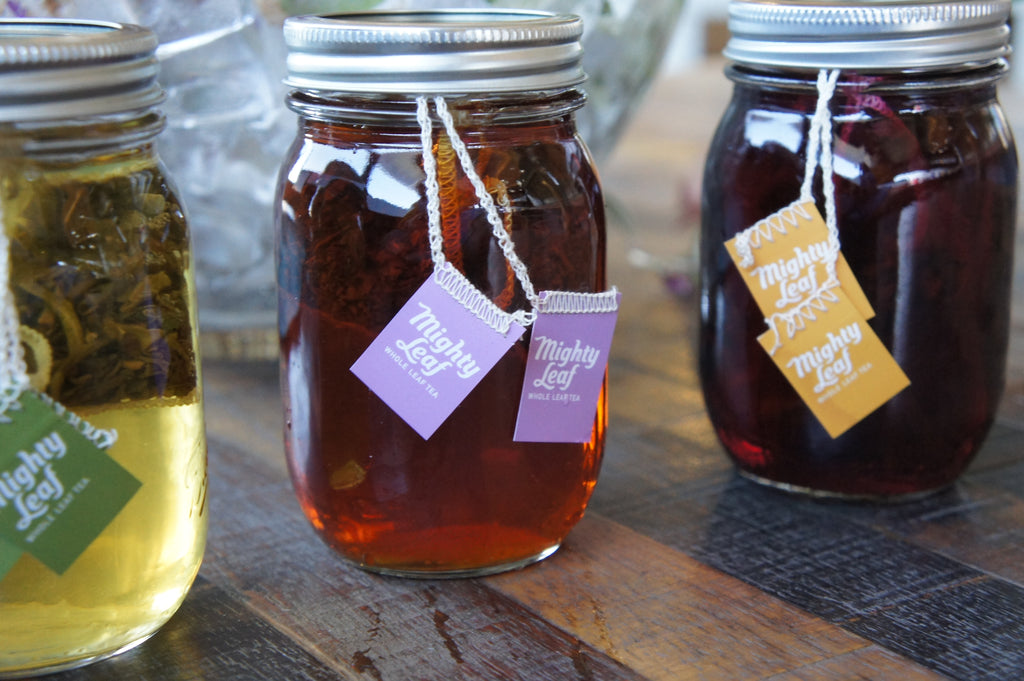 HOW TO FLASH BREW TEA
TEEING UP ICED TEA
Any fan of refreshing drinks is familiar with Iced Tea, Iced Coffee, and Cold Brew. We've broken down the difference between Iced Coffee vs. Cold Brew, we've set you up with the easiest ever Cold Brew at Home recipe, so now it's time to get real with Iced Tea. 
WHY YOU WANT TO FLASH BREW TEA
You might be familiar with that most 70s of innovations, sun tea, where tea bags are strewn in a large glass container with a lot of water and left outside to 'brew' in the sun's heated rays. It's a process similar to how you'd cold brew coffee (minus the sun part), in that the material is suspended in water for a set amount of time. But here's a little background on cold brew vs. flash brew steeping for tea. We do not suggest cold brewing iced tea without a "flash" or 'kill' step, and here's why: Tea and botanicals don't undergo the same roasting and heating temperatures that coffee does. Tea material is also more porous than coffee, so the presence of natural bacteria from the environment poses a risk. The risk might be small, many of us have enjoyed sun tea and lived to tell the tale, but it's still a risk. 
ICED TEA IN A FLASH
Risk aside, sun tea still takes a few days to get to a strength that satisfies, so we've developed a risk-free, speedier way to get all that tea goodness over ice. This technique works just as well with green teas as it does with herbal tisanes or black teas, so it really is the best way to make a refreshing cold brewed iced tea.

HOW TO FLASH BREW TEA


Pick your favorite tea and place 2 tea pouches (2-3 teaspoons loose leaf) in a 16 oz mason jar.


Bring a pot of freshly drawn and filtered water to a boil.


Allow the water to sit for 30 seconds, to lower the temperature slightly, then pour a small amount over the tea, just enough to cover it. "Flash" brew the tea for 30 seconds. Without removing the pouches (or tea leaves), top off the jar with freshly drawn, cold water. Seal the jar and allow the tea to cold brew for 3-6 hours in the refrigerator, or overnight. We think it's best enjoyed within 12 hours, for maximum flavor and freshness.