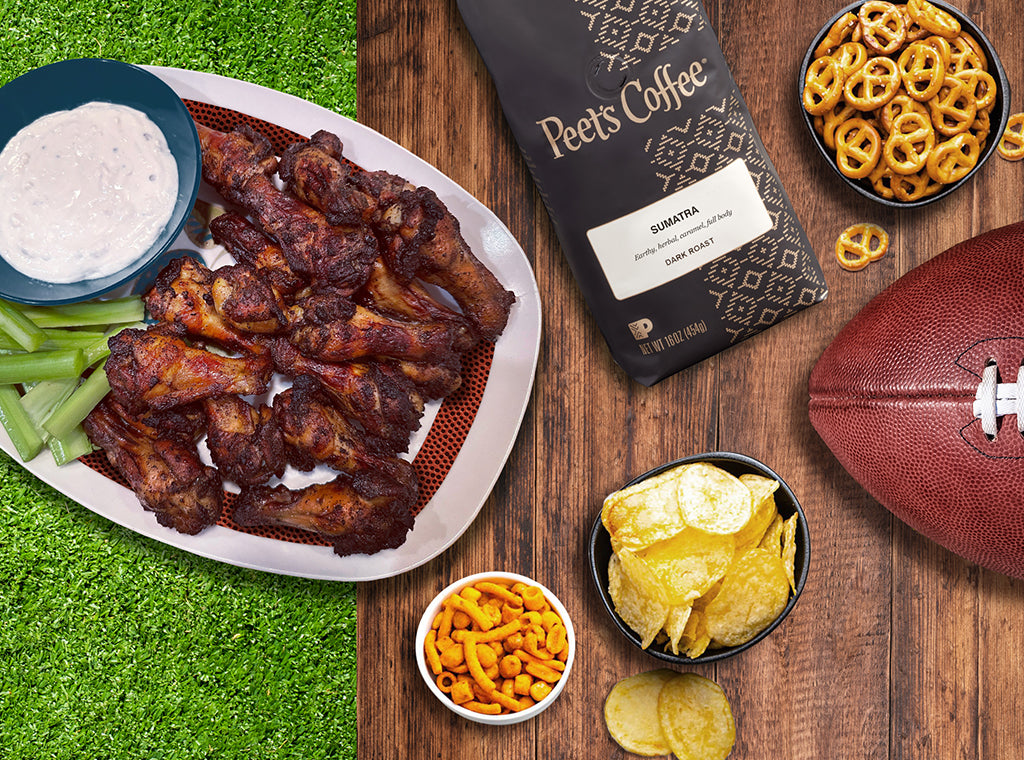 KICK OFF GAME DAY WITH COFFEE-INFUSED PARTY SNACKS
Some watch the game for the football, some watch football for the excuse to eat killer party snacks (you know who you are). We do both, and—of course—throw some coffee into the mix. For our Coffee Rub Chicken Wings, we added Peet's Sumatra two ways: finely ground to add earth depth to our spice mix and brewed strong to add a kick to the wet rub. Salsa Tlaquepaque is inspired by recipes from the Mexican state of Jalisco. Roasted tomatillos give it tang and our Guatemala San Sebastián adds a note of chocolatey-coffee depth to round out notes from a trio of chiles. We love it on a tray of nachos, but it's equally good on its own with just a giant bowl of chips.
COFFEE RUB CHICKEN WINGS RECIPE
INGREDIENTS
¼ cup coarsely ground Peet's Sumatra
1 tablespoon super-finely ground Peet's Sumatra
1 tablespoon brown sugar
1 teaspoon ground black pepper
½–1 teaspoon cayenne pepper (to taste)
½ teaspoon Ancho chile powder
2 teaspoons kosher salt
1 teaspoon ground cumin
3 cloves garlic, finely minced
3 tablespoons olive oil
1 tablespoon pomegranate molasses
2 pounds chicken wings
DIRECTIONS
In a press pot, add 1 cup boiling water to the ¼ cup coarsely ground Peet's Sumatra. Set aside until cool. Strain.
In a large mixing bowl, combine dry ingredients and mix together thoroughly. Stir in garlic, olive oil, pomegranate molasses, and brewed-and-cooled coffee. This is your wet rub.
Place chicken wings in a large plastic zip top bag. Add wet rub, seal, and mix together thoroughly so that the wings are coated. Place in fridge for 2 hours or up to 24 hours.
Preheat oven to 425°F. On a rimmed baking sheet topped with a wire rack, remove wings from zip top bag and place on rack, making sure they're not touching each other. Dispose of bag + remaining wet rub.
Place wings in preheated oven for 35–40 minutes, flipping half way through, until burnished, well-browned, and cooked through.
Serving suggestion: we love these with a bowl of bleu cheese dressing for dipping and a side of crunchy celery sticks.
SALSA TLAQUAPACQUE (COFFEE SALSA) RECIPE
INGREDIENTS
¼ cup Peet's Guatemala San Sebastián
1 dried ancho chile pepper
2 chiles de arbol
2 large pasilla peppers
2 large Anaheim peppers
Olive oil
6 large tomatillos
½ white onion
3 garlic cloves
1 ½–2 teaspoons kosher salt
 DIRECTIONS 
Coarsely grind the Guatemala San Sebastián. Set aside 1 teaspoon of the grounds and place the rest in a press pot. Make the coffee concentrate: Boil a pot of water and pour one cup of the boiling water over the coarsely ground coffee. Set aside.
Put the ancho chile and the chiles de arbol into a heat-proof glass measuring cup. Pour two cups of boiling water over the dried chiles and set aside.
Preheat the broiler. Toss pasilla and Anaheim peppers in a bowl with a bit of olive oil. Place on a rack over a rimmed baking sheet and put under broiler, turning every few minutes so that all sides are charred, removing as needed a metal bowl covered in plastic wrap so that all are evenly charred. Set aside to steam and cool.
Remove husks from tomatillos, rinse, and dry. Cut onion in half (you'll have two quarters). Place tomatillos, onion, and garlic in a bowl. Toss with a bit of olive oil and place on a rack over a rimmed baking sheet. Place in broiler, turning every minute or two until lightly charred all over. Remove as needed until all are evenly browned.
Return the teaspoon of coarsely ground coffee to the grinder and grind further until very finely ground.
Plunge press pot and strain the cooled coffee concentrate. Set aside.
Remove Ancho chile and chiles de arbol from their soaking water. Cut off stems. Remove seeds for milder salsa, leave in for spicier salsa. In a blender or food processor, pulse until finely chopped.
Remove stems and peel the skin off the pasilla and Anaheim chiles. Remove seeds for milder salsa, leave in for spicier salsa. Add to blender or food processor and pulse to combine.
Add tomatillos and their juices to the blender or food processor, along with the onions and garlic. Process until fairly smooth.
Add the finely ground coffee and salt to the blender or food processer and pulse to combine, adding cooled coffee concentrate one tablespoon at a time until the salsa reaches your preferred consistency. Season to taste.
Makes approximately 3 ½ cups. Keeps in refrigerator for 1 week.
Serving suggestion: we love this over a platter of nachos with Rancho Gordo Black Beans, as part of a seven layer dip, or straight up with a big bowl of chips.