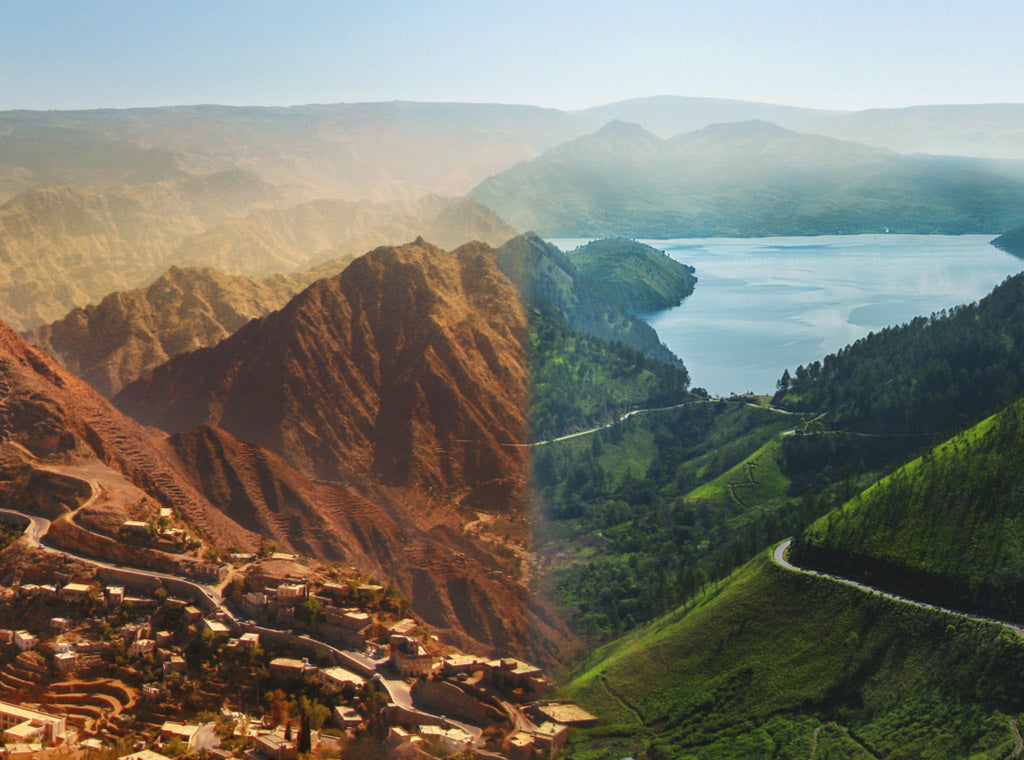 MOKA BATAK BLEND LIMITED RELEASE COFFEE
ROASTING IN OCTOBER
True Moka (or Mocha) is wild and effusive, big and chewy, with concentrated sugars of dried fig and date and warm, spiced chocolate in the finish. Our favorite Sumatra is rich with teak, tobacco, and a syrupy, herbal caramel that perfumes the room. This makes dark roast Moka Batak Blend mind-blowingly flavorful with aromatic tobacco and spiced chocolate. 
FROM THE TWO MOST EXTREME COFFEE GROWING REGIONS ON EARTH
Arabian Moka is grown on remote rock terraces overlooking the Red Sea—its heightened flavor resulting from these austere growing conditions. It's a mix of coffee lot ages, blended together so the fresher fruit notes combine with those of the aged, giving it an expansive, full-bodied, aromatic range. Sumatra's syrupy caramel nature and Indonesian aromatics are instantly recognizable, with an aroma that fills the room. These two complex coffees together—both of them ultra-rich on their own—form a transcendent and potent brew, a highly specialized riff on the classic blend, Mocha-Java. 
AN INIMITABLE, EXPRESSIVE, WILDLY FLAVORFUL CUP
Authentic, high-quality Moka from Yemen is highly sought after, and beans sourced from the single region of Sanani especially so. The conditions in the area make for concentrated flavor in the fruit—Yemeni Moka is a very tight, small bean—and the conditions of the country make it particularly challenging for it to arrive in our cups. This Sumatra is grown on the shores of Lake Toba in the Batak region, a special grade with a unique taste quality—extra expressive, especially aromatically—redolent with the wonderful spice and tropical air of its region. It's the best of the best: uniquely lush flavor and heady fragrance, one that's instantly recognizable from across the room. And when combined with dimensional, complex Yemeni Moka, the result is an inimitable, expressive, wildly flavorful blend.
NOTES FROM THE PEET'S ROASTERY
Moka Batak is one of the blends we most look forward to roasting, because it's the best expression of the elegant interplay between roasting and blending. As roasters, we must not only bring out the best in each bean but coax out the specific elements of each that we want to complement the other.
In their green state, the Yemeni Mocha Haraaz beans were petite and pale, with a pronouncedly fruity aroma. By contrast, the Sumatra Batak beans were dark green and smelled woodsy with an herbaceous, celery-like whiff.
Both beans surprised us in the roast, in contrasting ways as well. The Yemeni beans typically tend to start slow and then accelerate to a finish, but these took a more linear route, and finished at a slightly higher temperature than normal. On the other hand, Sumatra took its time getting started, then was slow-and-steady up to its finish. Both coffees' first and second cracks were barely audible, like they were trying to keep their secrets, but the Sumatra was nice and loud after the roast was let out into the cooler. The color development was easy to follow with both coffees, roasting consistently from batch to batch.
Each bean's personality reacted differently to the roast. Whereas Yemen's fruitiness really came to the fore, Sumatra's woodsy and herbal notes gave way to something drier and spicier, a harmonious undertone to Yemen's bold flavor. 
French press will offer up the best results here, extracting both big fruit and thrumming spice, though espresso will concentrate the flavors to a powerful punch. Try it straight up first to really get to know the blend. A touch of sugar would embolden the fruitiness, or a dollop of milk would push the spiciness into almost chai-like territory.
-John Nicolini and Michael Madden, Roasters
PEET'S LIMITED RELEASE COFFEES
You might think that a monthly coffee subscription sounds amazing in and of itself, but Peet's coffee-of-the-month takes it a step further than most. Good things come in small packages, and we only get these coffees in small batches, which is why you can only find them at peets.com and you can only access them if you have a subscription. They're special—their fleeting nature means they can sell out—fast. So subscribing guarantees you get to taste each one of these incredibly special lots.