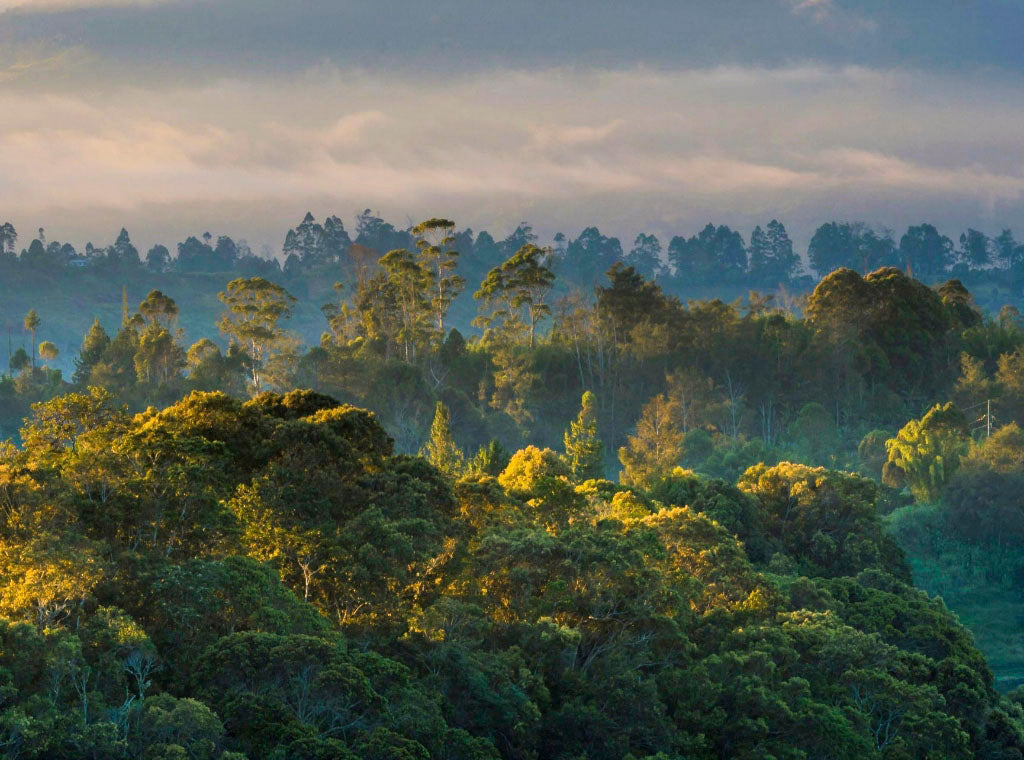 PAPUA NEW GUINEA KOPI-KUTA
PAPUA NEW GUINEA KOPI-KUTA: JANUARY EXCLUSIVE
This month for our subscribers, we're thrilled to share Papua New Guinea Kopi-Kuta, a rare microlot from the lush Western Highlands of Papua New Guinea. Papua New Guinea coffee has been important in many of our blends, but this lot was so stellar that we had to showcase it on its own. This balanced-yet-full-bodied dark roast crowd pleaser has syrupy notes of malt and molasses, sweet plum, smoky Keemun tea, and caraway, making it perfect for morning mugs as well as cold, January afternoons. Espresso fans will enjoy pulling this as a shot, and we think it makes an elevated drip cup or satisfying press pot. Any way you brew it, Papua New Guinea Kopi-Kuta is a spectacular way to ring in the new year.
NEW GUINEA ONE TWO
While some of the coffees from our Small Batch subscription series come from single estates, Papua New Guinea Kopi-Kuta hails from multiple small coffee producers in the Tambul-Nebilyer district. Each of these individual farmers cultivate their coffee on only one or two hectares of land, and all bring their beans to the Kuta Mill—a place of common ground between tribes—to be processed. The mill has been operated for 40 years by Brian Leahy, descended from the Australian Leahy brothers, who arrived at the island in the 1930s looking for gold and, to their surprise, pioneered Papua New Guinea coffee farming instead.
MISTY MOUNTAIN TOP
The highlands where Kopi-Kuta is grown—at an elevation of around 5,000 feet—is lush and surrounded by a foggy mist known as silvagenitus clouds, a type of stratus cloud that forms relative to dense forest. In this environment, the misty cloud forest operates the same way as shade trees do in other origins: shielding the coffee cherries from the equatorial midday sun so that they can slowly ripen to peak perfection. 
NOTES FROM THE PEET'S ROASTERY
Upon arrival at the Roastery from the Western highlands of New Guinea, Kopi-Kuta is a washed and sun-dried coffee, consisting of large, oblong shaped beans—some light olive and some darker blue-green in color, with hints of silverskin. The whole lot was immaculate with no visible defects, and the green beans smelled like sweet snap peas with a little hint of pepper.
The roasts went well, although a little faster than expected. First crack started early and was very loud, the popping building to consensus very quickly, with the second crack also coming in sharp and audible. We cut back the heat right when those pops became steady, and the roast moved easily from crack to finish. All in all, this New Guinea coffee moved fast at first but settled down nicely. It gave good color and auditory cues and was easy to finish consistently. The aroma towards the end of the roast was still mildly sweet, but more tea-like, with less of the pepper that was present in the green beans.
It was definitely a zippier roast than a typical New Guinea, featuring the same spice but with a bit more sweetness. Cupping the test batch, we pulled out some very interesting flavors—distinct herbal notes, with a unique spice profile that reminded us of a slice of freshly toasted rye bread with a smear of plum jam. We're looking forward to this one brewed in a press pot, especially for a cold morning shift.
-John Nicolini and Michael Madden, Roasters


LIMITED RELEASE PEET'S COFFEES
You might think that a monthly coffee subscription sounds amazing in and of itself, but Peet's Small Batch coffee-of-the-month takes it a step further. These are microlot coffees, which is why you can only find them at peets.com and you can only access them if you have a subscription. They're special—their rarity means they can sell out—fast. Subscribing ensures you get to taste each one of these remarkable lots. And if you're a tried-and-true fan and subscribe to of one of our other coffees or subscription series, not to worry: you can do an add-on of this limited release to your next shipment. At least, while it lasts.