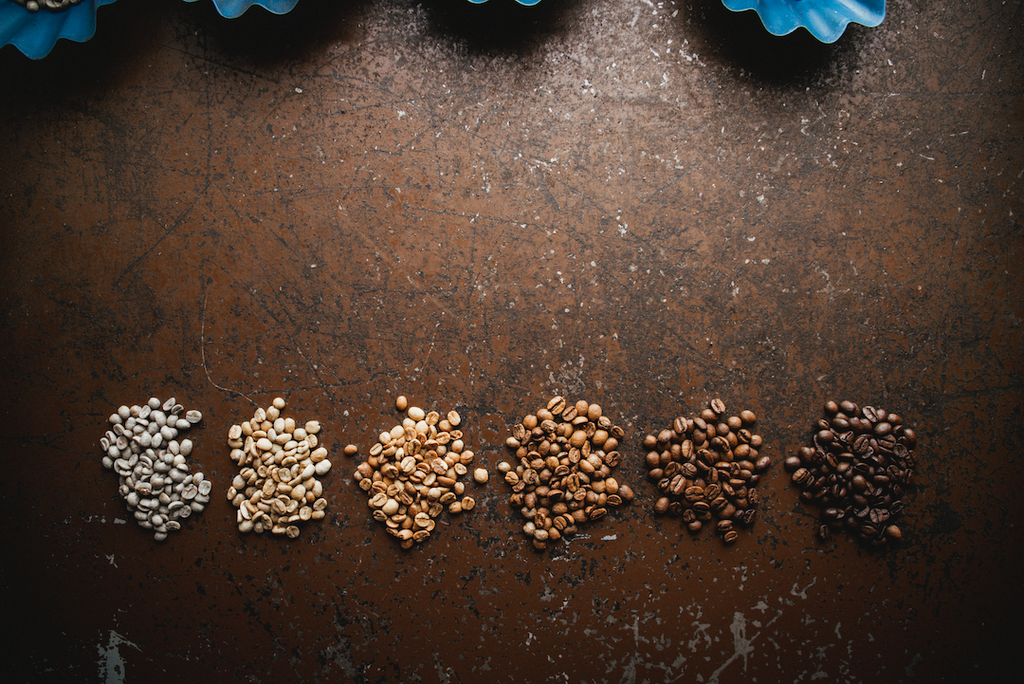 An Intro to Coffee Roasts
ROASTING HAS THE GREATEST IMPACT ON YOUR COFFEE. PERIOD.
So, what's the difference between dark roast, medium roast, and light roast? Here's an introduction to why roast levels in coffee make it taste so good.
Coffee beans grow on trees, but unlike fresh fruit, they have to go through a few processes before they become the brew you know and love. Once the beans are processed on the coffee farms, they come to us in a raw—or green—state. In that state they are stable, but not yet ready to be ground and brewed. First, they need to be roasted, and how coffee roasts are done matters a lot to the final product. They're generally narrowed down to three roast types: light, medium, and dark. But what's the difference between roast types? Let's break it down.
WHAT WE TALK ABOUT WHEN WE TALK ABOUT COFFEE ROASTS
Roasting is the development of flavor. In some ways, this is no different than what happens when you cook at home. Just as when you sear a steak or bake bread, the application of heat browns the food and deepens the flavor. This is called the Maillard reaction. The same happens to beans in the roasting process.
Of course, terroir (the character of the area where the bean is grown), process, and species factor in, but the type and precision of the roast has the single greatest impact on the flavor in your cup. That's why we place such an emphasis on skill. Execution is everything, and we pride ourselves on our expertise.
THE COFFEE ROAST SPECTRUM AT A GLANCE
During the roasting process, the beans undergo changes in color, aroma, and flavor. Making the judgment call on when to pull a roast to accentuate the best characteristics of a bean is the roaster's ultimate goal and requires using all five senses.
In general, lighter coffee roasts retain the fruitier characteristics of the bean (which is, after all a fruit), and darker coffee roasts bring out more caramel and cocoa notes.
HOW DOES ROASTING AFFECT CAFFEINE?
There is virtually no difference in caffeine content between light and dark roasts—by weight. However, the more you roast the beans, the more they dry out, making them less dense than lighter roast beans. Consequently, a scoop of light roast beans is denser, and therefore has more beans, than a scoop of dark roast. If you want to get a consistent amount of caffeine, measure your coffee by weight.
ARE THERE INDUSTRY STANDARDS FOR DARK, MEDIUM, AND LIGHT ROASTS?
Roast definitions are not standardized in the coffee industry. What one company calls a medium roast, another company might call a dark roast. What we call a light roast, others might call medium. Peet's roasts have always skewed darker, because we like caramelized sweetness and body in our coffees. Extra-dark roasts, a style pioneered by Alfred Peet, are more roast-forward in taste. Peet's medium roast coffees are crafted to be exceptionally balanced and smooth. And when we say crafted, we mean it. Because we believe in finding the best roast profile for each coffee.
Above all, it takes great skill to usher a bean through roast development properly. Whether you drink a light, medium, or dark roast, the greatest difference you will taste is whether a coffee was roasted well or roasted poorly.
WHAT BREWING METHODS ARE BEST FOR LIGHT, MEDIUM, AND DARK ROASTS?
Since the flavor profiles of each roast are so different, brewing is key to the experience. Lighter roasts respond well to pour over and Chemex, as they accentuate the bright acidity and floral aromatics. Medium roast, with more of a balance of fruity and spicy notes, is an all-around performer, as comfortable as a cold brew as it is as a pour over. A French Press really brings out the body and depth of a well-crafted dark roast, and espresso absolutely demands a dark or extra dark roast to showcase those rich chocolate and nutty flavors. But everyone's taste is different. Try different roasts with different brewing methods and see what works for you.