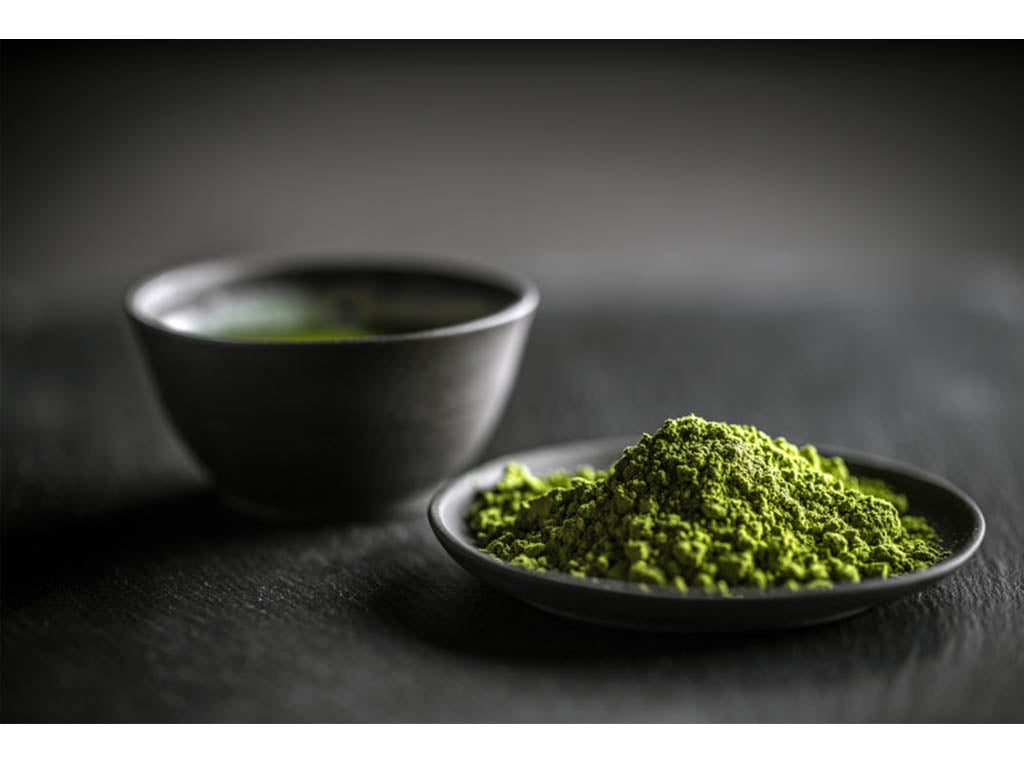 MATCHA TEA SPOTLIGHT
Growing up in California during the 80s and early 90s, tea to me was mostly the dark dust in paper teabags stapled closed with a string. It wouldn't be until years later that I would taste my first matcha latte, a creamy, sweet, green beverage whose history and origin were unknown to me. Hundreds of matcha lattes later, I had a vague understanding of what matcha was. Green tea leaves, originating from Japan, that were ground into a fine powder. Later still I would learn, along with so many others in the U.S., that matcha is traditionally prepared with water. On its own, in this purest form, its benefits and richness of flavor are most apparent. I know now that I had only scratched at the surface of all there is to know about matcha. Here are some of the things I've learned over the years:
It's a Process
The highest quality matcha, ceremonial matcha, is plucked in the spring from the year's first flush. "Flush" refers to the harvest season for teas, and there are four major flushes: Spring, Summer, Autumn, and Winter. The first flush is defined as the very first plucking of a tea plant's harvest season and is considered to be the optimal production time when the leaves are the youngest and most tender. The tea plants are shade grown, covered with tarps, at least 2 weeks prior to plucking. This causes the plants to produce more chlorophyll, creating vibrant green color as well as beneficial amino acids, which provides rich umami flavor.
After plucking the leaves are steamed to prevent oxidation.  This step locks in both the green color and the smooth, rich flavors.  Then they are dried, floating around in a chamber of heated air.  This removes the moisture and prevents the leaves from spoiling.  Next the stems and veins are removed, reducing the coarse fibers, leaving what is called tencha.  Our matcha is made to order.  The tencha is vacuum sealed and kept refrigerated until we are ready to produce.  That ensures our matcha is at its freshest throughout the year.  Once we've placed an order, the tencha is pulled from cold storage and slow ground into a fine powder known as matcha.
A Rich & Colorful History
Matcha is famously a Japanese tea, however, the tradition of grinding tea into powder originated in China. It was recorded as early as 220-280 AD, during the Three Kingdoms period, that tea would be ground into a powder. It would then be mixed with herbs and spices and drunk for mostly medicinal purposes.  During the Song Dynasty (960-1279 AD) the method of using powdered tea evolved into what more closely resembles matcha today. They would grind the leaves into a fine powder and whisk it in a bowl until a fine froth was formed. It was at that time when Myōan Eisai, a Japanese Buddhist priest, traveled to China and discovered the practice and how the tea improved his meditations by creating a sustained calm alertness. Eisai brought it back to Japan, where the process for producing the ground tea and practice of drinking it was refined.
Tea ceremonies began to develop. One person of note in these developments was Sen no Rikyū. His teachings laid the foundation for traditional tea ceremonies practiced today. As a reaction to tea becoming something that was enjoyed mostly by the wealthy, he developed wabi-cha, which focused on simplicity. Wabi-cha encouraged making your own tea wares or purchasing them from local artisans. Following Rikyū's death (April 21, 1591) his teachings continued, but his school of thought broke into different branches. Today there are many schools teaching traditional tea ceremonies. 
I remember my first tea ceremony: it was held in a small tea shop in Berkeley, CA. The owner had studied the tradition with a Tea Master, and had built a small Chashitsu (Japanese tea room) into the back of her establishment. While she went through the ceremony she described the history, symbolism, and importance in each movement, decoratio and spoken word (of which there were very few). One piece of history she shared described how important the tea ceremony was for the Shogun (military leaders). In times of war, the Shogun would hold tea ceremonies to conduct political negotiations. While opposing sides would come together to discuss war, the tea room in which these meetings took place had small doors, so all who entered did so by bowing to the same level. The ceilings were low, so if tempers rose there would be no space to draw swords. I also imagine that by consuming the tea the Shoguns' temperaments would be calmed and minds cleared so negotiations could be most productive.
If ever presented with the opportunity to attend a tea ceremony, I strongly recommend it.
Matcha Today
Tea consumption in North America has quadrupled since the 90s, and matcha has played a big part in that growth. Especially now, with food trends leaning towards healthy as well as visually pleasing (I'm looking at you Instagram), matcha has stepped up in performance. Because it's a fine powder, it is incredibly versatile and may be utilized in any culinary application. Its vibrant color produces that 'wow' factor. Since most of us first taste with our eyes, its bright green color is alluring and draws us in. 
Mighty Leaf Matcha 
Our Organic Matcha comes from Kagoshima and Shizuoka in Japan, plucked from bushes that are intentionally shaded from the sun during the spring first flush, a process that enhances the amount of chlorophyll and theanine (a beneficial amino acid) in the leaf.
First, we have our two classic grades:
Our highest grade matcha, the name itself speaks to its quality and grade.  Vibrant green color and rich umami flavor shine when whisked in the traditional style using a bamboo whisk (Chasen) and a few ounces of water. Because we never skimp on quality, our coffeebars use Organic Ceremonial Matcha in all our hand crafted matcha beverages.
Organic Matcha (Usucha) –
As our mid-grade matcha, usucha translates from Japanese as "thin tea," which is how we would recommend one drinks it. It is similar in flavor to our Ceremonial Matcha, and has all the same benefits. This grade is available in a 3 ounce resealable bag, 1.5 ounce tins and a 12 count single servings carton.
We have two matchas blended with herbs and spices:
Organic Turmeric Spice Matcha –
The mellow warmth of turmeric and the spices of ginger and cinnamon meet smooth, creamy organic matcha. I especially enjoy blending this with lemonade and served iced as a refreshing summer beverage.
Finely ground fresh peppermint leaf is blended with organic Japanese matcha for a balanced cup that finishes with notes of cooling mint. Delicious as a Mojito mocktail  or dusted over your favorite vanilla ice cream.
Delicious & Visually Stunning
I continuously explore different ways to infuse tea into everyday recipes. From concentrates to syrups, infused into milk, butter and liquors, or by incorporating the whole leaves, but none are as easy to work with as is matcha. As a finely ground powder, there's no need to bring the kettle to a boil or take any time steeping. Matcha can easily be blended into dry ingredients for cookies, cakes, and breads or whisked into liquids for lattes, smoothies, and cocktails. Or just simply sprinkle some matcha over the top for a pop of color and kick of umami. 
-Anni Pattee, Tea Specialist, Mighty Leaf Tea