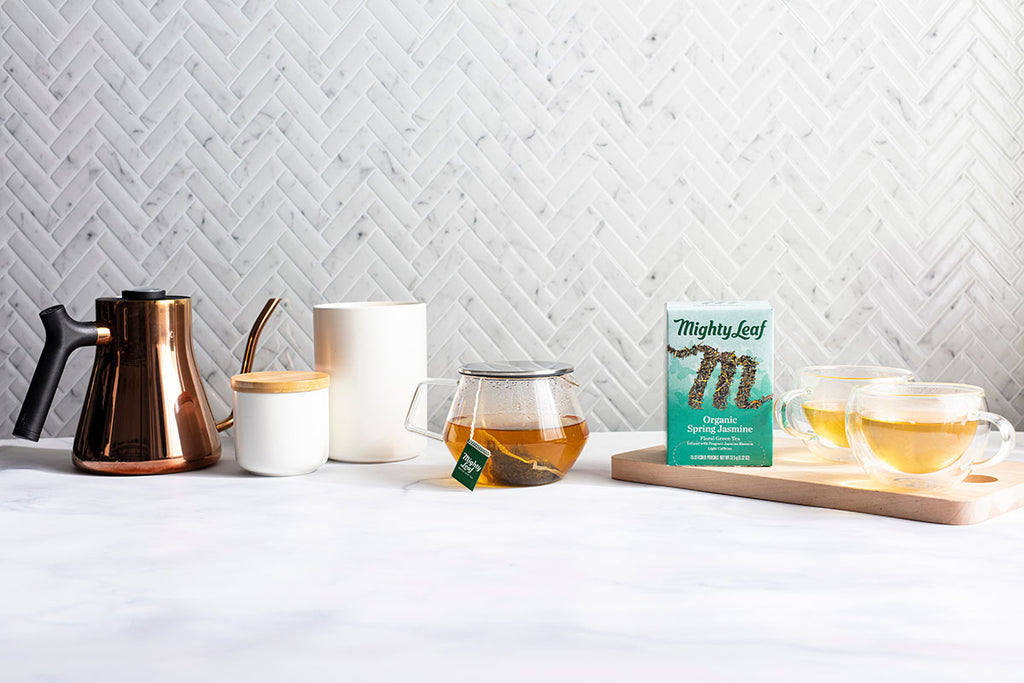 A Glossary of Tea Terms
A is for
Aroma:

A distinctive, pervasive, and usually pleasant smell.


Assam

: A black tea grown in the Northeast region of India. Assam is known for being strong and full-bodied with a robust flavor.

 

Assam Golden Tip: The Assam valley in northeastern India is the largest tea-growing area in the world, and home to India's only indigenous tea plants. From the moment the first lots sold at the 1839 London auction, Assam tea has maintained its dominance among British tea blends, due to its rich, malty, full-bodied character and perfect compatibility with milk. Golden Tips' namesake leaves turn color during the peak quality period of the second flush, adding a pop of gold amongst the rich, black leaves, a sign of fine plucking.

Astringent

: A tea tasting term indicating a pungent flavor caused by the presence of tannins.
B is for
Biscuity: A tasting term that refers to a well-fired black tea, producing a flavor similar to baked goods.

Black Tea

: Tea derived from the plant Camelia Sinensis, most often sourced from China, East Asia, India, and Sri Lanka. Black tea is characterized by the process of withering, rolling, oxidizing, and drying. It typically has the deepest color liquor and considered to have a higher caffeine content compared to white or green tea.

Blend

: A mixture of teas, flowers, herbs, and spices combined to achieve a specific flavor profile or taste.

Body

: A descriptive term indicating a tea that possesses the feeling of fullness in the mouth.

 

Bright

: A tea tasting term that indicates a lively flavor.
Brisk: A tasting term used to describe a lively tea. Most often associated with black iced tea.

Broken Orange Pekoe (BOP)

: An industry term used to describe a grade of tea where the leaves are broken to achieve a bolder flavor.

 

Most often seen in Breakfast blends. (Orange, in this system, does not refer to the flavor or the fruit).
Bud: The young, unfurled, tea leaf found at the tip of a stem of new growth.
C is for
Camelia sinensis

: A special kind of evergreen tree or bush whose leaves and buds are used to produce tea. There are two principal varieties that are used in modern tea cultivation, Camelia Sinensis Sinensis, and Camelia Sinensis Assamica.


Caffeine

: Caffeine is a natural stimulant most commonly found in tea, coffee, and cacao plants. The average cup of tea contains approximately 40mg of caffeine.

 

Ceylon Tea

: Tea grown in Sri Lanka.
Chai: Chai is the Indian word for tea; however it is commonly used around the world to indicate a blend of black tea and spices. Masala Chai often includes a mixture of cinnamon, cardamom, ginger, and other spices.
Chamomile Citrus: Chamomile has been enjoyed since at least Roman times, but this blend dates only to the late 1990's, when Mighty Leaf Tea founders Jill Portman and Gary Shinner introduced it to their fledgling line as part of their vision of the artisan tea experience. It's become Mighty Leaf Tea's most popular herbal tea blend. This cup offers soothing chamomile flowers with subtle hints of sweet orange and tangy lemon.
D is for
Darjeeling

: Tea sourced from the Darjeeling region in India. The region is located at the base of the Himalayan mountains, just to the west of Assam. Darjeeling tea is frequently called the "champagne of teas" and is characterized by its light hue and complex flavor.


Dragonwell

: Dragonwell tea, a literal translation from the Mandarin name Longjing, is one of the most popular Chinese teas. It is known for its high quality, so much so that during the Qing Dynasty (1644–1912) it was given the status of "imperial tea." It is characterized by a signature chestnut aroma and long-lasting aftertaste.

Dull

: A term describing a tea liquor color that is not clear or bright.

 

Dust

: The lowest grade of tea, consisting of the smallest particles of tea left over after the sorting process.
E is for
Earl Grey Decaf: Crafted from Ceylon black tea combined with the bright citrus notes of bergamot, Earl Grey Decaf is a classic cup without the caffeine.
EGCG: Epigallocatechin Gallate (EGCG) is an abundant catechin (antioxidant) found in tea, and especially in green tea. 

English Breakfast

: One of the most popular black tea blends, English Breakfast typically consists of teas from Assam and Sri Lanka. Mighty Leaf Tea's Organic Breakfast (our take on English Breakfast) is aromatic and brisk, with a robust, hearty finish. Organic Breakfast is a blend of black, broken grade (BOP) tea leaves from Assam, Nilgiri, and Rwanda.

Estate

: A plantation or garden where tea is grown.
F is for
Fannings

: A low grade of tea consisting of small pieces of tea that are left over from the sorting process. Fannings are a slightly higher grade than tea dust but are still considered one of the lowest grades of tea.

Fermentation

: A chemical transformation which alters the chemistry of tea leaves by exposing them to microbes. Fermentation typically mellows the taste of tea and reduces astringency and bitterness. The most famous type of fermented tea is pu'er

.

Fine

: High quality tea.

Fine Tippy Golden Flowery Orange Pekoe (FTGFOP)

: An industry term used to describe the highest quality grade of tea where the leaves are left whole and have many tips (Orange, in this system, does not refer to the flavor or the fruit).
Flavor: Characteristic taste of tea.

Flowery Orange Pekoe (FOP):

An industry term used to describe a high-quality grade of tea where the leaves are left whole and have few tips. One of the highest grades of tea, consisting of a large leaf size and few tips (Orange, in this system, does not refer to the flavor or the fruit).

Flush

: Refers to the harvest season for teas. There are four major flushes (Spring, Summer, Autumn, and Winter). The first flush is defined as the very first plucking of a tea plant's harvest season and is considered to be the optimal production time when the leaves are the youngest and most tender.

Formosa

: Tea grown on the island of Taiwan.

Full

: A strong tea with good color and no bitterness.
G is for
Ginger Twist: A harmonious herbal tea blend by Mighty Leaf Tea, consisting of lemongrass, fruits, and mint with a touch of ginger and ginseng. Naturally caffeine-free.
Golden Tip: A sign of fine plucking. This desirable trait occurs when the young tea buds are stained golden during oxidation.

Green Tea

: Tea derived from the plant Camelia sinensis, most often sourced from China and Japan. Green tea is characterized by a process where heat is applied to stop oxidation, so the leaf retains its green color.

Green Tea Tropical: Green Tea Tropical is a modern take on an old idea. Historically in China, green tea was grown in the southern provinces, where inevitably people tried blending a variety of fruits into the cup. This tradition continues until today, but we take it a step further by infusing grassy, vegetal flavors with the transportive aromas of tropical fruit.
Gunpowder: A type of green tea made by rolling each leaf into a small round pellet. The name comes from its resemblance to grains of gunpowder.
H is for
Heady: A term often used to describe strong or potent teas such as Assam Golden Tip or Wild Berry Hibiscus.

Herbal Tea

: Also known as tisanes, herbal "teas" consistent of an infusion of herbs, spices, fruits, flowers, or other plants in hot or boiling water. Herbal teas are usually caffeine free and do not contain any actual tea leaves from the Camelia sinensis plant.
J is for
Jasmine

: Jasmine tea is scented using jasmine blossoms. Green tea is typically used as the base for jasmine-scented teas, such as Mighty Leaf's Organic Spring Jasmine, Jasmine Downy Pearls, and Jasmine Fancy. The tea is harvested in the spring and held until late summer when the jasmine is in bloom.
Jasmine Downy Pearls: A unique and beautiful tea from Fujian province, China, only the youngest leaves are plucked. Three leaves are rolled together into a spherical pearl shape and then wrapped in silk mesh and dried by fire to set the form. Each pearl is streaked with the pale white down of the young buds. Scenting the pearls twice with fresh jasmine flowers gives the finished tea its final character.
K is for
Keemun

: A fine grade of black tea from China. It is a popular Chinese tea with complex character that may be slightly smoky or have notes of ripe plum.

 
L is for
L-Theanine: An amino acid found in tea that may help focus the mind while alleviating stress and anxiety.

Light

: Describes the color of tea liquor which lacks depth of color. It may also refer to the taste of the tea.

Liquor

: The liquid resulting from steeping tea leaves in water.

 

Longjing Dragonwell: This most renowned of all Chinese green teas comes from the mountains near Hangzhou, in Zheijang province. Legend has it that a benevolent dragon resides in a local well where the Longjing style of tea was developed several centuries ago. Today, the leaves are pressed in a hot, steep-sided pan, in constant motion. This pan-firing method requires great care to match the temperatures with the size and tenderness of the leaves, resulting in a tea of remarkably high quality.

Lot

:

  T

eas offered under a single mark or serial number at any tea auction.

 

Single or micro-lot teas from high end producers allow us to achieve

 

distinctive, precise, and unique flavor profiles in our tea, such as the Tea

 

& Company Fine Tea Collection of reserve lot teas by Mighty Leaf.
M is for
N is for
Nose

: Connotes the aroma experienced when tea tasting.
O is for
Oolong

: A traditional Chinese tea, which undergoes a withering and oxidation process. Oolongs' oxidation level sits between green and black teas, being anywhere from 10%-80% oxidized. Oolongs vary widely in flavor.
Orange Blossom: A fragrant and full-bodied black tea inspired by the classic Earl Grey, Orange Blossom teems with notes of bergamot, orange, vanilla, and jasmine.

Orange Pekoe (OP)

: An industry term used to describe the main grade of tea where the leaves are left whole and have no tips.

 

(Orange, in this system, does not refer to the flavor or the fruit).
Organic African Nectar: Organic African Nectar is made primarily from rooibos, teeming with notes of honey, tropical fruit, and blossom, this rich and delicious herbal tisane blend makes an excellent aperitif or after-dinner drink. Alternatively, drink a cup in the morning as an alternative to black tea—naturally caffeine free, this blend of rooibos, hibiscus, and blossom is perfect on days that could use some calm and relaxation.
Organic Breakfast: Mighty Leaf Tea's take on classic English Breakfast tea is a bold, wide-awake blend that's great straight, or with milk and sugar or honey. The malty taste is evidence of fine Assam tea, while the crisp and bright taste of Nilgiri tea shines through. In addition to these India tea origins, we've added East African Rwanda tea, a high elevation area producing brisk, citrusy, and toasty teas.
Organic Ceremonial Matcha: High quality organic Matcha is finely-ground in specially designed sealed production rooms, using only the flesh of the green tea leaf. The milling is very slow and kept at cool temperatures to retain the fresh, rich character of the tea. The bright green color and distinctive taste—fresh, sweet, and grassy—are completely natural. Look for the signature 'umami' of the tea, a savory and satisfying depth, augmented by the creamy, frothed texture that Matcha is known and loved for.
Organic Darjeeling Estate: Darjeeling is often considered the champagne of tea. Though grown in Darjeeling, India, many of the tea plants originally came from China, contributing to the unique and diverse taste of teas from this region.
Organic Darjeeling Kalimpong: A multilayered, honey-colored cup with sweet, floral, nutty notes and brisk, winey, Muscatel flavor. In the foothills of the Himalayas, Organic Darjeeling Kalimpong tea is grown at a high elevation—up to 6,000 feet—where the cool air slows leaf growth and develops fine character. Fragrant teas have been produced here for over 150 years, ever since the British founded a summer 'hill station' to escape the heat of Calcutta. Meticulously hand-plucked and produced in small batches, this tea seems to capture the mountain air: sweet, winey, and floral.
Organic Earl Grey: Mighty Leaf Tea offers of the very few Earl Greys that uses organic bergamot oil. The aroma is distinctively natural, and the citrusy taste is deliciously bittersweet. Predominantly using black tea from Yunnan province in China, the flavor of this classic Earl Grey is round, faintly toasty, smooth with a sweet/dry finish that is unique yet familiar. It finds the balance between tea and bergamot all the way to the end of the cup.
Organic Emerald Matcha: The cup is smooth, with good body and hints of ocean spray, and a grassy, sweet aftertaste. A dusting of Matcha adds rich mouthfeel and umami to the fresh and bright Sencha character, combining the best of two Japanese tea traditions. Both teas in this blend are from Kagoshima prefecture, which is on the southern-most tip of Japan and is one of the three largest tea-producing prefectures in Japan.
Organic Green Dragon: A classic hot pan-fired Chinese green tea, with a delicate chestnut-like flavor and a captivating aroma. The character of Mighty Leaf Tea's Organic Green Dragon is simple and pure, capturing the essence of the ancient green tea cultivars long grown in Eastern China.
Organic Matcha: Mighty Leaf Tea's Organic Matcha comes from Kagoshima and Shizuoka in Japan, plucked from bushes that are intentionally shaded from the sun during the spring first flush, a process that enhances the amount of chlorophyll and theanine in the leaf. Originally used in Japanese tea ceremonies, matcha is now making its way from the traditional tea house into beverages, foods, and confections.
Organic Mint Matcha: The blend features Japan-grown organic peppermint—ground to a superfine powder—in addition to the finely ground Japanese Tencha leaves so beloved by matcha fans. This specialized grinding has only become possible for ingredients other than green tea in the last few years. Rather than a mint oil or flavor, what you taste is the pure mint leaf itself, perfectly balanced so it harmonizes with the rich umami of the matcha. Overall, the cup has a mellow matcha character with a cooling aftertaste that builds as you drink it.
Organic Mint Mélange: We prefer the finest organic spearmint leaves from the Middle Atlas mountain range in Morocco, while also sourcing from Egypt and the USA, for this refreshing herbal tea, with its sweet lingering notes that capture the cool, pure essence of mint. 
Organic Roasted Hojicha: Mighty Leaf Tea's Organic Hojicha is made of organic bancha green tea, roasted to yield a rich, nutty brew. Within the green tea category, Organic Hojicha contains low levels of caffeine due to the roasting process.
Organic Spiced Turmeric Matcha: Mighty Leaf Tea's unique Organic Spiced Turmeric Matcha blends earthy turmeric, warming ginger, and cinnamon with the smooth vegetal flavor of organic matcha for a rich, grounding, creamy brew.
Organic Spring Jasmine: Jasmine flowers have been used for centuries in China to scent green tea, their delicate summer essence infusing grassy green tea with a poetry that bridges the change of seasons.
Organic Turmeric Ginger: Elevated by warming cinnamon and cardamom, this spicy-yet-sweet herbal blend is grounded by earthy organic turmeric and ginger and balanced by sweet chamomile and refreshing spearmint.
Organoleptic: The process used by tea professionals to evaluate the quality of tea with the use of all their senses.
Oxidation: The process of breaking the cellular structure of the leaves, activating enzymes, which causes the leaves to darken. This controlled process develops different flavors to develop in the cup. The level of oxidation is usually indicative of the type of tea.
P is for
Pan-fired

: The process most widely utilized in China where the teas are heated and rolled in iron pans to stop the oxidation from occurring.

Pride of the Port: Mighty Leaf Tea's Pride of the Port is composed of our favorite black teas from India and China and blended for balance and resounding character. Bold, malty, sweet, and brisk, it makes a great go-to cup for the morning. The subtle floral, red wine, and honeycomb notes in the background give this tea its unique profile. In 1866, Joshua Lane Jordan set sail from Maine in the merchant ship The Pride of the Port. With the western Pacific and India as his destinations, he traded goods from America to the other side of the world and back again. Over 150 years later, his great-great-grandson, Mighty Leaf Tea's tea buyer Eliot Jordan, set out to craft a premium blend of China and India black teas that paid homage to this familiar and familial route.

Pu'er

: Pronounced poe-are, this fermented Chinese black tea,

 a

lso known as Hei Cha, is produced in the Yunnan province of China. The

 

leaves may be pressed into unique discs or bricks and can be aged and enjoyed for many years.


Pungent

: A tea tasting term describing a tea liquor with a marked briskness and an astringent effect, but without bitterness.
Q is for
Quality

: In the tea industry, teas are graded according to the quality and condition of the tea leaves. The quality is evaluated based on the size, appearance, and wholeness of the leaves.
R is for
Rich

: A tea tasting term that describes a tea with a high quality, thick liquor.
Robust: Strong and rich in flavor or smell.
Rooibos: Often called 'red tea' or 'red bush' of South Africa. Rooibos only grows in the Cederberg Mountains of the Western Cape region; attempts to propagate it elsewhere have been unsuccessful. This simple shrub's leaves have been harvested, oxidized, and enjoyed for centuries by the local people, but rooibos was not exported in volume until the late 20th century. It has since become a popular herbal tea ingredient due to its versatility and honey-sweet taste.
S is for
Scented Tea

: Unlike flavoring or blending, scenting is a process where an aroma is imparted onto the tea leaves using smoke or flowers such as jasmine, magnolia, or rose. The flowers are removed at the end of the process, and the tea retains an intoxicating aroma.

 

Sencha

: A popular Japanese green tea, Sencha is a whole tea characterized by a vegetal, almost grassy flavor.

Smoky

: A tea tasting term that describes an aroma or flavor of smoke.

Strength/Strong

: A tea tasting term that describes an intensity of flavor, color, and aroma.
T is for
Tannin

: Chemical compounds frequently found in many species of plants, including tea. Tannins are known for their beneficial health properties and contribute to flavors of astringency in tea.

Tea

: An aromatic beverage derived from the infusion of tea leaves (from the plant Camelia sinensis) usually using hot or boiling water.
Tencha: A shade grown Japanese tea. It is steamed to prevent oxidation and then dried. The stems and veins in the leaves are removed and then it is ground into fine matcha powder.
Ti Kuan Yin: Mighty Leaf Tea's Ti Kuan Yin oolong tea from Fujian, China translates as 'Iron Goddess of Mercy.' The story goes that a devout farmer refurbished a small shrine to the goddess Kuan Yin, polishing her small iron statue for years. In a dream, Kuan Yin told the farmer to look for treasure behind the temple, but instructed that he must share it with others. The farmer found only a small tea plant there, but took it and farmed it, and in turn gave cuttings to his neighbors. The treasure the village profited from was the taste of the cultivar, now called Ti Kuan Yin.
Tip: The leaf bud of the plant Camelia sinensis, visually striking because of the fine downy hairs that cover it. 



Tippy Golden Flowery Orange Pekoe (TGFOP)

:

An industry term used to describe a high-quality grade of tea where the leaves are left whole with a high proportion of tips (Orange, in this system, does not refer to the flavor or the fruit).

Tisane

: Also known as herbal "tea," tisanes are an infusion of herbs, spices, fruits, or other plans usually in hot or boiling water. Herbal tisanes are typically caffeine free and do not contain any tea leaves from the Camelia sinensis plant.
V is for
Vanilla Bean: Mighty Leaf Tea's Vanilla Bean is a blend of Ceylon and India black teas with heady vanilla. This sweet and malty brew makes a deeply satisfying impression.
W is for
White Orchard: For Mighty Leaf Tea's White Orchard, we mix white tea with green tea, with its fresh presence, and add aromas of white peach, apple, and melon.

White Tea

: A style of tea that traditionally utilizes Camelia sinensis buds (youngest growth) and has the least amount of processing. The term white tea has developed over time to include any tea that is plucked and dried with no rolling or oxidation process, though some oxidation may occur naturally.
Wild Berry Hibiscus: Hibiscus tea is a gorgeous ruby red and has a tart acidity somewhat similar to cranberry juice that gets the mouth watering. We round it out with elderberry, blueberry, and strawberry in our Mighty Leaf Tea Wild Berry Hibiscus to accentuate its fruitiness and add sweetness for balance. It can be enjoyed hot, but over ice it's positively lip-smacking.
Winter Solstice: The inspiration for Mighty Leaf Tea's seasonal black tea blend came from our customers, some of whom over the years have requested something particularly evocative of the flavors of the holiday season. Winter Solstice conveys this initially with a trio of classic spice ingredients: warming cinnamon, earthy allspice, and pungent whole cloves—but that's just the beginning. For natural sweetness and complexity of aroma we've included vanilla bean. For zest, there's bergamot and orange peel. These aromatic ingredients are familiar yet unique, and in combination with whole leaf black teas from gardens in Darjeeling, Sri Lanka and Yunnan it becomes an attractive and multi-faceted bouquet. Winter Solstice is a limited release each year, only available during the holiday season.

Withering

: A step in the processing of tea where the leaves are allowed to wilt after plucking to make them more malleable. The tea is then easier to roll, twist, and curl without completely

breaking the leaves.