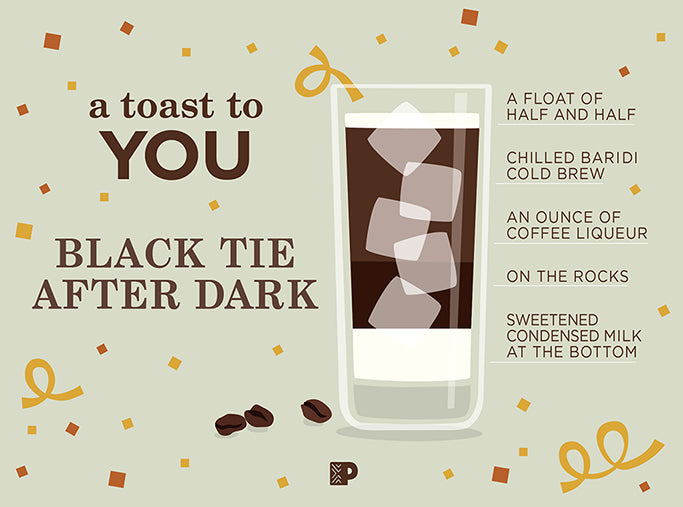 THE BLACK TIE AFTER DARK RECIPE
THE BLACK TIE LENDS A TOUCH OF ELEGANCE
No need to don your tie and tails to enjoy this twist on the Peetnik fan favorite Black Tie (but if dressing up is your jam, we won't stop you). Here's a toast to you, from all of us at Peet's.
A FLEXIBLE COCKTAIL FOR EVERYONE ON YOUR GUEST LIST
Whether you're looking to let loose, going low ABV, or getting started on Dry January, the Black Tie After Dark recipe can be adjusted to your specific tastes—just check out our variations and start celebrating. Make a batch of cold brew tonight and you're all set to get fancy tomorrow!
THE BLACK TIE AFTER DARK
INGREDIENTS
1/2oz sweetened condensed milk
Ice
3oz chilled Baridi Blend Cold Brew
1oz coffee liqueur
1/2oz half and half
DIRECTIONS
1. Pour sweetened condensed milk into the bottom of a rocks glass
2. Add ice to halfway up the glass
3. In a separate container, stir together Baridi Blend cold brew, coffee liqueur, and vodka.
4. Pour cold brew mixture into rocks glass over ice.
5. Top with a float of half and half.
VARIATIONS
The beauty of this low ABV cocktail is that you can have more than one without getting too tipsy. But if you're looking to amp up the Black Tie After Dark, stir an ounce of vodka into the mix during step 3.
For a non-alcoholic variation of the Black Tie After Dark, omit the coffee liqueur.