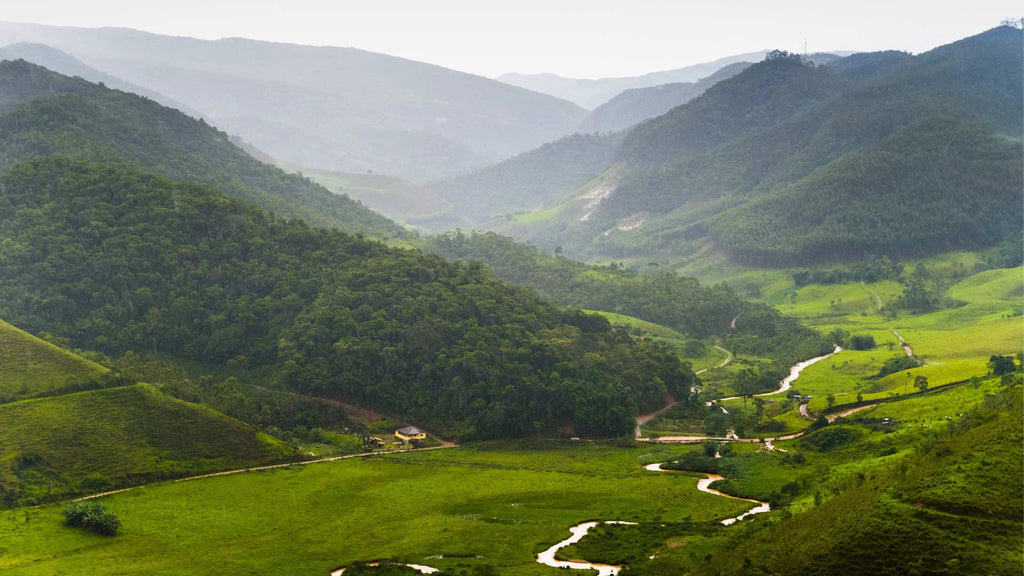 Brazil Fazendas Dutra Organic - August's Limited Release Coffee
THE FAZENDAS FAMILY LEGACY BREWS A SENSE OF PLACE
High in Brazil's Matas de Minas region—200 miles inland from Brazil's east coast—sits Fazendas Dutra, a family farm started in the '50's by Zeca Dutra with only one hectare of land. Since that time, the farm, now helmed by Zeca's sons Ednilson and Walter, has grown to 1300 hectares, with 350 of those maintained as preserved native forest. The sons carry on their father's legacy, investing in education to support the farm's progress by expanding their knowledge of coffee cultivation and applying elevated agronomy practices to their farming.
HARMONIOUS & ARTISANAL COFFEE FARMING
Their approach works in conjunction with nature, the coffee trees are planted among rocks, woodlands, and waterfalls, in harmony with the environment and using organic growing practices, which is notable, as there are very few organic coffee farms (fazendas) in Brazil. And it's made more unique because the coffee cherries are harvested by hand. Their artisanal processes make a substantial difference in the cup. The hand harvesting, the altitude, the soil, and the organic growing practices of the farm all result in a coffee that's classified among the best in Brazil, both in quality and sustainability. This is our first time partnering with Fazendas Dutra, but we're just as excited to partner with the Dutra family as we are with farmers we've known for decades; we believe in supporting farmers who pay attention to the quality of their coffee and who do it in a sustainable way. Their investment in their processes and their land is an effort that can't always be quantified but can certainly be brewed in a cup for you to appreciate.
A BALANCED CUP THAT CHECKS ALL THE BOXES
Brazil Fazendas Dutra Organic is perfectly matched to its medium roast: It's very balanced, with milk chocolate, nutmeg, and those signature natural Brazil notes of roasted hazelnut and almond, making for a soft and creamy cup. We think soft is a perfect description to use for this Brazil, because soft is synonymous with sweet. It has to do with the perception of acidity, flavor, and aftertaste. It's not sharp, it's not biting. In fact, it's one of the quality standards in Brazil, called "Strictly Soft," and this cup personifies that nomenclature, exemplifying its taste of place. Brazil Fazendas Dutra Organic is a distinctly drinkable brew, with all the nutty and chocolatey notes the region is known for.
NOTES FROM THE PEET'S ROASTERY
We're no strangers to Brazilian coffee at the roastery, but as this is the first time we're partnering with Fazendas Dutra, we wanted to pay extra close attention to this roast in order to coax out its best attributes, particularly the creamy, smooth "Strictly Soft" nature so coveted in Brazilian beans.
In their green state, the beans were small and  light green to yellowish with no visible defects. We expected grassier notes, but were pleasantly surprised with a fresh melon rind aroma.
In the roast, the coffee behaved a lot like a typical Brazil. It was a little faster to come to first crack but was easy to manage after that. Despite arriving early at first crack, it seemed to like a 15-minute medium roast rate. This was a little tricky because the beans would make early time and temperature benchmarks, but pick up speed about 20° before audible popping started.
Because of this, we did cut back the burners early in the pop because we were aiming for a medium roast. In the end it performed much like Las Hermanas. Both move fast to pop and slow down easily, finishing at a higher temperature.
It leaves us contemplating what would happen if we had carried the high burner out a little further to push the roast a touch darker. We've done this with other Brazil roasts and liked it a lot, but that's not what we were after this time.
This restraint paid off. As a medium roast, Fazendas Dutra delivers a supremely smooth cup full of milk chocolate, warming spices, and roasted hazelnut. Give it a try before adding milk; it's plenty creamy without any cream, filling the mouth with a silky sensation. Pour over brings out its richest attributes, and it's simply glorious over ice. 
-John Nicolini and Michael Madden, Roasters