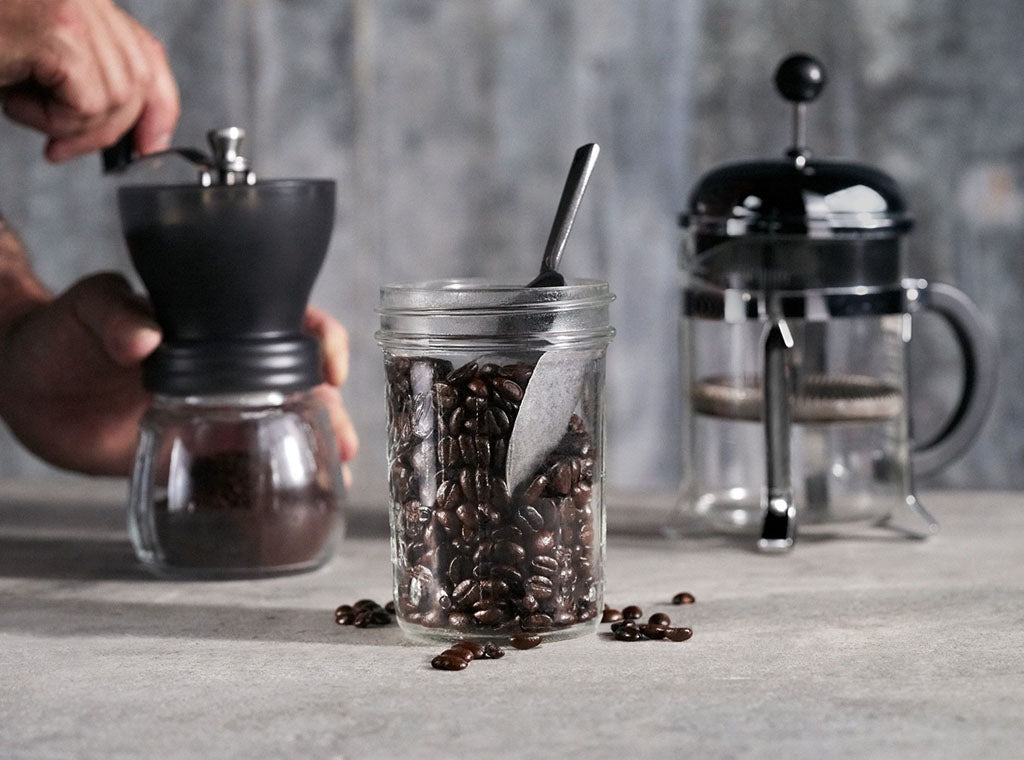 GUIDE TO COFFEE GRINDERS
HOW GRINDERS AFFECT YOUR COFFEE: A GUIDE
Coffee People, it's time to up your coffee game. Once you've selected your favorite whole coffee beans, selecting the right coffee grinder is all that's standing between you and a fresh cup. Having the freedom to experiment with grind size is key to elevating your brewing.
Grinding is that critical step which breaks down roasted beans into small enough particles that water can get at the flavor compounds and draw them out. It allows you to dial in your preferred complexity and avoid brewing coffee with a sour, bitter, or harsh aftertaste. It's best done just before brewing. Now, let's find the right grinder for you.
BURR VS. BLADE GRINDERS
In the home coffee grinder market, you're basically choosing between two types of electric grinders: a blade grinder or a burr grinder. A blade grinder is a less expensive entry point because it's only equipped with a single rotating blade that chops through the beans. Unfortunately, that means you may not achieve a uniform grind. Some of your beans are at risk of being ground into a fine powder, while the rest may remain crumb sized. This variation in size means you'll ultimately have less control over your coffee's extraction. And that's why we recommend the second type, the automatic burr mill grinder. A burr grinder differentiates itself from a blade grinder by its setting options as well as its method: abrasive surfaces rather than blades (similar to a blender). Burrs trap the beans between a moving grinder wheel and stationary surface to crush the coffee beans with friction. If you choose flat burrs, you'll get an even a more efficient surface area than conical burrs. Likewise, coffee grinder burr size does matter because a larger burr diameter delivers a more effective edge that makes contact with the beans in fewer rotations. Yes, you'll pay more to upgrade to burrs, but just like the burr grinders used in Peet's coffeebars, you'll ultimately achieve a more consistent grind size so you can be a better at-home barista.

HIGH-SPEED VS. LOW-SPEED COFFEE GRINDERS
The more RPMs (revolutions per minute) your electric grinder has, the quicker your beans will be ground and the faster the heat will dissipate. Exposure to heat is one of the factors that can make it harder to keep your beans fresh. If you're shopping on a budget, you'll primarily be looking at a selection of low-speed electric grinders that may require assisted feeding. Spending a little more on a high-speed electric grinder usually means you'll also get high-quality burrs, which perform hand in hand to create more uniform coffee grounds. It's also possible to use a manual hand grinder. It will require some extra elbow grease, but a few of the benefits include being quieter than an electric coffee grinder and they travel quite well.

DOSING VS. NON-DOSING
Dosing is a method that accurately measures and delivers an exact amount of coffee each time you need to refill. It's easy to spot a single-dosing grinder: one of the main features is a built-in dosing chamber that catches, holds, and dispenses the coffee into the filter holder. This helps expedite the process, especially when you're preparing to brew a large batch. Dosing grinders are also self-contained, so there may be fewer loose coffee grounds to clean up on your counter. Just remember, for the freshest coffee possible, it's best to keep your coffee in a sealed container between uses, instead of sitting in the coffee grinder's hopper. Non-dosing grinders allow coffee grounds to collect directly into your own ground coffee container, so clean-up just requires emptying unused coffee grounds between uses. Coffee grounds are less likely to get stale since they are only exposed to the air during grinding. In order to get your dosing correct, you'll need to use a scale to measure an exact amount of coffee and then time the duration of the grind. Grinders without a doser are recommended if you plan on regularly pulling espresso shots. Holding the espresso filter right under the grinder is an efficient way to capture the fine espresso grinds and quickly use a tamp to flatten and pack them down.

STEPPED VS. STEPLESS
Is a stepped grinder the best coffee grinder for beginners? Preset notches are user-friendly because they highlight each step up in grind size, so it's easy to automatically toggle between grind settings. This takes out the guesswork when determining each step up in grind size. So, if you're a beginner, a stepped grinder with incremental grind settings might be right up your alley. But if you want to have total flexibility when determining your preferred grind size, the stepless grinder is the best coffee grinder for you. This gives you the freedom to experiment with grind settings as much as you need to—ultimately, you'll dial in how coarse or fine you'd like your beans. 

THE BEST COFFEE BEANS TO GRIND AT HOME
When it comes to brewing, the longer the water will be in contact with coffee grinds, the coarser your grind size should be (this helps prevent overextraction). Pairing coffee with the right characteristics for your preferred brewing method will set you up for success, especially once you've dialed in the grind size. Each brewing technique speaks to the qualities in the coffee the drinker is looking to enhance.
The press pot is an ideal companion for dark roasts, bringing out rich, complex flavors and luscious body. A consistent grind will enable even extraction. If the plunger is difficult to push down at the end of the brew, try a slightly coarser grind next time. When using a press pot, we like to select a dark roast blend like our French Roast, and brew it with a coarse grind size that resembles crushed peppercorns. For another dark roast option, Major Dickason's Blend is an incomparable world blend that's rich, complex and full-bodied.
Speaking of dark roasts, here's a bonus tip for grinding a light roast versus a dark roast. When you're preparing a dark roast like our French Roast,  you can grind on the coarser side and still get a tasty extraction. Grind it too fine, and you'll be pulling out some potentially undesirable astringent notes. Lighter roasts, on the other hand, keep more of their flavor locked up inside, so you can afford to grind this coffee a bit finer. Unsurprisingly, grind size for medium roast falls somewhere in between the two for the perfect extraction. 
Pour-over is an easy way to enjoy a clean, bright cup—the subtle nuances of the coffee are brought out, particularly those with bright, sparkling flavors, like one of Peet's signature blends, Big Bang. Our most loved medium roast is smooth with balanced richness and has notes of tropical fruit, milk chocolate, and graham crust. If you're using a Chemex, Kalita Wave, or Hario V60 then there's more room to experiment with grind size—from medium coarse (like Kosher salt) to medium fine (resembling sugar). These methods generally require up to 4-minute extractions, so modifying your grind size will result in regulating the flow time. Coarser grind means faster flow; finer grind means slower flow. Pouring water over your grounds by hand also allows the ultimate control over the rate of extraction. Find the extraction that tastes good to you, keeping all the aromatic notes and yielding a satisfying body—and while you're at it, why not try Costa Rica Aurora. It's a bright, electric light roast that's always a crowd pleaser. Café Domingo is another balanced medium roast with mellow notes and a nutty flavor.
For drip or filtered coffee, you're still in the medium grind zone (aim for the size of table salt). We like starting our day with Organic Alameda Morning Blend, it's lively and caramel-sweet with floral aromatics. Or, taste test against our Italian Roast, our signature dark roast blend teeming with vigorous flavors.
While it doesn't require quite the level of precision as some other brewing techniques, there are a few critical elements to making a worthy cold brew: type of coffee, grind, and time. Cold brew drinkers should also stick with the coarsest grind size because the grounds will be exposed to water for at least 12 hours. And because some beans make better cold brew than others, we'd recommend using our medium roast Baridi Blend: it's designed to be smooth and delicious over ice. This blend features coffees that we specifically sourced from East Africa (Kenya, Ethiopia, Tanzania, and Rwanda) because these coffees are bright, juicy, and aromatic enough that the final brew retains these qualities—even when chilled. You can also select single-origin coffees from East Africa, like dark roast Kenya Auction Lot or Ethiopian Fancy where the volatile oils are front and center.

What makes a good espresso grinder? Due to the pressure extraction method, pulling a shot of espresso requires a more refined grind size. An espresso is prepared by forcing a small amount of water—around 40 mls—through a finely ground portion of coffee. It looks simple, but it's an art form that has been raised to perfection and takes much practice to master. Grounds are only in contact with water for a brief time. So, if the espresso grounds are too coarse, the extraction will be so fast you'll lose the livelier notes. Too fine and your cup may become over-bearing. Proper tamping technique also helps promote the right amount of density, once the grounds are packed into the shot. Want a head start? We'd recommend a coffee that's uniquely crafted for espresso lovers, like Espresso Forte, because it has a stout body, rich flavor, and perfect crema, and can stand up to pressure.
Now that you know the difference between these brewing methods and how to choose the perfect grind size, you're ready experiment with crafting your perfect cup.
PRE-GROUND COFFEE
Yes, whole coffee beans retain their freshness longer than pre-ground. But some of us want to make our coffee with as few steps—and as quickly—as possible. Pre-ground coffee can be ideal for the coffee drinkers who make coffee from home each day. Buying smaller quantities of coffee more frequently goes a long way towards knowing the coffee you reach for in the morning will be fresh. Using pre-ground beans at a higher frequency ensures your grounds maintain their freshness throughout your duration of enjoyment.

What to look for when buying Peet's coffee in-store? Check the roast date on the bag. The closer to the roast date, the fresher the coffee. That's why Peet's measures freshness in days, not months or years, because we hold ourselves to higher freshness standards than others. And if you've had a bag lying around a while, make sure to check it's still fresh.

You can be sure that when you purchase coffee on the Peet's website, the hand roasted beans will be shipped straight to your door. Likewise, any coffee beans bought from a Peet's coffeebar come fresh from the Peet's Roastery. We believe that the freshest coffee is the best tasting coffee—period—and recommend that you drink your coffee within 90 days of the roast date. 
You can also purchase pre-ground coffee from Peet's that is expertly prepared for your preferred brewing method. Just remember, all coffee should be brewed as soon as possible for maximum freshness, and this is especially true for pre-ground coffee. More surface area means more exposure to oxygen, light, heat, and humidity. Ordering through the Peet's website allows you to select either a grind perfect for press pot or drip percolator, or one that's ground finer for espresso. If you want to buy Peet's coffee for other brewing methods, like cold brew, purchasing whole bean coffee is the ideal choice so the beans can be refined to an extra coarse grind using the burr grinder. Pre-ground Peet's beans purchased at grocery retailers are ground for a standard drip coffee pot machine.
Choosing a whole bean bag allows you to grind the coffee beans on a per-use basis. Alternatively, you can have a Peet's barista use the burr grinder to grind the beans as coarse or as fine as you need—depending on your brewing method—when you purchase at a coffeebar. Grinding whole coffee beans right before brewing is really the best way to minimize oxidation and let the complex flavors of your favorite coffee really shine. And every coffee person knows, there's nothing better than the aroma of freshly ground coffee in the morning.