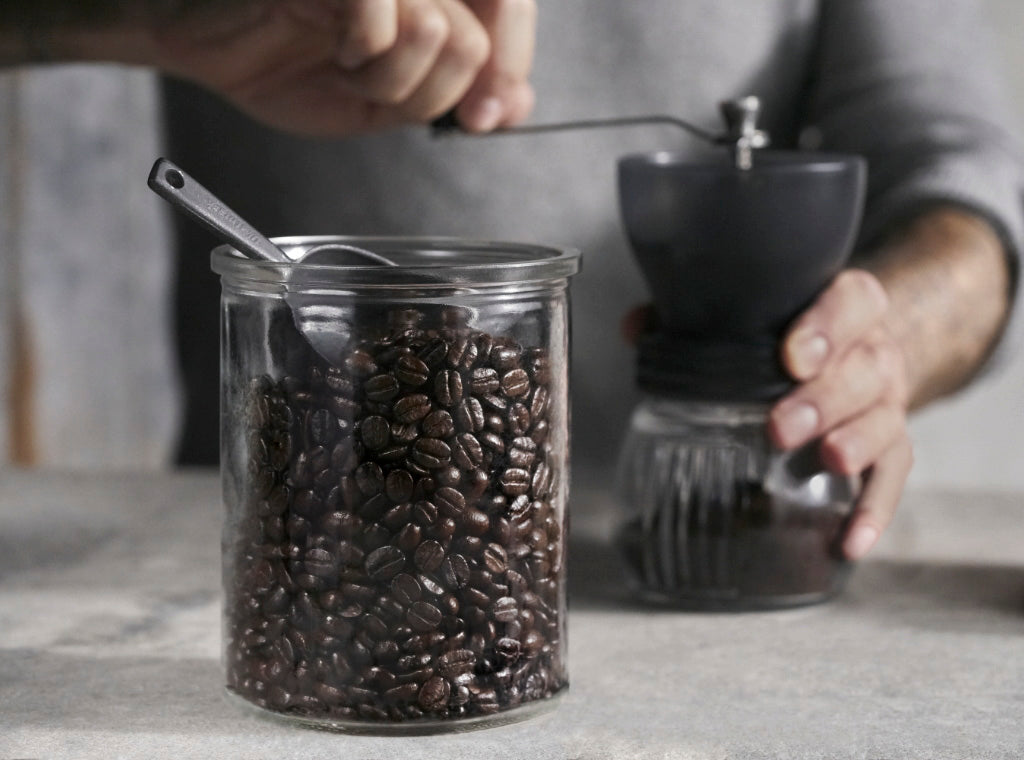 Your Coffee, Your Way: Whole Bean vs. Pre-Ground, Which Is Better?
The community of global coffee connoisseurs is composed of individuals with unique lives, schedules, and routines. When we're allotted the time, we relish in a slow morning, sipping our daily cup and relaxing around the house. While we wish every morning could be this peaceful, there are also mornings when the alarm goes off for work and the first thing we accomplish is brewing coffee while simultaneously getting ready for the day. To sum it up: some days we need our coffee on a faster, more convenient basis than others. The best part of purchasing Peet's coffee is that it's always fresh. Whether whole bean or pre-ground, no matter where it's purchased, Peet's always has our back when it comes to crafting the highest quality morning brew.
While every product from Peet's is fresh and high-quality, it is fun to be educated on the differences amongst the types of coffee you can purchase. There are varying benefits that come with whole bean and pre-ground coffee, and at the end (or start) of the day, you can't go wrong. Peet's freshness standards ensure a quality cup of coffee, always.
Whole Bean Coffee
Whole bean coffee can be purchased directly from Peet's website or at your nearest Peet's coffeebar location. Whole bean coffee is also offered through grocery retailers. Our website has the widest variety of single origin beans and blends, if you're looking to try something new. Or you might want to subscribe to have your coffee delivered directly to your door, fresh from being hand roasted at the Peet's Roastery. Choosing a whole bean bag allows you to grind the beans on a per-use basis. Alternatively, you can have a Peet's barista use the burr grinder to grind beans as coarse or as fine as you need—depending on your brewing method—when you purchase at a coffeebar.
Pre-Ground Coffee
Purchasing pre-ground coffee through a grocery retailer lets you to toss your favorite Peet's blend or single origin coffee into your cart along with the rest of your groceries and simply measure the coffee you desire each morning. Pre-ground Peet's beans purchased at grocery retailers are ground for a standard drip coffee pot machine. If shopping for one of the many types of coffee available at peets.com, simply select your grind type from the drop down menu when you make your selection. Ordering through the Peet's website allows you to select either a grind perfect for press pot or drip percolator, or one that's ground finer for espresso. If you want to buy Peet's coffee for other brewing methods, like cold brew, purchasing whole bean coffee is the ideal choice so the beans can be refined to an extra coarse grind using the burr grinder.
Do whole beans stay fresh longer than pre-ground coffee?
Yes, whole beans retain their freshness longer than pre-ground. However, this does not discredit the freshness of all the coffees Peet's offers. When purchasing coffee through the Peet's website, the beans are shipped straight from being hand roasted to your door. Likewise, any coffee beans bought from a Peet's coffeebar have come straight from the Roastery. Packages of Peet's coffee at grocery locations are stamped with the Roast Date, and any bags that don't adhere to our freshness standards are pulled from the shelves, ensuring you'll always brew the freshest pot. Pre-ground coffee can be ideal for the coffee drinkers who make coffee from home each day. Using pre-ground beans at this frequency will ensure your grounds maintain their freshness throughout your duration of enjoyment. For intermittent at-home coffee drinkers—people who only drink a cup a month, for example—whole beans could be the better choice to maintain optimal coffee taste.
Is Pre-Ground Coffee Less Expensive than Whole Bean?
No. Peet's pre-ground coffee is not less expensive than a whole bean bag. And no matter where you purchase your Peet's from, the roast date will always be featured on the bag to ensure maximum freshness, per Peet's standards.
Choosing between Whole Bean and Pre-Ground Coffee
A few factors can go into this decision. First, consider if you have a way of grinding your beans at home. If not, freshly ground coffee beans from a coffeebar or pre-ground coffee from the grocery or peets.com will be the optimal choices. Next, consider your time and preference of convenience. Some of us want to make our coffee with as few steps—and as quickly—as possible. Others enjoy the more detailed process that includes grinding our beans for each pot or cup.
Grinding Your Own Beans
A quick internet search for "coffee bean grinders" leaves you with a plethora of appliances to choose from. The ideal machine type is referred to as a 'burr grinder'. A burr grinder differentiates itself from a blade bean grinder by its setting options as well as its method: abrasive surfaces rather than blades similar to a blender. Just as a burr grinder in a Peet's coffeebar allows, you can choose how coarse or fine you'd like your beans. For example, if you brew your coffee using the french press method, you would want to grind your beans on a coarse setting, as opposed to Turkish method or espresso, which are two brewing styles that require some of the finest grind settings. Peet's recommends the Baratza Encore Burr Grinder for beginners to at-home coffee brewing.
Whatever you choose, whole bean or pre-ground, coffee from Peet's will always be full of flavor—you can't go wrong! With coffee as fresh as Peet's, you can feel confident in the quality and freshness, whether you decide to purchase pre-ground or whole beans.